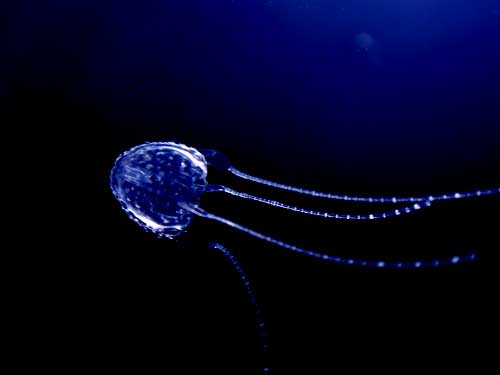 The deadly Irukandji jellyfish is moving south along the coast of Queensland and with warming sea temperatures it may become a regular at beaches as far south as the Gold Coast.
Toxicologist, Associate Professor Jamie Seymour from James Cook University, has "little doubt" Irukandji will end up at the popular beach after a stinger was found at Fraser Island on Sunday.
Their southerly migration, Prof Seymour warned, would force beach closures and could "collapse tourism."
But Queensland Tourism Industry chief Daniel Gschwind dismissed Prof Seymour's concerns.
"We are concerned about any potential risk but there is no need to be alarmed at this point," he said.
Fears about Irukandji come after one was caught on the western side of Fraser Island on Sunday, which prompted a warning for swimmers to stay out of the water.
There were 10 suspected Irukandji stings on the western side of Fraser Island between December 22, 2016, and January 5 last year, while a boy was stung on Mooloolaba Beach in early 2017.