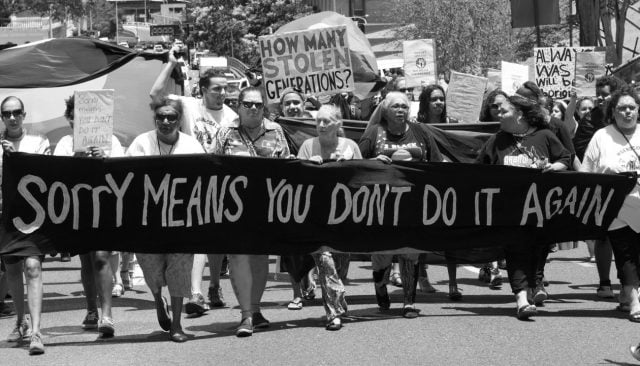 Grandmothers Against Removals (GMAR) Sydney is calling on all Aboriginal people and supporters to stand up on the 10th anniversary of the Apology to the Stolen Generations in a National Day of Action against the extreme overrepresentation of Indigenous children in the child protection system.
Ten years ago, the prime minister Rudd declared that 'the injustices of the past must never, never happen again'.
Since then, the group says, 'every single government has betrayed this apology'.
According to GMAR, more Aboriginal and Torres Strait Islander children are being forcibly removed by child protection systems than ever before.
In 2008, 9,000 Indigenous children were in out-of-home-care nationwide. The recent Productivity Commission Report on Government Services figures showed over 17 000 on 30 June 2017. Aboriginal and Torres Strait Islander children almost 10 times more likely to be removed than non-Indigenous children, and they make up over 35 per cent of those in out-of-home-care, despite being only 5.5 per cent of all Australian children.
On top of these shocking figures, the frontline reality of child protection practices is 'appalling'.
GMAR says the agencies removing children act without accountability.
'They subject children and families to extreme amounts of pressure and abuse, leaving them worse off than when child "protection" came into their lives,' according to GMAR co-founder Helen Eason.
'These agencies also routinely disobey the laws and policies that are supposed to reduce this abuse. For example, they lie to the courts with impunity – the consequences are borne instead by Indigenous children, their families and their communities.
'GMAR Sydney has repeatedly contacted the office of the Family and Community Services Minister about these serious concerns, but has been ignored. A rally in Sydney on 13 February will again demand a meeting take place.
Ms Eason, a proud Gomeroi woman, said that 'no one can deny that this is what racism looks like today. Official policy is that FACS workers must act 'in the child's best interests'. Well, they said it was 'for their own good' when they took the Stolen Generations.
'My people know the truth. We are generations of people who have seen our kids taken away again and again, and we have the stories passed down to us from those who aren't with us anymore. We can see that things are still the same as they were in the Stolen Generations – they're dressed up differently but they're still destroying our kids' lives.
'Genocide was official policy then, in the form of assimilation, and the reality is that genocide is still what's going on now, in the form of child protection. The system must stop targeting Aboriginal people and let us heal.
'We will come together on February 13 to show that we're a strong, proud national movement that will make them listen,' she said.
Sydney Rally: 11:30am, February 13. Marching from Hyde Park to NSW Parliament to demand a meeting with Minister for Family and Community Services, Pru Goward