Women of Rock
The best local and interstate artists are coming together this Friday night as part of the Women of Rock music showcase at the Byron Brewery for International Women's Day.
The free-entry show features a killer lineup including Mylee & The Milkshakes, Galaxy Girls, Pussy In The Dark, Fiona Franklin, Sophie Ozard, Dicklord, Spacie, Double Trouble, Mady Mooda. The event will be held across the two stages of the Brewery.
There will also be a karma keg with funds being donated to the Women's Resource Centre in Mullumbimby. The WRS provides counselling, support and advocacy to women in the Byron Shire affected by domestic and family violence.
Don't miss out on a huge night of music and good times. Kicks off at 7pm, free entry.
---
Best Jazz in the Galaxy
Galaxy Jazz Band, formerly known as the Northern Rivers Big Band, will be appearing in concert at the Ballina RSL this Sunday.
The lineup will still be a large band by most standards, comprising around 14 members, including vocalists Kristian Keogh and the fabulous Kristina Kelman.
Musical director Royden Ainsworth on alto sax and clarinet, shares with us his vast experience.
The play the Ballina RSL on Sunday at 2pm with doors at 1pm | Tickets are $15 at the club. ballinarsl.com.au
---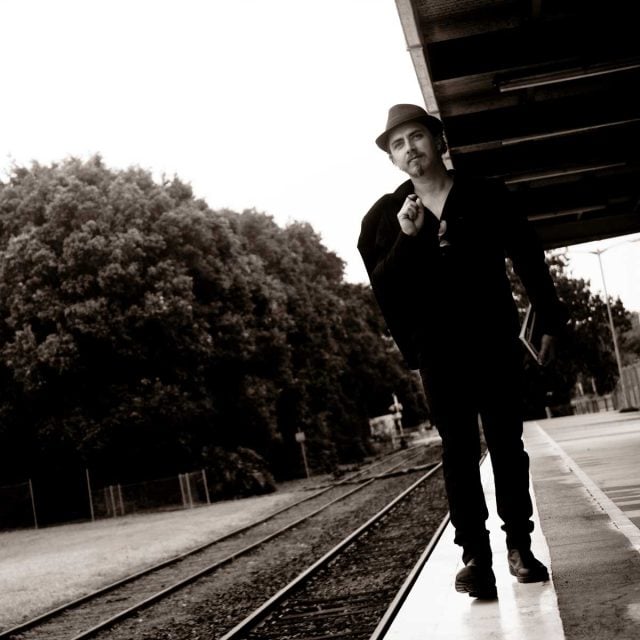 The Raven has landed
Doni Raven plays the Byron Brewery on Saturday and Tuesday at Howl & Moan Records in Byron. He is joined onstage for both shows – world music, contemporary jazz, and flamenco guitarist Bart Stenhouse, along with Barry Hill on bass, Fiona Dell on keys and backing vocals, and Benji Keogh on drums.
---
To Breabach and Back
In 2017 acclaimed Scottish folk band Breabach received their second Scots Trad Music Award for Folk Band of the Year and Album of the Year for their fifth album Astar. Nominations for Best Band at the BBC Radio 2 Folk Awards and for European Album of the Year in the Songlines Music Awards followed, along with packed tours of the UK, Sweden and Canada and the European festival season.
They kick off 2018 with shows in the UK and Australia. Catch them when they play at the Mullum Ex-Services on Saturday 7 April!
---
Sufi Music
Well-known 'local mystic' Tahir Qawwal has just spent the last month touring throughout India with his Sufi Qawwali ensemble (Fanna-fi-Allah). It has been an interesting mix of playing music for Bollywood stars in a mansion in Goa, to performing at the Royal Opera House in Mumbai, as well as schools for children, and a function for the Federation for Global Culture.
While it is a point of novelty that the group is mostly 'white', they are greatly respected for their mastery of this beautiful and difficult art form of Qawwali music. It has been a long journey of study and performance for the group over the last 16 years.
Qawwali is the Sufi devotional music of South Asia, the origins of which stretch back some 900 years. Sung in many languages, including Urdu, Farsi, Hindi and Punjabi, Qawwali is a ritualised form of music, which aims is to induce a kind of divine ecstasy in the listener and performer. On 17 March Byron Spirit Festival present Music of the Mystics, a night of Sufi Qawwali music and poetry. This is Tahir's last concert before he travels to Bali, USA and the UK with his group Fanna-fi-Allah.
Saturday 17 March | Byron Theatre | Doors 7.30pm, show 8pm | Pre-sale tickets available for $30+booking fee at www.byroncentre.com.au
---
Live your vision
One Vision Productions will be holding a signup day for workshop enrolments and music tuition this Saturday at 12–4pm at their Creative Hub, 4/10 Wollongbar St, Byron Bay. If you have ever wanted a career as an MC, DJ, music producer, musician, film producer or singer/songwriter this is the place to start learning! This is a great opportunity for potential students to meet their tutors, sign up to courses and check out the facilities available to them, including a brand-new industry-standard recording studio. On the day there'll be performances by Gold Coast's Emph 'n' Treats plus sets from local hip-hop artists Katia and Stay Nice. 'Where we differ from most music schools,' director Mark Robertson states, 'is that we offer a nurturing environment where we educate our kids on the alternative careers in the creative industries.' This is a place where dreams can become reality. Follow your passion and join the One Vision Productions family.
---
Singing up a storm
If singing up a storm is your idea of a great Sunday afternoon, set aside 18 March for a sumptuous Spanish singing session with choir director extraordinaire Jessie Vintila. Journey in song through the rolling green hills of northwestern Spain, get a bit tiddly with some rollicking Galician drinking songs, and some classic folk and bluegrass will be thrown in for good measure. It's a great opportunity to sample the musical aspect of Sing the Camino, the singing walking adventure that Jessie leads every year, a filled-to-the-brim bucket-list experience on the ancient pilgrimage trail in northern Spain.
Jessie's four Raise the Roof choirs across the northern rivers now number more than 100 people. She shares her love of harmony singing with regular workshops around New Zealand and Australia, and this year, along with tour manager Emma Royle, will embark on a new Sing the Camino adventure tour on the Camino Portuguese.
Sunday 18 March | 2.30–5.30pm | St Kevin's Hall, Bangalow | $25 earlybird, $30 from 16 March or at the door | Tickets at www.singthecamino.com | No Spanish or singing experience needed | All are welcome.
---
Sunday Safari
The past few months have been hot and steamy, with Sunday Safari showcasing a huge bill of incredible artists such as Tiga, Patrick Topping, Jack River, Motez, Set Mo, MK and Touch Sensitive, to name a few.
Hard acts to follow indeed, but Sunday Safari has done it again as they bring us internationally acclaimed disco vigilante himself, Late Nite Tuff Guy.
Prowling the neon streets on a mission to reclaim the clubs and fuck shit up, Late Nite Tuff Guy (LNTG) comes from a strong background of techno and soul. With thumping edits such as I Get Deeper, LNTG's cuts are already classics in their own right, deftly reworking vintage disco and soul tunes into modern clubbing wonders and proving that LNTG is an alchemist of dance music. He is tuff, but he's a lover too. The only thing he fears now is a warm-up DJ playing 140 BPM, and the only thing you should fear is missing out on him.
Supporting this legend in disco is our local disco shamans, Somerville & Wilson, Lismore's biggest sonic export. Meeting through mutual friends in late 2011, Richard Somerville and Craig Wilson quickly realised that they had a strong mutual love for a wide variety of musical tastes across the dance spectrum including a massive passion for Nu Disco and House. Blending a love of old-school vibes with modern textures and flavours, these boys are certainly onto something special.
Pro surfer/DJ hybrid Dimity Stoyle, aka Shimmy Disco, (is there anything she can't do?) is on board, as well as the beloved Safari DJs and some very special guests.
Sunday at the Beach Hotel | Presale tickets start from $15, available from sundaysafari.com.au, Mr Simple and the Beach Hotel Bottle Shop.
---
Free music writing workshops
The first of the APRA AMCOS songwriting masterclasses for 2018 kicks off on 15 March with Shellie Morris, Australian singer/songwriter formerly of the Black Arm Band. Shellie Morris will be giving a songwriting masterclass in the Contemporary Music Program in Session 1.
Proud Yanyuwa and Wardaman woman Shellie Morris is a multi-award-winning singer/songwriter creating and singing in around 17 Australian Aboriginal languages.
Shellie was the 2014 Northern Territory Australian of the Year, the 2014 NAIDOC National Artist of the Year, a multiple winner of the Deadly award and a driving force of the acclaimed album Ngambala Wiji li-Wunungu and the internationally award-winning musical documentary Prison Songs.
While she has been in the spotlight over the years for involvement with Black Arm Band, ARIA nominations, Music Australia award and GR Burarrawanga Memorial Award, by and large she works on the ground empowering and gently effecting change.
Her Songwriting Master Class is at 10am–2pm on Thursday 15 March | Studio One29 | Southern Cross Uni | Free.
The following month on 5 April features Harry James Angus (Cat Empire).
---
Hell, Whiskey & Harleys
Ocean Shores Tavern are gearing up for their big Harley Davidson giveaway this month. Be there for the draw on Friday night when Gold Coast duo Hell & Whiskey play. Combining the soul of old delta blues with the high energy of 50s rock'n'roll, Hell & Whiskey span a multitude of genres while keeping to their signature dusty style. Dick's whiskey-laced voice and desert harmonica mashed with Benny's blistering lead and glass-shattering falsetto make this band's sound timeless and unique. Playing together since 1999 in various acts, their improvisational skills and professionalism are second to none. From their purpose-built foot-drum kit to their sharp getups to their old-school sound, everyone always leaves a Hell and Whiskey show with a shuffle in their step and the blues in their soul.
Ocean Shores Tavern from 8pm.
---
Music from utero to you
Byron Music Society's next concert Lullabies for Zander by Muses Trio features a world premiere of a piece (trio) inspired by Byron Bay Natalie Williams, proudly commissioned by local arts lover and supporter Vicki Brookes (of Gretel Farm).
The concert will be preceded by Byron Music Society's 2018 concert series launch, a free event upstairs at Byron Theatre at 1.30pm. Lullabies for Zander is a musical portrait for pianist Therese Milanovic's firstborn, Zander, who arrived in July 2017. While immersed in utero, Zander was also immersed in an intensive residency at Bundanon with Muses and members from Vulcana Women's Circus, and preparation for a program of brand-new trios for the inaugural Creative Women in the Arts Conference (ACU), at which the Muses performed as Ensemble in Residence when Zander was only four weeks old. The power of being surrounded by this music in the womb was such that he peacefully slept whenever Therese played piano, not only throughout the pregnancy. Interestingly, this particular repertoire calmed him to slumber during subsequent rehearsals and performances on the outside.
While some babies slumber to nursery rhymes or white noise, Zander's dreams in the womb and beyond were coloured with the sounds of brand-new music by Australians Nicole Murphy, Elena Kats-Chernin and Hilary Kleinig, and music of the past by Clara Schumann, a lullaby by Rebecca Clarke, and a cradle song by Luise Adolpha le Beau.
Meanwhile, brand-new compositions for the Muses were gestating; a minimalist work by Natalie Nicolas, who is part of the exclusive Women Composers' Development Unit at Sydney Conservatorium, and a new trio inspired by Byron Bay by Natalie Williams, proudly commissioned by local arts lover and supporter Vicki Brookes. Byron Theatre on Sunday at 3pm.