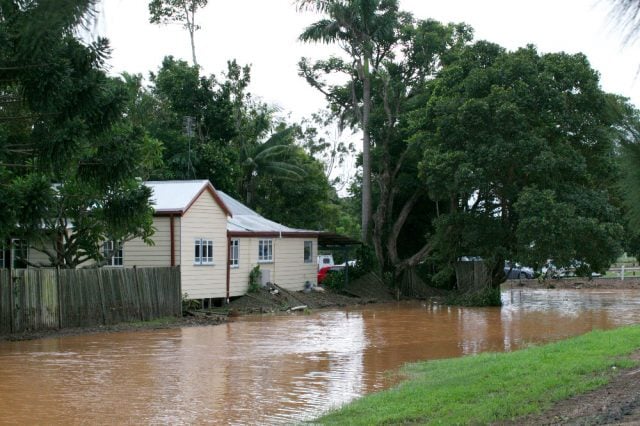 The state government has approved new and expanded Voluntary House Purchase schemes to buy homes in the most flood affected areas of Tweed Shire.
The schemes will focus on the residential areas of Bray Park, Burringbar, Mooball and Crabbes Creek.
The main aim of the scheme is to permanently remove at-risk people from high flood hazard areas (areas with high flood depths and velocities) by buying their houses. The properties are then back-zoned for more flood compatible uses, such as parkland or farming.
Under VHP schemes, the price paid for a home (compensation) is determined by an independent valuer with OEH paying two-thirds of the price and Council picking up the remainder.
While there is no application process for homeowners, anyone who wishes to express an interest in participating in the VHP scheme can email their property and contact details to [email protected] or write to PO Box 816 Murwillumbah NSW 2484.
Tweed Shire Council's Manager Roads and Stormwater Danny Rose said the council's Floodplain Risk Management Studies completed in 2014 and 2015 had identified VHPs as the best way to deal with flood issues where other measures such as levees were impractical.
'Our studies also considered including other flood-prone villages, such as Condong and Tumbulgum, in a VHP scheme but they were not recommended for the initial schemes,' he said.
Prior to the flood, Council had one VHP scheme operating along the Tweed River in parts of River Street, South Murwillumbah, with four houses still eligible for purchase. Properties purchased have been turned into open space for the community.
The council is currently reviewing its flood data with the Office of Environment and Heritage (OEH) to identify and prioritise those people and their homes most at risk in major floods.
'We cannot purchase every flood-affected house in the eligible areas so we will target those houses where we can get the most benefit in terms of improving safety and minimising losses during floods.
'We also need to be mindful of an area's potential, if freed up, to allow for safer flood flows or what other use it could serve in improving our flood management."
The VHP scheme will take many years to roll out.