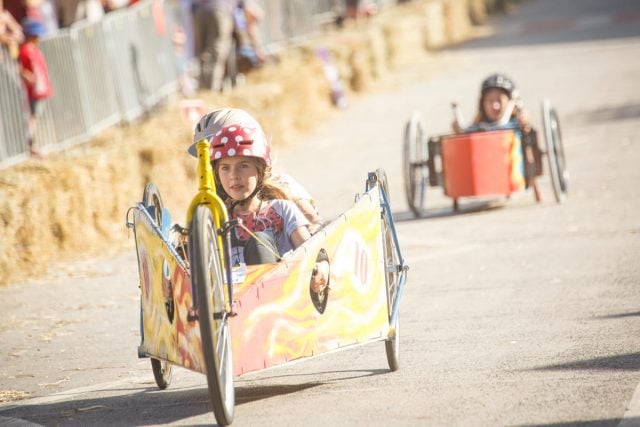 Bangalow's annual Billy Cart Derby is on for young and old again this Saturday but extra costs have prompted the town's Lions Club to set up a crowdfunding campaign.
Organiser Chris Hayward told Echonetdaily that while a few sponsors had dropped away the main reason for the $1740 fundraiser was to extend the safety barriers running down the side of the street.
'For the safety of the derby we've extended the fenceline this year,' he said.
'It's so natural for onlookers to sit on those bales of hay, which are actually put in place to protect the riders.
'If you have an accident, with the barriers down there are potentially a whole heap of hassles.
Mr Hayward hastened to add that the site is covered by the Lions Club's insurance 'but we don't want to have trouble with injury'.
The GoFundMe campaign is currently halfway to target. You can donate here.
Mr Hayward said any extra money raised on the day will go back into the community.
'People can enter right up to the morning of the event. All the rules are on the website.
'Entrants assemble in hotel lounge. Every cart is scrutinized before they are allowed to run, he said.