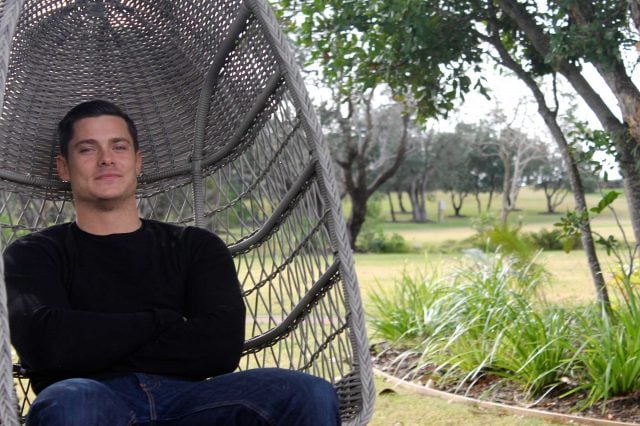 Nick Couldwell: Local writer
The guests I am most excited to see are…
Tony Birch because he writes such honest and unflinching everyday characters. His stories and their characters have stayed with me since I first read his work many years ago.
Jessie Cole because her personal story is an utterly heartbreaking one, but so very full of hope, courage and incredible bravery.
Bri Lee because of her thought-provoking writing and fierce subject matter. Her harrowing and inspirational journey with the Australian justice system has taken her from being a judge's associate to a complainant in her own case.
What I love most about the Festival…
What I love most about the festival is that it is not only a writers' festival; it's a festival for thinkers, for artists, for creative minds, for those who want to make a change in our world and for everyone in between.
Martin & Pam Brook: Founders of Brookfarm
The guests I am most excited to see are…
Richard Fidler is undoubtedly one of Australia's finest interviewers. His unique style always seems to elicit great stories from his subjects. It makes for compulsive listening.
Charles Massy because Call of the Reed Warbler is the most exciting book we've ever read on the future of farming.
Eskil Engdal & Kjetil Saeter because great investigative journalists take you on a journey like a thriller, as the layers of the story peel away to reveal the truth – in the end it's the journalists determination that truly makes a difference.
What we love most about the Festival…
Discovering new writers who aren't even on our radar, listening to the art of conversation revived, chance conversations that lead to new friends and a cupboard full of books to feed the soul for the next year. We always look forward to the Byron Writers Festival and it never disappoints. It's truly a unique Byron experience.
Mayor Simon Richardson
The guests I am most excited to see are…
Mandy Nolan because I will be listening to her as I sit in the sun, crying with laughter behind my sunglasses. I can picture it now.
Henry Reynolds because as a history teacher in an internet age of keyboard myth making, I relied on his pursuit of truth and meticulous research – he is a living treasure.
What I love most about the Festival…
We love it as a family. I seem to always enter a tent, listen to someone I don't know, and exit blown away with joy, inspiration or contemplation. After each day, my soul feels a bit more nourished. And we love the vegetarian dumplings.
The team at The Atlantic Byron Bay
The guests we are most excited to see are…
Sarah Wilson has stayed with us at the Atlantic over the years. We've always admired her drive to inspire people to live a healthier and more sustainable life.
Emma & Tom Lane have done so much for the local community by creating The Farm; the experiences they have to share will be an inspiration to everyone.
What we love most about the Festival…
Byron Writers Festival for us are days jam-packed full of inspiration from thought-provoking presenters. Be prepared to be entertained, educated and motivated. You are guaranteed to walk away with a new mindset and the drive to follow your passion.
Emily Brugman: Festival administrator and writer
The guests I am most excited to see are…
Tim Rogers because Heavy Heart is one of my all-time favourite songs and I like to pepper my Festival experience with a bit of rock and roll chat.
Manal al-Sharif because her story is historic and courageous, and reminds us of the many kinds of freedoms in the world, big and small.
What I love most about the Festival…
The open-air layout and festival setup. Once you're in, you're in, and you can wander around at your leisure.
Take some time out and lie on the grass if your brain needs a rest, or go from one discussion to the next and cram as much info and inspiration in as possible.
• See more news and articles on the 2018 Byron Writers Festival.
Extraordinary fables, memoirs, political analysis and tales of hope and tragedy all made for another successful Byron Writers Festival, held at the Elements of Byron resort under crisp blue winter skies.
Byron Writers Festival launched last night with a 200 strong crowd. There were a few famous faces in the crowd including Thomas Keneally author of Schindler's List.
The Festival is finally here! The small team at Byron Writers Festival works all year to create this renowned gathering, Australia's largest regional literary festival that explores the myriad threads of our daily lives, our communities and the broader world.