Rueben Kaye
Brunswick Picture House | Sunday 1 July | 6pm | $22-25
The evil love child of Liza Minnelli and Jim Carrey. Obscenely intelligent, beautifully filthy and rib-crackingly funny, cabaret superstar Rueben Kaye is what happens when you tell your children they can be anything they want to be.
Currently tantalising audiences as the special guest host of the international hit show sensation Club Swizzle – from the team behind the Brunswick Picture House – the full Rueben Kaye experience is a dazzling explosion of big notes, high camp, lashes and teeth. What do you expect from an artist described as 'the evil love child of Liza Minnelli and Jim Carrey'?!
---
Cheeky Cabaret
Brunswick Picture House | Friday and Saturday | 7pm | $35–45 on the door
Two years in, people continue to talk about the Cheeky Cabaret. Some of the most incredible international artists from around the world are beating down the door to perform at the Brunswick Picture House.
The Cabaret features a different cast of troubadours, miscreants, delectable divas and cabaret queens every month, so no two shows are ever the same!
Bold, brash and dangerous, with tongue laced firmly in cheek, this is one party you will not want to miss! Smashing together circus, vaudeville, comedy and everything in between, the Cheeky Cabaret has rightfully become the talk of the town.
You'll leave spellbound, titillated and amazed. As always, bring Grandma but leave the little ones at home.
---
Screenwriter Scholarship for Hollywood
Screenwriters and content creators in rural, regional and remote Australia are being asked to bring their creativity to Hollywood as part of a new partnership between Screenworks and Los Angeles-based Australians In Film(AiF).
An annual Regional Screen in LA Scholarship Program has been created to give an Australian screenwriter and content creator the opportunity to participate in a bespoke four-week residency program in Los Angeles.
'This partnership between Screenworks and AiF will support and connect screenwriters or screen creators living in regional, rural or remote Australia to the global industry and will create an exciting platform and entry into Hollywood.'
The residency will be based at Charlie's AiF's creative share workspace at the historic Raleigh Studios, home to classic movies Whatever Happened to Baby Jane, iconic TV shows such as Dallas and now Netflix.
Many of the top Australian films and TV episodes are made in regional areas or set in the distinctly Australian landscape, and international audiences are now watching regionally based TV episodic dramas, such as The Kettering Incident Glitch, Picnic at Hanging Rock, and Rosehaven.
For the Regional Screen in LA Scholarship Program, Screenworks will undertake a nationwide call-out for regional screen creatives/screenwriters who have achieved initial success and are able to demonstrate significant talent and career potential.
Each annual scholarship opportunity is valued at approximately AU$20,000. To fund the program, Screenworks has already secured an initial anonymous donation of $20,000 for the first scholarship placement, with Screenworks now looking for a further $40,000 to secure a three-year program. If any individual or company wishes to support the regional screen industry and have their name associated with the scholarship, please contact Screenworks or online at www.givenow.com.au/regionalscreenscholarship. Donations are tax deductible.
Applications for the inaugural Regional Screen in LA Scholarship Program will open in the coming weeks.
---
War Crimes at Byron High
Byron Bay High School Performing Arts Centre |June 28 and 29 | 7pm | $10 adult, $5 concession and $25 family of four
Year 11 drama students from Byron Bay High School (BBHS) are excited to be bringing their powerful production of Angela Betzien's War Crimes to the stage next week, and warmly invite the Byron Shire community to attend one of their three evening performances.
War Crimes gives voices to five tough, poor teenage girls from Cummergunja, a forgotten coastal town with limited opportunities. They each fight their own personal battles, railing against authority and each other within a culture of masculinity and racism. We witness their individual struggles to develop a sense of identity and agency, in a community where tensions are high and powerlessness breeds hatred for 'the other'.
The play presents important messages about youth culture, friendship, empathy, compassion, racism, belonging and identity, and draws important parallels between conflict, violence and oppression in a world at war and in the lives of small-town teenagers.
Under the guidance of drama teacher Simone Museth, the students have taken on technical, design, direction and acting roles with professionalism, talent and skill – some even learned their lines in Arabic! The play has been largely directed and designed by students themselves, and their creative efforts are sure to impress.
Contemporary Australian playwright Angela Betzien claims that the play was written with the 'intention of stirring up some big questions about our national history, identity and future…' and 'what is sacred to us as a nation'.
The play will have audience thinking deeply about questions such as 'Who calls Australia home?' and 'What is worth fighting for?'
Tickets for this gripping drama are selling fast and seating is limited. 
CONTENT WARNING: The school wishes to advise that the themes of sexual assault, racism and teenage drinking, along with sexual references and coarse language, make it unsuitable for some audiences. Mature audience 15+ is strongly recommended.
---
Public Act Theatre
Now in its third year of operation, Public Act Theatre is proudly embracing some extraordinary game-changing opportunities. The creative team at PA have some very exciting plans in the pipeline.
After recognising an opportunity to bring Applied Theatre (Social Arts) to the northern rivers, founder and director Jo Franklin established Public Act Theatre in 2015, teaming up shortly after with two well-known local theatre practitioners Frauke Huhn (Cicade) and Philippa Williams (Theatre of Life).
PA is not a traditional theatre company in the sense that many participants and performers have never performed onstage before! 'Theatre For ALL' is the essence of this social-arts theatre company.
Supported by the Byron Bay Community Centre, Public Act Theatre have been able to operate as a resident theatre company at the Byron Theatre, delivering many different styles of social arts projects to the community.
Apart from weekly workshops, Public Act also design specific programs in collaboration with government agencies and community services.
Public Act's latest program designed for the community service sector includes the introduction of a Seniors Theatre Outreach Program, bringing interactive and playful engagement to both residents and carers in residential homes and aged-care facilities across the northern rivers.
Public Act have not stopped there. The company is experiencing an exciting diversification in the later stages of 2018, with a second arm to the company being established with its first ever international artist collaboration. The stage is being set for a ground-breaking collaboration with international artists La Pocha Nostra. PA is to host the San Francisco-based company in a residency for other 'rebel artists' and radical arts enthusiasts right here in the Byron Shire, with one of their famed five-day intensive pedagogy-based workshops.
Term 3 is now open for bookings, and earlybird prices are available, but only for a limited time, so get in quickly to secure your spot!
For further details on all courses, please visit our website www.publicacttheatre.com or join us on Facebook
---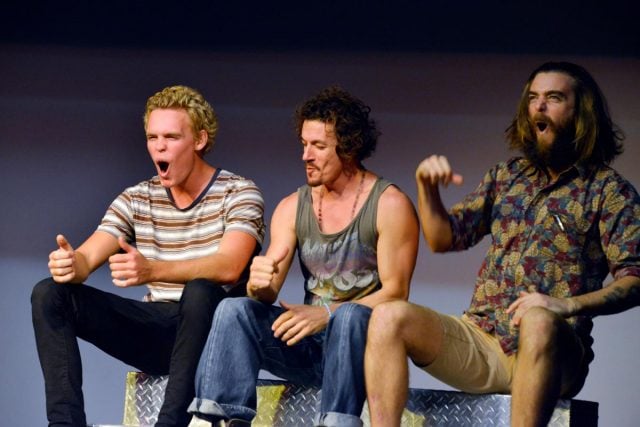 The Call at The Drill Hall
Fridays and Saturdays from 29 June | 8pm | Sundays at 2pm
Opening this weekend, the Drill Hall Theatre Company presents The Call by Patricia Cornelius, a potent and topical play about a life that led to an Australian injustice.
David Hicks is an Australian who was captured in Afghanistan in 2001, sold for $5,000 to the US military, and detained in Guantanamo Bay until 2007 when, after much political controversy, he was released to complete his sentence in Australia.
His crime, of providing material support for terrorism, was based on the fact that he had attended a para-military training camp in Afghanistan.
Widespread Australian and international criticism over his treatment, the torture he claimed he was subjected to, the poor evidence tendered against him, his trial outcome, and the newly created law under which he was prosecuted eventuated in the US Court of Appeals ruling that his conviction was invalid because the law could not be applied retrospectively. In 2015, Hicks's lawyer announced that the US government had said that it does not dispute Hicks is innocent and his conviction was not correct.
Directed by Mike Russo and Georgia Martin and with a bravely committed cast, Drill Hall Theatre Company will present The Call over three weekends beginning 29 June. The Call contains very strong, uncompromising language.
The theatre is heated for your comfort and tickets are available from The Bookshop Mullumbimby, at the door or online at www.drillhalltheatre.org.au
---
The Last Witch
Kohinur Hall, Main Arm | Fri-Sat |29 June- 14 July | $20-25
Quite good houses have seen the production of The Last Witch as it opened at The Rochdale Theatre on the weekend. Director Tim Winton-Brown says playing to the public has allowed the actors to gel, boosting their performances and taking the show to another level. 'The play hums along with an ensemble cast singing together as it moves to Main Arm to play for three weeks at Kohinur Hall,' says Winton-Brown.
Audiences have loved what they have seen so far with: 'It kept me engaged and enthralled throughout,' 'The leads were especially impressive, fantastic performances!' and 'Great work! We really enjoyed it – Congratulations!' spilling from the post-show crowds.
The Last Witch, written by Rona Munro for the 2009 Edinburgh Festival, sees a darkness born out of the grinding poverty of the lives of the 18th-century Scottish highlands, in Dornoch, and in the vengeful hearts of men struggling with the free spirit of an independent woman who is not afraid of them.
Based on the true story of Janet Horne, the production reveals the strength of women living in a brutal and unforgiving time. Having finished its Lismore run, the show moves north to Main Arm.
Tickets available through the Main Arm General Store, The Mullumbimby Bookshop, and Music Bizarre in Lismore, or search The Last Witch at www.trybooking.com