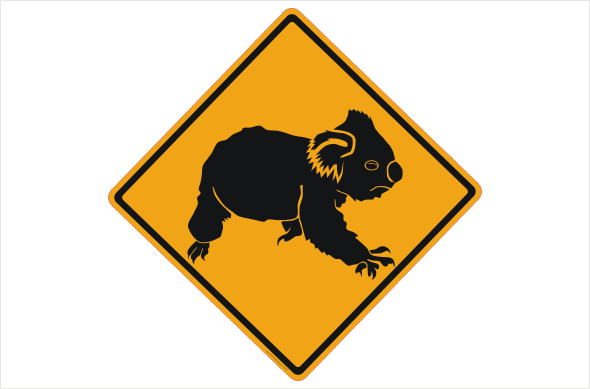 The Roads and Maritime Service (RMS) looks set to finally install koala warning signs at two hotspots near Bangalow after more than 12 months of promises and a number of koala deaths in the area.
Bangalow Koalas convenor Linda Sparrow told Echonetdaily she had received a letter from roads minister Melinda Pavey saying that signage would be placed on a stretch Lismore Road lined with koala food trees in September.
Four deaths in two years
Ms Sparrow said that in the 100-metre section of road between Dudgeons Lane and Slatterys Lane some four koalas have been killed by car-strike in the past two years.
The section of road is adjacent to the site of the proposed food precinct, which was withdrawn after protests including that it would have been in an area of prime koala habitat.
Ms Pavey wrote that, 'With regard to Lismore Road, two koala warning signs have been ordered and are scheduled to be installed by mid-September'.
'An independent ecological contractor has started a monitoring program that will be in place for up to 15 years. This will help measure the effectiveness of the mitigation measures,' she added.
Ms Sparrow says the agreement to erect signage is the result of some 12 months of campaigning by Bangalow Koalas.
'Way back in August last year, after I had to pick up a dead male just down from Slatterys Lane, I sent out an email to everyone and Simon Richardson said he would get onto it.
'The RMS said in October it would be up before Christmas – and that never happened – so I kept chasing.
'In March, council chased it again. Last Friday I emailed them again to say there was still nothing.
'Then on Sunday I picked up another road kill, which actually happened Friday night.'
Ms Pavey's letter promising the signage arrived yesterday (Thursday, August 23).
Ms Sparrow said the exact location of the signs had now been modified to take into account the group's recent plantings of koala feed trees.
RMS 'dropped ball'
Although not specifically mentioned in the letter, Echonetdaily understands the RMS have also agreed for signage in another Bangalow koala hotspot on Hinterland Way, between the old Sunnycrest truck stop and the Granuaille Road exit.
'Thank goodness for that,' Ms Sparrow said, 'because people fly through there'.
She said during the week she'd attended to a koala trapped on a thin strip of land between Hinterland Way and Granuaille Road.
In an email sighted by Echonetdaily, a council officer says RMS regional manager John Alexander had 'admitted RMS had dropped the ball' on the request.
Byron Cr Michael Lyon, who has been following up the issue, said flashing signs would be placed on Hinterland Way.
'Thanks to Linda for her persistence and to staff who got onto someone at RMS who was able to effect the change,' he said.