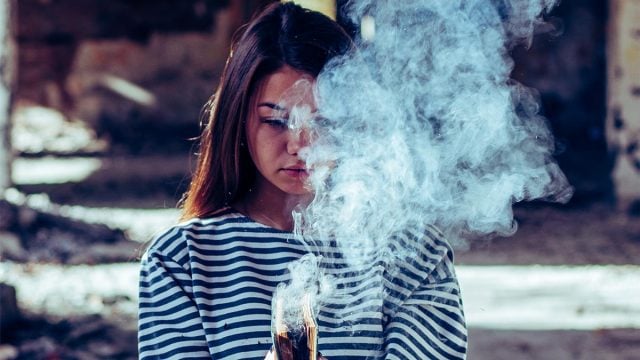 Sometimes art becomes reality
When I first started watching Handmaid's Tale, the TV series based on the best-selling novel by Margaret Atwood, I thought it was simply a disturbing fairytale set in a totalitarian society where fertility is controlled through the oppression and subjugation of women as breeding stock.
But the more I watch it, the more I realise Gilead isn't that far from where we live right now. In fact it's an ideological suburb just a train ride away. Some people are already living there. Dystopian or Utopian? I guess it depends on your view of the value of women.
Leunig's cartoon in the weekend papers certainly left me feeling a little more like it wouldn't be long before I'd be losing my literacy, and slipping into my bonnet. In case you missed it, I'll reiterate the content. The whimsical cursive text shows two big-nosed baby 'angels' at the bottom of a poem that reads 'Infantile Statistic Poem: Working university-educated women with no religious belief are statistically less likely to have babies; to some babies that might be a relief'. The baby angels are looking worried and one is saying to the other, 'I had a nasty scare last night – I was nearly conceived.' It's mean.
As an educated non-religious woman with five children I find this highly offensive. Have my children suffered from my ambition? Would they have rather not been born? Would I have been a better mother had I fewer opportunities? Why are our educational status and our fertility linked together anyway?
Highlighting the perspective of the worthiness of women from the perspective of the unborn is reminiscent of the right-to-lifers and their violent view on women's right to choose. The cartoon not only insults educated mothers, it insults ALL educated women. Why is our breeding status discussed like it's a given that ALL women will have children anyway? Why don't we talk about the likelihood of educated MEN having children?
I don't think you need to read between the lines to decipher the message in Leunig's misogynistic musing. Working women, particularly professional working women, are bad mothers. We put our children in childcare so we can pursue our selfish goals. Goals like paying the mortgage. You might think I'm being harsh on Australia's most beloved cartoonist, but I am still not over Leunig's take on childcare from 2014. It depicts a baby's inner narrative when it's left in a childcare centre: 'I can't believe it! My own mother – who I want to be with more than anything in the world, my mother – font of all goodness and warmth dumps me here in this horrendous creche! I can't believe it!' It continues with stream-of-consciousness rants of the baby hating itself and then a promise 'one thing's for sure, I'm going to get myself back for this one day. I'll punish myself. And serves me right too.' Awesome.
Apparently we've authored our own beloved child's inner narrative of self-hatred. It's our fault. It's our fault for being educated and putting our kids in childcare. Best our babies weren't born. It's powerful mother shaming from a culture that loves mother blaming. Any mother who has had to put her baby in childcare and knows the pain of walking away from her crying child. I've sat in the car and cried, then snuck back in to see my distressed child happy and laughing.
Why do women have to wear this? If courts now award separated dads 50/50 in care, then why can't they take 50 per cent of the guilt as well? Why is the burden of good parenting always on the shoulders of a woman? And why is our beloved King of Whimsy being so cruel? Please, Michael Leunig, go back to ducks pondering the night sky. Every year I look forward to my free Leunig calendar, but this year it's going into the bin.