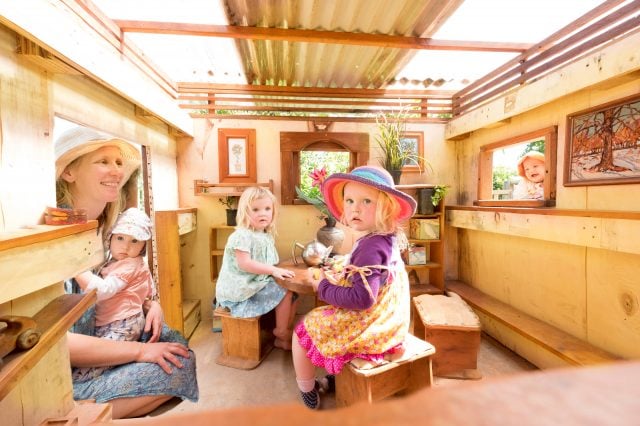 Aslan Shand
Upcycling is being taken to new heights by local self-confessed, tinkerer, recycler and upcycler Deidi Vine, who is currently building a prototype shelter shack that she hopes will be used to shelter the homeless.
'I have been making cubbies and playhouses since I was a child. When I had my own children I would often make massive playhouses for them… so it's no surprise that when I became a grandmother I was inspired to make my gorgeous grandson Cedar one,' said Deidi.
The cubbyhouse was so popular she just kept on making them for family and friends and finally made an adult shack.
The cubbyhouses and shelter shack are all made out of recycled and upcycled materials that come from plywood pallets used to transport solar panels, broken furniture and secondhand paint.
'One of the many things I love about about the structures is that they are so easy to take apart and put back together. It literally takes me less than three hours to take one apart and put it back up – which I think is brilliant,' said Deidi.
'The cost is minimal and I try very hard to use items that have been discarded.'
One Roof
Deidi recently donated one of her cubby houses to the One Roof Byron charity, which is helping tackle homelessness in Byron Shire, for their raffle.
'We were thrilled and so grateful to Deidi for her donation,' said One Roof member Genevieve Lee.
'She has also attended our Tiny House design meeting run by Christopher Kinzel and has put up her hand to be part of our Tiny House construction team.'
Deidi is also looking at ways to close the gap in the Shire's recycling program.
'There is no repairing, reupholstering and upcycling on a large scale in the Shire. I would love to see a huge roofed area provided where locals could start donating their unwanted building materials and household items that can be saved from landfill and repaired or upcycled.'
You can contact Deidi via her Facebook page Upcycling Solutions