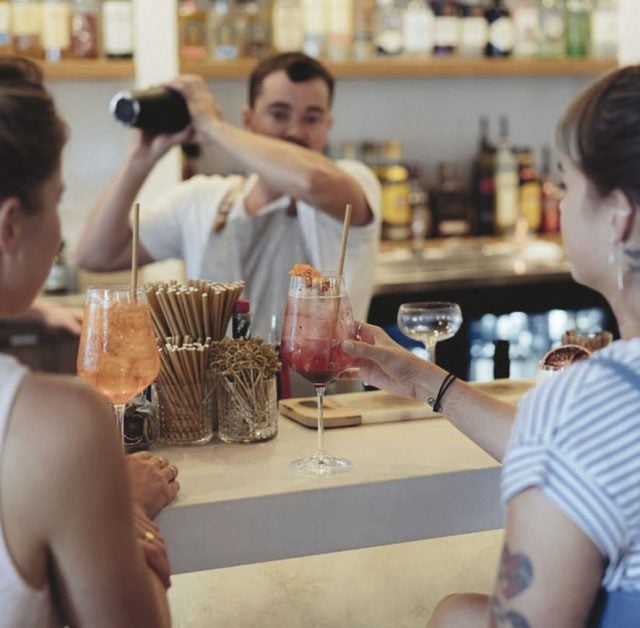 S Haslam
With the Byron holiday season in full swing we ventured right into the heart of Jonson St for Saturday night dinner for two at Loft Byron Bay. Having just spent $80 on a really disappointing lunch for two in Kingscliff (no alcohol) we added two margaritas and dessert at Loft and had a truly memorable meal for two for $129.
It's so easy to forget how lucky we are: we parked 100m away right on the beachfront and without a reservation we breezed in to an almost-full venue at 6pm, got genuinely attentive and friendly service, choice from a great drinks menu, great white and raw wood décor and food that was seriously streets ahead of, for example, the main drag in Kingscliff!
My $8 cheese plate, for example, included a generous hunk of brie along with apple, grapes, a great cracker and a quince paste of astounding flavour. Fior di latte ($18), BBQ squid ($21), croquettes ($12) and crème brulee ($12) were all excellent dishes.  It was a youngish crowd, and with half the venue a bar there was a subdued nightclub beat, but not too much for people like us who like to eat at 6pm and actually hear each other talk! 
Sure, Byron's busy at the moment, but it's great to have the crowds that support venues like this with a fun, relaxed quality vibe, and after dinner we walked around past at four other venues I would have stopped at next time. Enjoy!
Loft Byron Bay: 4 Jonson St Byron Bay. www.loftbyronbay.com.au