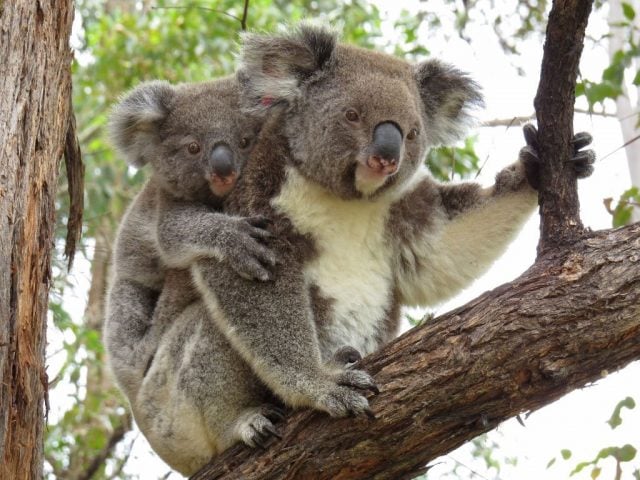 A national IPSOS poll commissioned by Australians for Animals has revealed a high level of concern in the electorate over the future of koalas, with almost 80 per cent of people supporting 'the urgent introduction of legislation to protect koala habitat in NSW and QLD'.
Support was highest among 18- to 29-year-olds (80.4 per cent) but remained in at least the high 70s across both sexes and all demographics with the sole exception of unskilled laborers. Even in this group, support was close to two-thirds of respondents.
In rural NSW support was particularly high, with 84.6 per cent of respondents in favour.
But significantly fewer people saw it as a major election issue.
When asked whether federal and state governments' current koala policies would impact how they voted, just 16.1 per cent said it would, while almost half (47.2 per cent) said it would not.
In a ray of hope for koala campaigners, more than a third (36.6 per cent) were still undecided.
Policy of extinction
During its current term of office, the NSW government repealed the Threatened Species Act and the Native Vegetation Act, 'effectively removing the slim protections available to save koalas and their habitat', according to Australians for Animals.
The group describes its replacements, the Biodiversity Conservation Act and the Local Land Services Act as 'a green light for developers with no protection of habitat and no provisions for legal challenges'.
Spokesperson Sue Arnold told Echonetdaily, 'The NSW government has adopted a policy of extinction for koalas'.
'Any detailed examination of the steps taken by the Berejiklian government demonstrates a complete failure to undertake the most basic environmental protection – legislation to protect habitat.
'Koalas are facing a perfect storm of threats including: climate change; drought; heatwaves; unchecked, exponentially increasing development; Regional Forest agreements targeting high koala use areas; and a government with an appalling dedication to spin,' Ms Arnold said.