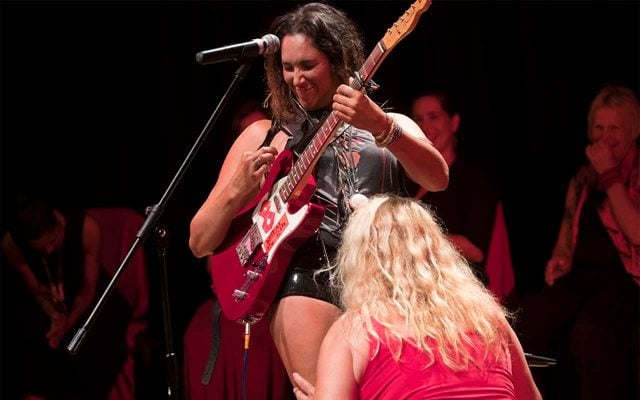 When all our lips speak as one
Byron Theatre, Community Centre  |  Thursday 14 & Friday 15 February  |  7.30pm  |  $23/29 
The Vagina Conversations are now in their fifth year. Directed and curated by Zenith Virago, what started as an idea has become a yearly event that sees women from around the community step up and talk about their vaginas – and raise money for the Mullumbimby Resource Centre at the same time.
What was the original concept for the Vagina Conversations?
After being involved with several local sellout productions of the legendary Vagina Monologues, I felt strongly it was time to tell new stories, our stories. The Vagina Monologues had been groundbreaking and powerful, bringing women's intimate and untold stories into the public arena. I felt women needed to tell and listen to our own more contemporary stories. With respect, I wrote to Eve Ensler to tell her what I was doing, and then we began. Women and girls are clearly hungry for their own herstory, our raw, intimate experiences. These are stories that women, and men, need to hear, to expand and broaden our awareness and grow our power, and appreciate our incredible bodies. I knew we had an endless supply of wonderful women within our Shire and beyond, and every one of them has a story, and that is proving to be very true… and it's a win for everyone.
I wanted this show to be ours – informative, political, educational, funny, sad, real, privative, tender… It's all of those and much more.
How do you keep the show inclusive and representative of as many women as possible?
Each year I try to find and encourage women from diverse backgrounds, women of colour, sexualities, gender identity, cultures, and subcultures to participate, but I don't always succeed. For some women it's just not their thing, or they have personal or cultural conditioning and/or community considerations that don't permit them to be able to stand up in public to discuss their vaginas, sexuality, rapes, orgasms, pleasure, or whatever has happened to them, whether that is good or challenging. I was also in conversation with a transgender person who has a vagina, but for different reasons these people have not become part of the performances. 
This is the fourth show. What have been some of the highlights over the years?
I think the gorgeous Feather at 82 was a highlight and great teacher for many. Jess as a young woman emerging into her rich life at 17; Ti for her long journey to be able to stand and deliver on the stage; Mandy and Áine as rock chicks… but really they are all magnificent highlights, they are moments of incredible courage and change. The rehearsal process is also a wonderful experience in its own right, and a rite of passage for everyone who participates. I am thinking we should do it twice a year.
How do audiences react to the show? What is some of the feedback you have had?
We see the reaction and the response to the Vaginas. It sells out both nights way in advance; there is laughing, learning and crying; women feel they are speaking up, and they are being heard, and are strengthened by being together and by other women's courage. We are a collective of courage, whether we perform, whether we come to listen and watch, or for many just to live their lives every day, to be a woman in the patriarchy, to be subject to so much institutionalised and public misogyny, when women are being murdered and raped every day, this is a moment to refill, to sustain ourselves to assist us to keep going. It now marks a certain time of year, it has become a part of the community calendar, it gives us strength and pride.
How important have the Vagina Conversations been in raising money for the Mullum Neighbourhood Centre?
Very important on a financial level, but also on an awareness level that the service is there for women and children who may need it.
The Escape fund is an everyday necessity for many women and children in our Shire.
Vagina Conversations sell out every year – so get your tickets now! Byron Centre on Thursday 14 and Friday 15 Feb at 7.30pm. Tickets are $23/29 at byroncentre.com.au.