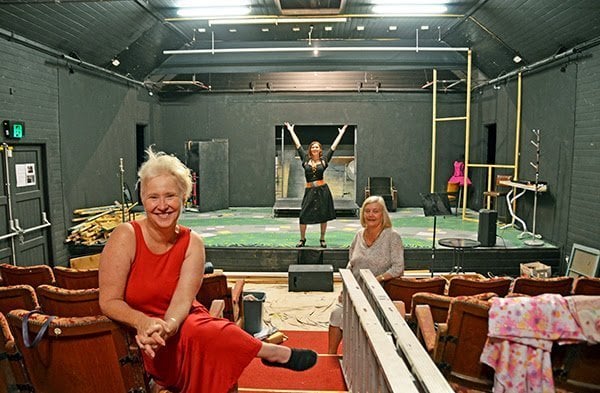 We all know that being a thespian is cool, but things just got cooler for the Rochdale Theatre.
The Lismore Theatre Company members and guests will experience a cool change this year thanks to Lismore City Council's Annual Community Grants Scheme.
The group received a $9700 community grant last August to purchase two large air conditioners for the auditorium. The cast can now rehearse and perform all year round and theatre goers can watch the shows in comfort.
Lismore Theatre Company President Sharon Brodie says the company do a Christmas panto but would leave the theatre vacant after that until March because of the heat. 'It would get up to 42 degrees in the theatre and the conditions were horrendous,' she said from the cool of the new space. 'We'd decided not to put on a Christmas panto in 2018 if we didn't get the grant.
'People have had to leave the show in the past – it was simply too hot for the actors, the families and children, and the guys in the sound and lighting box.
'These air conditioners have made such a difference – the Christmas panto last year was a wonderful success and no-one was fainting in the aisles!
'We are really excited that we have a summer show this year and it can be enjoyed in air-conditioned comfort.'
The Lismore Theatre Company's current show Breast Wishes runs until March 3. It is an uplifting musical featuring a series of touching, personal and funny vignettes about breasts. It was developed by Anne Looby and written by an impressive array of Aussie writers including Wendy Harmer and Richard Glover.
The theatre company will donate 10% of all proceeds to Jodie's Inspiration, a local charity that supports the families of those experiencing breast cancer.
Grants of up to $10,000 are available through the Annual Community Grants Scheme and 2019 applications open on 1 April.
There is a Community Information Session for interested people on Wednesday, 20 March at the Lismore Council Chambers and representatives from local community groups and associations are invited to come along, find out more information and ask questions.
The Community Information Session starts at 10.30am and everyone is welcome. For enquiries, phone Community Engagement Officer Flora Zigterman on 1300 87 83 87.
If you'd like buy tickets to Breast Wishes, or know more about the Lismore Theatre Company, visit their website.