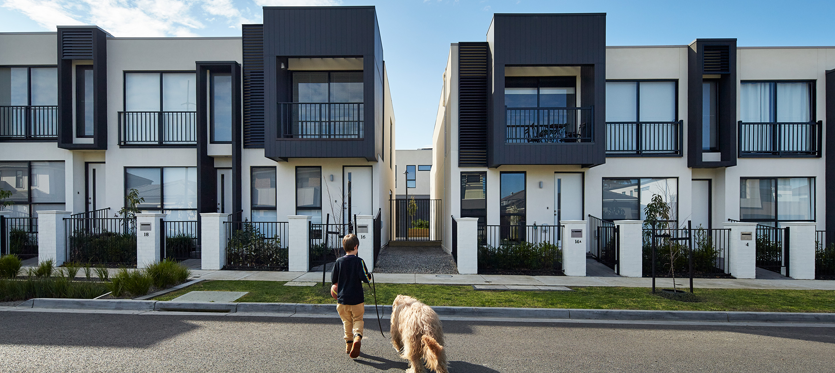 Do you want to have a say over what gets built next door? In July last year Byron Shire narrowly avoided being included as part of the Liberal/National medium density housing code (MDHC) and along with around 50 other local councils was granted a 12-month amnesty.
This code 'fast tracks' two-storey apartments, manor house and townhouse proposals in urban residential areas within 20 days as a 'complying development'. That means your neighbour can turn their one house into four appartments and neither you or the council could oppose it if you are in a medium density zone under the Local Environmental Plan (LEP) and on a block of at least 600m2.
'This means that the first a neighbour might know about a "manor house" consisting of four apartments being built on a 600 square metre block next to them is when the concrete truck arrives to pour a slab,' said Labor candidate for Ballina, Asren Pugh. 'It will have a bigger impact on our town than West Byron.'
Medium density by stealth
On Monday NSW Labor announced that, if elected in March, they 'will scrap the controversial Medium Density Housing Code' while the Greens are calling for a '12-24 month halt on all new planning proposals for major developments as well as a pause on both the Butler Street bypass and the Transport For NSW bus station'.
The Code has been described by many councils as medium density by stealth, fast-tracking approvals by removing council and community input and it has the potential to overcrowd suburban streets.
'This "code" was forced on local councils and our local community by the Liberal/National government' said Mr Pugh. 'It would mean a massive increase in density with no say for our local community or even a neighbour.
'It is an outrageous attack on our community and demonstrates the total inability of the Nationals to stand up for regional towns like ours.'
Pause development
One hundred days after the upcoming state elections the amnesty is over and Labor and the Greens are calling on the National/Liberal government to take action ahead of the elections.
'There is so much pressure on Byron right now,' said local Greens MP Tamara Smith.
'We've got a Butler Street bypass about to start that is unlikely to be a game changer for traffic congestion on Ewingsdale Road but will involve massive roadworks. A massive transport hub is being foisted on us by Transport For NSW that has had no community consultation and which will also involve massive road works. There is holiday letting regulation uncertainty and medium density low-rise residential "manor house" developments that could triple housing development overnight across the shire.'
Ms Smith is calling for a pause on development applications so that the shire has the chance to plan for and upgrade its infrastructure, similar to the pause provided to the suburb of Ryde in Sydney in 2018.
'Taking a break like they are doing right now in Ryde would give residents a break and enable Council to liaise with the community over the future infrastructure needs of Byron Shire and plan with us for sustainable growth,' pointed out Ms Smith.
'By anyone's standards, for a town only a few square kilometres in size with 9,000 residents and millions of visitors, there is a lot going on. If this was a friend telling us how much they had going on in their lives we would counsel them to take the motto at the entrance to the town seriously: "Cheer up, Slow Down and Chill out".'
Extension possible
According to NSW planning minister Anthony Roberts, who was in the Byron Shire last week to announce an exemption for the shire over the new Liberal/National short-term holiday-letting laws, if local councils like Byron Shire need a further extension to the current amnesty on the MDHC he is 'happy' to grant it.
'If councils need the additional time so they can get it right then I'm happy to grant it,' he told The Echo.
And that certainly seems to be the case, according to Byron Shire's acting mayor Michael Lyon, who said that as yet there had been no changes to the LEP in relation to limiting the impact of the MDHC.
'Changes to the LEP would require a formal resolution in order to progress a planning proposal,' he said.
'It is anticipated that we will receive a report to the March planning meeting which will provide an update on the code deferral. A formal decision will be made then.'