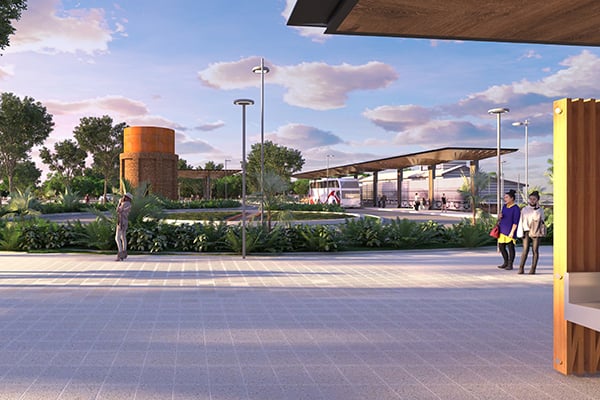 Byron Shire Council and the state government will not be asking the Byron Shire community for feedback on the proposed Byron transport hub within the disused rail corridor, according to acting mayor Michael Lyon (Greens).
The contentious state-government project comes under the Infrastructure SEPP, he says, so it 'requires no exhibition/community consultation'.
'Our strong recommendation to Sydney Trains was that they provide an opportunity for community input/feedback to "bring the community along" with them". 
'They determined that the best mechanism for this was through the Office of Environment and Heritage (OEH) approval process.
'When OEH assessed the interchange application, they determined that it did not require public exhibition. Sydney Trains then (eventually) persuaded OEH to put it out for exhibition anyway to give the community an opportunity to see the designs. OEH advised that they would be happy to help out Sydney Trains by doing this, but that plans would only be available via hard copy in OEH's Parramatta office, as is their standard practice'. 
Cr Lyon says at the 'strong urging from Council and Sydney Trains', OEH agreed to public announcement of the project, an advertisement of the project in local media and providing hard copies at Council's Mullumbimby office. Electronic copies are availabe upon request and signage on site was installed.
Cr Lyon says Transport for NSW/Sydney Trains have no plans for any further notifications to be issued regarding the public display.
'Essentially, there is no legislative, environmental or heritage requirement for exhibition or consultation on this project. Transport for NSW have done more than they need to, but less than we would like'.
When pushed on why Council can't take the lead and seek community input he said, 'It's their project on their land. We have an advocacy role at best'.
He added that while the Cavanbah Centre was put forward as an option, the state government are required to run buses to roughly the same area as railways.