Nordurland 
screening
Byron Theatre, Community Centre  |  
Friday  |  6pm & 7.30pm  |  
$5 
Nordurland is a film about going surfing in the harsh, cold waters of Iceland in the middle of winter. It follows three friends from the subtropical Northern Rivers of NSW Australia, surfers Torren Martyn and Laurie Towner, as well as founder and wetsuit designer Ryan Scanlon. They travel to isolated, snow covered coastlines in search of remote waves, and Byron Bay filmmaker Ishka Folkwell, beautifully captures these vast and stunning landscapes on screen.
In making the film Ishka Folkwell had to endure some of the harshest environments imaginable; with temperatures below freezing, wind chill, ice, and snow it was no easy feat to make a surf film. Ishka, recounts one of the biggest challenges was the low light of an arctic winter; they only had a small window of daylight for a few hours each day to surf and film. The sun would only just poke its head up above the horizon enough for a surf then back down into a very long night.
Most of the exploration to find places to surf was done in the dark. With an original soundtrack composed for the film by Byron's Headland band, glaciers, mountains, and powerful icy surf all come to life in this adventure to the far north.
Torren Martyn's narration offers a personal reflection on the trip and a real glimpse into the challenges and rewards of travelling to frozen, distant lands in search of surf.
The film will be showing this Friday night at the Byron Theatre with two showings at 6pm and 7.30pm. Tickets are just $5 and can be purchased from byroncentre.com.au or at the door, with all proceeds being donated to help protect our natural environment via lockthegate.org.au
---
The Magnificence – Backyard Music Series
The Quad, Lismore  |  
Saturday  |  6.30pm  |  
Free
The Quad is a one-of-a-kind cultural precinct and public space in the heart of Lismore that has been adopted by the community as their own creative playground. Nestled between the new Lismore Regional Gallery, Lismore Library, and the Northern Rivers Conservatorium, The Quad is a public meeting place, a performance venue, a children's playspace, a creative hub, and a space for community expression.
An innovative partnership between Lismore City Council and Southern Cross University, The Quad was launched in 2017 and has since hosted 32 free events, attracting more than 19,000 visitors. The Quad's annual program, curated by Quad placemaking officer Marisa Snow, is dedicated to providing a platform for new ideas, artists, and creative works to be developed and presented in the public realm.
'The Quad has been overwhelmingly embraced in its first year and we're thrilled with the response,' says Marisa. 'The Quad presents a unique opportunity to provide a platform to showcase new multi-disciplinary works while also providing a venue for community events and expression.'
The Quad's program is full of free music, art and performance. Here are just some of the highlights for this year: The Backyard Music Series happening first Saturday every month, 6.30–8.30pm, with great local acts performing tunes under the stars. Bring a picnic blanket and the kids. Slate cafe serves up nibbles and drinks from 5.30pm. This month features The Magnificence with Emily Lubitz from Tinpan Orange slated for 3 August!
Lismore Youth Festival kicks off 16 April, and is Lismore's first youth festival. This has long been a dream of Indigenous youth mentors Mitch King and Blake Rhodes of Dream Bigger. The one-day festival will showcase emerging artists from the ages of 14 to 19 years across all artforms. The goal of the festival is to generate a positive youth culture for Lismore and surrounding areas through creative and performing arts. So watch that space!
---
Public Act Theatre performance
Byron Theatre, Community Centre  |  
Wednesday  |  7pm  |  
$15 
Left in the box when all the dark things fly out, Hope bides its time. Public Act women's theatre project has taken the old story of Pandora as a starting place for exploration. If we don't open the lid of the box are we repressing our soul itself? Weaving together story, poem, dance, and spoken word, a new group of women takes to the stage. The dark things turn out to be the stuff of life and reveal surprising sides and then, finally, hope comes out to play.
This performance at The Byron Theatre is the culmination of Public Act's Empowering Women Through Theatre course, which has been running since 2015 based at the Byron Bay Community Centre.
For more info go to: www.publicacttheatre.com. Tickets $15. 7pm Wednesday 10 April at the Byron Theatre. Tix are online at byroncentre.com.au or via the box office at 6685 6807.
---
Stories in the Club: Seeding Change
Sunday 14 April  |  4–5.30pm  |  
Mullum Ex-Services Club  |  
$10
On Sunday 14 April, Jenni Cargill-Strong hosts an all-female lineup of tellers on the theme of seeding change: Andrea Darvill, Sophie Wilksch, Dani Wolff, and Alison Crook.
Dani Wolff is a natural-building designer and community-design facilitator. She comes from an architectural background and was drawn into the world of building with earth, using our hands, connecting to each other through the land we live on. She has taught permaculture, earthship construction, and natural building workshops for the past eight years around the globe and has shared at many events about her passion for co-creating communities and eco-villages. She now resides in Myocum and is starting a new project; Conscious Ground, to build a living classroom of regenerative living and to create an Earth Education Centre.
Andrea Darvill is a dual citizen of the Byron Shire and Canada, and is back in the 'hood before going back to Canada for a stint. Her first storytelling debut was at her nephew Eka's third birthday party in Rosebank. She recently told stories at Eka's 3-year-old son's preschool in LA. Ah, the circle of life! Andrea has performed all over the world, especially in Hong Kong. Andrea has performed for audience members as young as two and as old as 93. She'll have a folktale to tell.
Sophie Wilksch is a teacher of carpentry, and building and design. She loves working with reclaimed and recycled materials, to build eco tiny-homes, sustainable natural dwellings and upcycled furniture, which has been an on-going passion since she graduated from Architecture in 2012.
Alison Crook is the chairperson and one of the founders of Enova Community Energy Ltd, which is a social enterprise that is Australia's first community-owned energy retailer. Alison has had an interesting and varied career and has a long list of academic letters after her name. This has included such diverse roles as: tutor in Philosophy (Flinders Uni), Australian Volunteer International in PNG, NSW state librarian and deputy vice-chancellor for resources at Monash University. Along the way she has been named as Australian Businesswoman of the Year, and Australian Business Leader of the Year (Professions), been awarded an AO for services to public administration and a Centenary Medal for services to business. She has served on some 17 boards in both private and public sectors. Alison will share her story in conversation with Jenni about how she came to be involved in community renewable energy, and what it could mean for us as a community to own our own power – taking action when our systems fail us.
---
Sculpted pop-up
The Blue House: 1 Argyle St, Mullumbimby  |  
Opening Thursday 11 April, 5–8pm  |  
on show until 20 April Thurs–Sat 11am–5pm  |  
Free
Ten emerging Northern Rivers artists present a Sculpted pop-up exhibition in Mullumbimby that opens on Thursday 11 April.
Reflecting on their environment via space and form, the exhibition is curated by Kelly Reiffer, who describes herself as an 'accidental gallerist'.  Working at the high end of investment banking, her attention was captured by art at the cutting edge. In 2009 Kelly took a bold leap, establishing her Berlin Art Gallery, Skalitzers, and for four years she represented some of the biggest names globally in the graffiti and street-art scene, including ROA, Vhils, NUG, L'Atlas, and Cope2, in Berlin. Returning to Australia, Kelly continued to represent Berlin street artists, and turned her focus to pop-up shows, exhibiting in an ex-Gucci shop in The Rocks, Sydney, and an old chocolate factory in Chippendale. Kelly moved to Byron in 2014, producing public artworks in the Byron Shire at Wategos, Byron Bay, Habitat, and Ingenuity, presenting her first, very successful, Blue House exhibition last December, with visiting Berlin artist, Danny Gretscher.
Sculpted is Kelly's first invitational show of artists of Byron. Featured artists are: Lisa Arronis, Jill Dawson, Susie Duggin, Tim Fry, Danny Gretscher, Mercedes Mambort, Suvira McDonald, Jess Poulsen, Amelia Reid, and Leora Sibony.
All ten artists share a deep attention to their environment – the natural, urban, domestic, emotional, psychological, social, intellectual, spiritual, communicated and remembered – which comes through in the themes of their respective works.
Opening Thursday 11 April, 5–8pm and showing until until 20 April, Thurs–Sat, 11am–5pm at The Blue House, 1 Argyle St, Mullumbimby.
---
Byron Writers Festival Earlybird Ticket Release
Byron Writers Festival  |  
Elements of Byron & grounds  |  
2–4 August
Byron Writers Festival 2019 will be here before we know it, so mark your calendar, book early, and grab yourself a ringside seat at Australia's largest and leading regional celebration of storytelling, literature and ideas.
This year Byron Writers Festival is offering a new extra earlybird release of 3-day passes at even lower prices, available from 3 April for one week only. A second release of earlybird tickets will be offered in May when the first guests are revealed, and full-price tickets go on sale in June when the whole program is announced.
Festival director Edwina Johnson says the new ticket release comes after unprecedented demand for earlybird tickets in 2018:  'We have listened to the many people who want to buy their tickets earlier and for the best possible price. By offering an extra release of earlybird tickets this year we hope even more people will be able to join us at the Festival for this important exchange of ideas and stories that sustain us in challenging times.'
This year's Festival will take place 2–4 August with more than 140 Australian and international writers, thinkers, and commentators coming together to share their stories, inspirations, and insights on the beautiful seaside grounds of Elements of Byron Resort. 
For more information and tickets visit byronwritersfestival.com/festival
---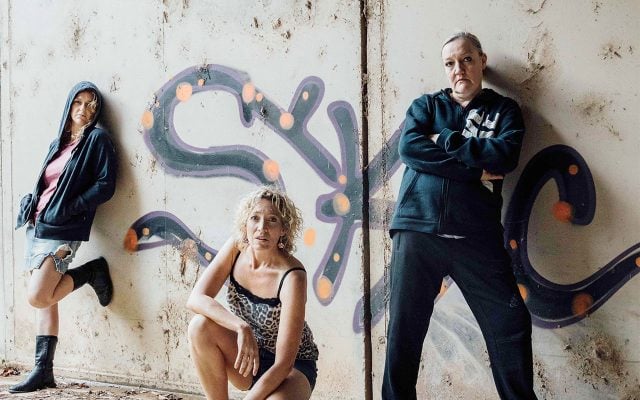 Shit
Drill Hall Theatre, Mullumbimby  |  
May 10–25 Fridays and Saturdays at 8pm, Sundays 2pm  |  
 $22/25 
When someone is told repeatedly that they're worthless, they come to believe it.
It's not surprising then, that the three women in Drill Hall Theatre's upcoming performanc SHIT believe they're shit, and that the world is shit.
Under the direction of Georgia Martin, local actors Kate Foster, Kate Horsley, and Claire Atkins will bring the foul-mouthed, violent, and darkly funny characters of Billy, Bobby, and Sam to life in Mullumbimby from May 10 till 25. Written by awarding-winning Australian playwright Patricia Cornelius, SHIT is electrifying; the characters pull no punches (literally) as their story explores themes of class, violence, and misogyny in Australia.
The play is provocative and bitterly funny theatre. Billy, Bobby, and Sam have been in and out of foster homes and institutional care all their lives. They have been neglected and abused sexually and physically, but they are survivors.
In spite of their situation a peculiar optimism surges through the play. The themes and language might be confronting, but are never gratuitous. Words are their weapons, and give them agency. SHIT is a play about three women living on the fringes, but this is a play for all women.
SHIT is on at The Drill Hall Theatre at 2 Jubilee Ave, Mullumbimby, from May 10 to 25, on Fridays and Saturdays at 8pm, and on Sundays at 2pm. Tickets are $22/$25 and can be purchased at www.drillhalltheatre.org.au/shit and at The Bookshop in Mullumbimby.  General enquiries call 0420 986 570.
---
NT Live Screening: 
I'm not Running
Byron Theatre, Community Centre  |  
Saturday  |  1pm  |  
$15–25 
I'm Not Running is an explosive new play by David Hare, premiering at the National Theatre and filmed live for cinemas.
Hare was recently described by The Washington Post as 'the premiere political dramatist writing in English'. His other work includes Pravda and Skylight, broadcast by National Theatre Live in 2014.
The cast includes Siân Brooke (Sherlock, NT Live: Hamlet ), Joshua McGuire (NT Live: Rozencrantz and Guildenstern are Dead, About Time) and Alex Hassell (Grantchester, The Miniaturist).
Pauline Gibson is a junior doctor, who becomes the face of a campaign to save her local hospital. She's thrust from angel of the NHS to becoming an independent MP. In the houses of parliament, she crosses paths with her university boyfriend, Jack Gould, a stalwart Labour loyalist, climbing the ranks of the party. As media and public pressure mounts on Pauline to run for leadership of the Labour Party, she faces an agonising decision.
Saturday at 1pm. Tix at byroncentre.com.au
---
John Pilger in conversation with Mick O'Regan
Cavanbah Centre, Byron  |  
Wednesday  |  7–9pm  |  
$20/25
John Pilger is an Australian journalist and BAFTA award-winning documentary filmmaker. He is perhaps best known for A Secret Country, the book that gave a controversial and passionate portrait of Australia's dark side: racially discriminatory, oppressive, militarily dependent on foreign powers, and politicians in collusion with financial kingpins. He wrote this in 1989; has anything really changed?
Breaking the Silence is an evening with Pilger hosted by Mick O'Reagan at the Cavanbah Centre, 7–9pm. Tix are at ngarainstitute.org.au
---
How to Change the World
: Clare Press in conversation with Zoë Gameau
Beach Hotel, Byron  |  
Friday  |  10–11am  |  
FREE
Byron Writers Festival and Dumbo Feather are bringing writer and sustainability expert Clare Press to town to talk about her recent book Rise & Resist: How To Change The World. The free talk will take place 10am on Friday at the Beach Hotel, Byron Bay. What does it take to change the world? Is it a protest, a piece of art, a hashtag? How can we embrace our friendships and communities and drive the kind of change that improves lives and protects our natural world? How do we, the many, challenge the power of the few? These are the questions posed by Press in her book Rise & Resist. Join Press in conversation with Zoë Gameau as she discusses the formation of a new counterculture united by a grand purpose: to rethink how we live today to build a more sustainable tomorrow.
It's free but you need to book: byronwritersfestival.com/whats-on
---
Melbourne City Ballet:
Alice in Wonderland
Byron Theatre, Community Centre  |  
Sunday 28 April  |  1.30pm  |  
From $36 
Melbourne City Ballet are coming to town with Alice in Wonderland – an incredible show with a cast of 16 dancers!
Two of Australia's leading choreographers, Melbourne City Ballet's Michael Pappalardo (artistic director) and Brendan Bradshaw (artistic associate) collaborate to pay homage to the well-known novel by Lewis Carroll, Alice In Wonderland. With this enchanting ballet complemented by a Tchaikovsky arrangement, Alice In Wonderland tells the story of a young girl who is whisked away to a magical world of wonder.
Falling through a rabbit hole she meets magical creatures both strange and mysterious on her adventure to find her way home.
Join the White Rabbit, Queen of Hearts, and the Mad Hatter as Alice ventures through Wonderland. This all-new ballet is perfect for all ages and is a magical portrayal of the classical story, over a year in the making. Melbourne City Ballet is set to entertain across Australia and New Zealand and bring a smile to both ballet audiences with its exquisite choreography and non-ballet audiences through its dynamic storytelling.
With 40 unique costumes and newly designed tour-able sets, this ballet is sure to be a colourful and playful rendition of this story. In true Melbourne City Ballet fashion the company brings a feast of movement to the stage. Sunday at the Byron Theatre, at the Community Centre at 1.30pm. Tix $36 at byroncentre.com.au
---
Christine Cameron Art Exhibiton
Creative Artisans Gallery, Ballina  |  
Wednesday–Saturday 27 April  |  
Free
Christine Cameron is a talented local artist who produces artworks in watercolour, linocut, coloured pencil, and scratchboard. She has received a number of local and national awards including the 2017 Tursa Art Prize. Christine has work in local, national, and international collections and sells locally through Creative Artisans Gallery in Ballina.
Her work will be on exhibition from Wednesday and concludes Saturday 27 April at Creative Artisans Gallery, Wigmore Arcade, River Street, Ballina.
---
Rene Bolton: Art in the Pub
Court House Hotel  |  
Monday  | 6.30pm  |  
Free
Artist Rene Bolten hosts Art in the Pub at the Court House on Monday. What better way to talk about painting and art than with beer? Rene will talk about the different processes of painting and drawing. He will touch on his career as an artist and the enjoyment of being a teacher.
Rene's practice is greatly influenced by his relationship with his art-making materials and the people, objects and places around him.
Art in the Pub on Monday at the Court House, Mullum at 6.30pm