Hans Lovejoy
The weekly Byron Bay Farmers Market, which has operated at the Butler Street Reserve for 17 years, is set to temporarily relocate in July to accommodate the construction of the Butler Street bypass.
Councillors voted last Thursday to not only move the markets to the Cavanbah Centre on Ewingsdale Road, but to pay $69,969 for the facility to become an operational market ground.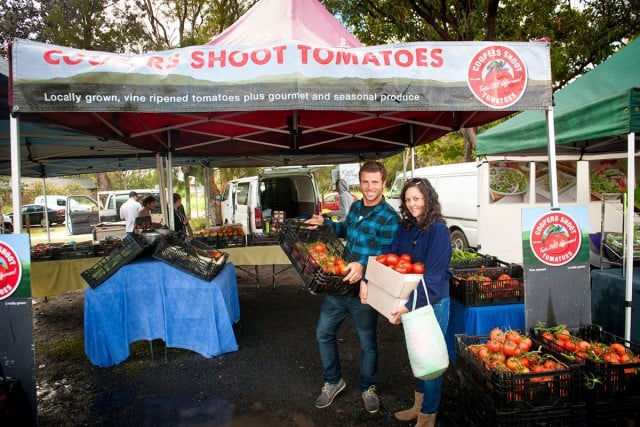 This is despite the monthly Community Market stallholders previously stating they do not want to temporarily relocate to the Cavanbah Centre.
In August  2017, The Echo reported that Council staff took it upon themselves to prepare a development application (DA) to use Cavanbah Centre on Ewinsgsdale Road as a primitive camping and market site. 
It came without informing councillors, and the community, or the agreement of stallholders who operate on Butler Street.
Mayor Simon Richardson told The Echo at the time, 'There is no move to move current markets out to the Cavanbah Centre.'
Uncertainty 
Despite that, the project comes with a lot of uncertainty. 
David Farmer, representing the Farmers Markets, told the chamber in public access there are 80 members. 
'It's their livelihood', he said, 'and all are nervous'. 
Farmer added, 'We haven't even talked about coming back to Butler Street'.
Acting mayor Michael Lyon's motion was eventually adopted, with only Cr Basil Cameron voting against. 
$20,000 will be offered towards relocation costs before and during the bypass construction period, as well as $4,914 towards admin support. 
While in their report Council staff suggested $5,000 be offered for the Farmers Market towards relocation costs, it became clear in the meeting that it would cost the markets around $25,000.
Funding sources will come from the Butler Street bypass project, say staff, where the state government have committed $10.5m and Council $4m.
During debate, staff said relocation would be six months while the Butler Street section is constructed. 
Additionally, staff said the successful tenderer for the roadworks would not be liable if they go over the time alloted for construction.
Cr Lyon said, 'We can revisit this'.