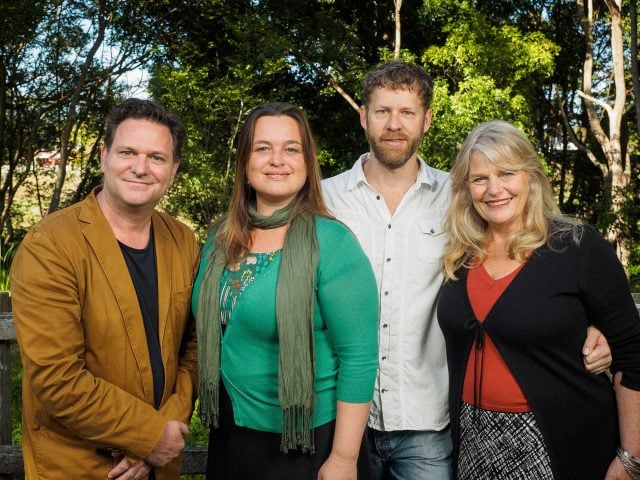 Byron Shire Mayor Simon Richardson has defended the council's work protecting koalas.
In the lead-up to last Friday's public hearing in Ballina as part of a state government inquiry into koala populations, acclaimed Northern Rivers-based environmentalist Dailan Pugh said the council didn't give 'a stuff' about koalas.
Mr Pugh had told Bay FM's Community Newsroom the lack of a koala underpass at the Sunrise Boulevard roundabout on Ewingsdale Road was proof, although he credited independent Councillor Cate Coorey with having 'tried in vain' to have one belatedly included in designs.
The council wasn't the only level of government at fault, Mr Pugh said.
He also said the Byron Shire Council had spent considerable time and money creating a coastal koala management plan but the NSW government had so far failed to approve it, leaving the plan without any legal standing.
Mr Pugh made a submission to the inquiry, including calls for localised koala management plans across the state to be fast-tracked.
The mayor has responded to Mr Pugh's comments about the council via an email, published word-for-word to follow.
Mayor says Byron Shire Council has 4 ecologists – not zero
'Though Dailan Pugh's unrelenting Council bashing has been going on for decades and shows no signs of relenting, I do thank him for at least raising the question of Council's relationship with Koalas, even if his attack was largely misplaced,' wrote Cr Richardson, 'rather than "not giving a stuff", I'll share what Council has and is doing and let your readers decide'.
'Firstly, Dailan is correct in stating that Council completed both its Coastal Koala Plan of Management (CKPOM), but the State Government have not approved it as yet.
'However, Mr Pugh is incorrect in his belief that Council has no ecologists; in fact we have 4, more than ever before. Though not just our ecologically focussed staff members care about Koalas-we all care deeply.
'In the recent past Council completed its' award winning Koala Connections 2012-16 project with outcomes which included: over 73,000 trees planted on over 120 sites, 55 hectares and 150 hectares of new and improved koala habitat respectively, 800 people attending training, working bees and other events and Vertebrate pest management control over nearly 4,000 hectares.
'Council recently began the Byron Habitat Corridors 2017-20 project, which focuses on rebuilding 10ha of Eucalypt forest ecosystems for koalas in areas identified by the draft CKPOM and the latest habitat restoration literature. Target areas for revegetation and regeneration works are existing patches of Eucalypt forest, wetlands and creek lines to enhance and create vital koala habitat.  A strong focus of the project is inclusion of landowners who are keen to manage their land for long-term threatened species protection leading by example.
'We are also undertaking the Iconic Koala 2017-18 project, part funded by our Environment Levy. As part of this we are looking at road hot spots with the focus on making any road crossing safer for koalas. We are also rolling out responsible dog ownership sessions, in part to educate owners about making their dogs less of a threat to koalas.
'Council is also currently working alongside other councils and Koala groups on many projects; these in include: the North-east Hinterland Regional Koala Project, the North Coast Koala Linkage Project 2017-20, to connect human communities and better assist in assist local koala populations recover, and the Koala Watch Project 2017-20, working to on the early detection of the major threats to koala populations and to undertake actions that reduce or eliminate threats.
'Council has, as have I, have written many letters of support for various local koala projects and we are stoked to help Bangalow Koalas Inc and other groups whenever requested.
'Aside from these "on the ground" projects, Council has already lodged a submission with the Inquiry into Koala Populations and Habitat in NSW and we encourage every other group or individual with a passion for Koalas to do so as well.
'We would love more funds to do more work, and we would love to add significant costs to make every main road and intersection dissecting koala corridors more koala friendly, but allocating limited funds across dozens of worthwhile projects and in dozens of areas is the perennial balancing act that all decision makers face.
'Council is committed to continually look to find ways to achieve better koala support outcomes and as always, I continue to offer an invitation to Dailan to seek information from us or work alongside council to achieve these outcomes.'
Echonetdaily has asked the mayor who the ecologists working for Byron Shire Council are.
This article has been updated to correct the roundabout in question. It is the Sunrise Boulevard roundabout not the Bayshore Drive roundabout as previously written.