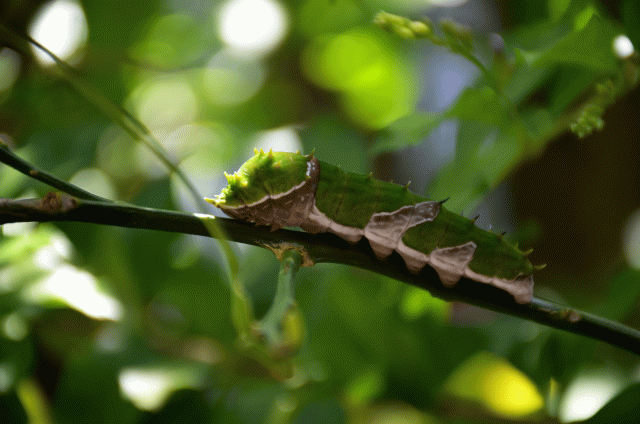 Story & image Mary Gardner
The young lemon tree's future is at risk. I find this stout caterpillar, a deep green with short sharp spines. It sports three very small legs in front, four stumpy prolegs behind and a clasper at the rear. I watch the monster eat an entire leaf as big as itself in under a minute. This mighty 50mm caterpillar is chomping its way toward becoming a 14cm orchard swallowtail butterfly Papilio aegus.
The creature would be as happy eating Wilga, Australian willow Geijera parviflora, or even garden parsley Petroselinum crispum. It's also happy to be the star of a nature study. Set up in a terrarium, you and your family can watch it transform into a pupa, then a chrysalis, and finally a butterfly. Maybe your family visitors will share their own stories about this animal.
In 1805, this native butterfly of the east Australian coast was one of the stars of a study by naturalist Edward Donovan (1768-1837). His friends Joseph Banks and William Bayly, who travelled with James Cook, collected this insect, among others, in what was then called New Holland. They gave him access to their collections of exciting specimens gathered from around the world.
Donovan was already a successful author and illustrator of five natural histories of British birds, insects, fishes and various British places. He eagerly classified these unknown insects and produced another best seller: Insects of New Holland, New Zealand, New Guinea, Otaheite, and Other Islands in the Indian, Southern and Pacific Oceans (1805).
Around the world, some copies of this rare book still exist. But you and your family can page through it at home any time you like, because of the Biodiversity Heritage Library. Online since 2005, major libraries around the world produce and maintain full-colour digital copies of priceless natural history and botanical works. Donovan's complete works, as well as any others of the 152,273 titles in the collection can be downloaded, for free.
Explore the world
The Biodiversity Heritage Library (BHL) helps any budding Naturalist – you or someone in your family – use rare books to explore the published history of biodiversity in places that interest you. The site has helpful articles explaining how to start your reading. Tracing biodiversity goes hand-in-hand with understanding society and history.
So much reading for those hot summer afternoons spent indoors out of the sun! Look into the section called User's Stories about how others have used the BHL books. A researcher into sloths found Thomas Jefferson's writings about a fossil sloth in Virginia. The section called Campaigns covers: Monsters are Real, Garden Stories, Fossil Stories, Her Natural History and Page Frights. Each article has links back to the page in some rare book where the story or the illustration was first found.
All this fascinating reading may turn you or your family into Natural History bookworms. But the wonder of knowing about biodiversity is in the transformations it can initiate. Much like caterpillar to butterfly, such knowledge can change you and the world around you.
Further to the Orchard Swallowtail; the male and female butterflies look different, but they both prefer warm temperatures. The males will defend a territory. The females lay eggs on host plants. Originally the larvae ate many different native plants but expanded into citrus when settlers brought these trees from overseas. They still grow much better on native plants.
Sightings of the butterfly occur in eastern Australia from October through to May. But the climate emergency is changing that. Overseas, as temperatures rise, similar swallowtail species are appearing earlier and spreading into new zones. Here, specialists expect the butterfly will be seen for a longer period of the year, and also expand their range further south and west.
Be a citizen scientist
Now you and your family can turn from Naturalists into Climate-Watchers. The ClimateWatch website is a national project collecting sightings of orchard swallowtails over time to see exactly how these changes are playing out. The website has all the information and forms you need to log your sightings.
Explore climate watch trails
You can also get everyone outdoors in the cool of morning or evening and walk the ClimateWatch Trails. They are found throughout Australia, including one at Rocky Creek Dam.
Print the forms from the website, put them on your clipboard and take your camera with you on this specially marked trail. You will not only be looking for butterflies, but many other species as well. The website explains exactly what to look for, and how to record your sightings.
Remember Mr Donovan? Caught between strong publishers and weak copyright laws, the successful author and illustrator died penniless. He left behind a large family, raised alone by a wife whose life and struggle must be some remarkable tale too. Try as I might, I haven't yet found her story. But in that strange sweet way of the internet and keywords, what I did find was the Song of the Naturalist's Wife, by 1960s folk artist, Donovan. Perhaps you will learn it and go humming or singing 'weary weave, weary weave your way' on the way home from your walk…