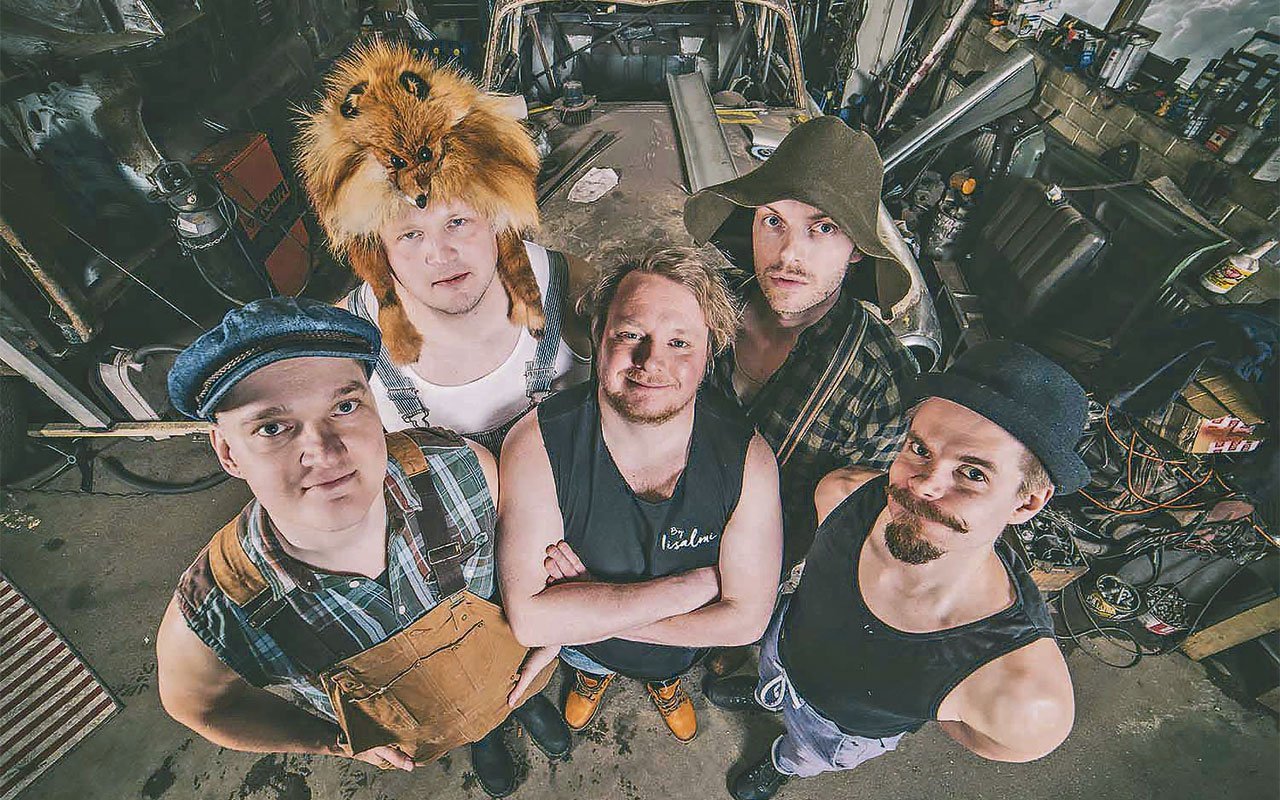 Steve 'n' Seagulls
Bluesfest  |  9-13 April
One thing Bluesfest does is, it allows you to hear music you might never have otherwise heard. One band I'm really looking forward to seeing is Finnish country band Steve 'n' Seagulls. Fronted by Tomi Tajakka, the band plays bluegrass versions of well-known hard rock and metal songs. It's Nordic noir for the ear.
Right now Steve 'n' Seagulls are exploding all over the world – this will be their first time in Australia.
'Around 2014 we kind of suddenly realized that some of our videos were getting a lot of exposure. After that we've been really fortunate to tour a lot of different parts in Europe, and then in North America numerous times. Then we've visited South America also, so I feel that we are more-than-lucky-guys to be able to go around and play music and have a good time, with people in different countries, so it's been really nice' says Tomi.
The band comes from all over Finland.
'Originally we're all kind of from different parts of Finland, and at some point, the original lineup, we ended up studying in the middle parts of Finland in this town where there's a big university and stuff like that. We moved there early in the 2000s. It's a smallish town, so everybody who plays an instrument, at least half serious, you will at some point meet each other. And during the years we ended up playing in different line-ups together, or some of us played in some sort of bands together. Then in 2010 Steve 'n' Seagulls was formed as a side project, but then it just kind of stayed alive, and it started going through some sort of evolution from semi-electric to an acoustic line-up.'
Although there have been a few line-up changes, the idea has stayed the same.
'We experiment with different acoustic instruments, mixing in parts of North American folk music and Finnish music and then metal, hard rock, whatever kind of rock fits in, so that's the short version of the story, I would say.
'Part of this band is that we like to have fun; and we love to have fun with our childhood idols. We don't want to mock them, but we want to pay our respects to those iconic bands, and at the same time we feel that you can actually dig into music and be really serious about the musical input of the band, and musical output, and play as tight and good as you can, but at the same time you can have a lot of good times. And when people come see us or hear us, they also have an hour, two hours, three hours of a good time that night. It's kind of a cool mixture of serious musicianship and then something totally opposite' says Tomi.
'A lot of the songs that we cover, we grew up with. We're mainly kids from the '90s – so a lot of these bands hit Finland pretty hard. And also classic rock has been there in our lives more or less.'
It was an ACDC cover of Thunderstruck that kicked off the viral YouTube success for Steve 'n' Seagulls.
'That's a huge reason that we're actually even playing outside Finland! Because I think Thunderstruck was the third live video we did for our band. We didn't have any plan at that point. To be honest with you, we were touring in Finland, and the band was just kicking in and we wanted to make those videos for our Finnish booking agent to have something more than an email that says the usual; that we play this and this kind of music, and this kind of instruments. We thought that, because the line-up and the instrumentation is a little bit different, that it's easiest to present it with a live video. Then we just uploaded it to YouTube and sent the link to our booking agent. But at some point, the videos just started spreading around to different web scenes, websites and fan sites and stuff like that. That's how it kicked in.'
It's not just ACDC – they do Metallica, Iron Maiden, Guns N' Roses, The Offspring, Pantera. It's really something else!
Catch Steve 'n' Seagulls at Bluefest! 9–13 April, bluesfest.com.au
---
More Bluesfest 2020 articles: