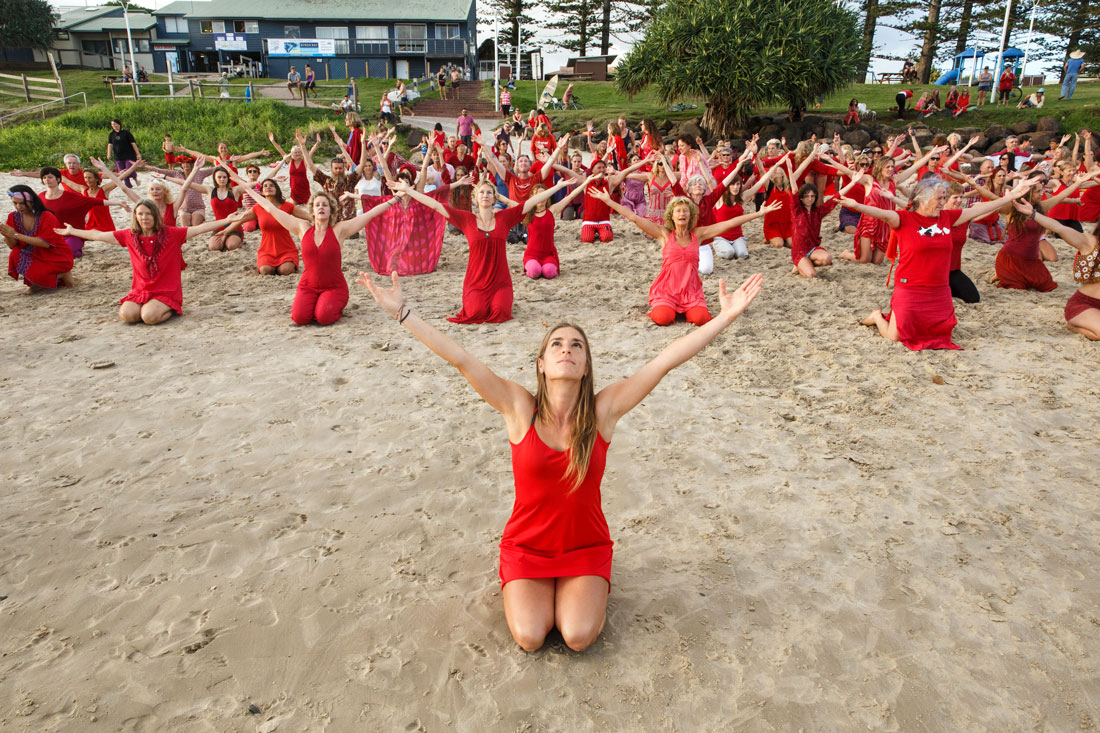 Putting the V in Vagina
V-Day flash mob dance  Main Beach, Byron Bay  |  7am  |  Thursday 14 Feb
Vagina Conversations |  7.30pm  |  Thursday 14 & Friday 15 February  |  Byron Theatre, Community Centre  |  $23/29
Every year, women from around the region gather to tell the stories of their vagina – their loves, their losses, their desires, their heartbreak, their trauma and their triumph. On 14 February, Zenith Virago leads the morning V-Day flash mob dance on the beach – part of a global movement that recognises the one billion women around the world who have been victims of sexual assault or rape. The evening presentation of Vagina Conversations is the major fundraiser for the Women's Resource Centre at the Mullumbimby Neighbourhood Centre. The show always sells out, so it now runs over two days. The Echo spoke with Zenith Virago about the Vagina Conversations.
What do you look to make happen every year with the Vagina Conversations?
We make it a celebration of vaginas, of women, and people with vaginas. Those who have been girls or children and have grown up with a vagina, and how that has influenced their life, or how that experience has made them who they are. My intention has been to create an educational, political, intimate show that discusses, informs and revels in all things vagina.
The audience has an incredible time on the nights, but the whole process for the presenters is a totally empowering and transformative experience.
Are there really so many stories of our vaginas to tell?
Yes, there are, every one has a story – we are full of stories that form us. This is the fifth year. It is good for us to hear each other's stories, so we have broader awareness, but also to feel aligned. Women are hungry for real and healthy vagina-centric events, and to raise funds for women and children experiencing intimate violence who are escaping from that.
How does the audience receive this?
They receive it in their own way. In a way that makes sense, or touches them, it may inspire them, it may make them feel that someone else has a similar story. It may be shocking or deeply touching, it may be enlightening and powerful, it is so wide-open and multifaceted.
Is it what they expect?
I don't know the answer to that, as people have their own expectations.
It's easy to see and feel that they are mostly satisfied – during and after. It's Valentines Day, and it's always sold out, so that says something. I think those who have been before know the format, and those who are coming for the first time are trusting, and open to the experience.
What have been some of the Vagina Conversation highlights for you?
It's hard to refer to some of the presenters, as they have all been magnificent. Feather of course, at 82, is the oldest… so courageous and real. Jess Lu, at 17 is the youngest, sharing how she negotiated sex. But I don't want to single others out, as it is full of highlights – even before the show.
Is this what feminism in action looks like? How does it tie in with the morning action on the beach?
I think this is what feminism in action looks like. Everything I do, I bring my feminism to it. It's an intrinsic part of who I am, and what I want to contribute to the world.
Who are the women performing this year? What do they bring to broaden the vagina conversation?
Rose Weaver, Sharon Shostak, Ella Noah Bancroft, Freer Bonne, Lisa Sharpe, Parker Lev Dupain, Mira Elliott, Danni Carr, Simi Genzuik, Marissa Treichel. Sequioa Krop. They each bring their unique stories, just as the others have; Indigenous experience, bleeding, strength, courage, wisdom, growth, birth, abuse, music, dance, gender politics, anatomy, and of course, comedy.
What should people expect from the Byron VC, and the morning action on the beach?
This will be the eighth year for the flash mob on Main Beach. It has become an 'absolute' on people's calendars, it is an opportunity to stand up, to be noisy, to find and use your voice. To remind ourselves that violence against women and children is increasing, and that the number of women killed by their intimate partners or family members is at appalling levels. And that we are strong, despite institutionalised abuse, violence and control.
Thursday, 14 Feb V-Day flash mob at Main Beach at 7am – wear red and bring your own placards. Vagina Conversations at the Byron Theatre, Community Centre on Thursday and Friday, 14–15 Feb at 7.30pm. Tix $23/29 from byroncentre.com.au