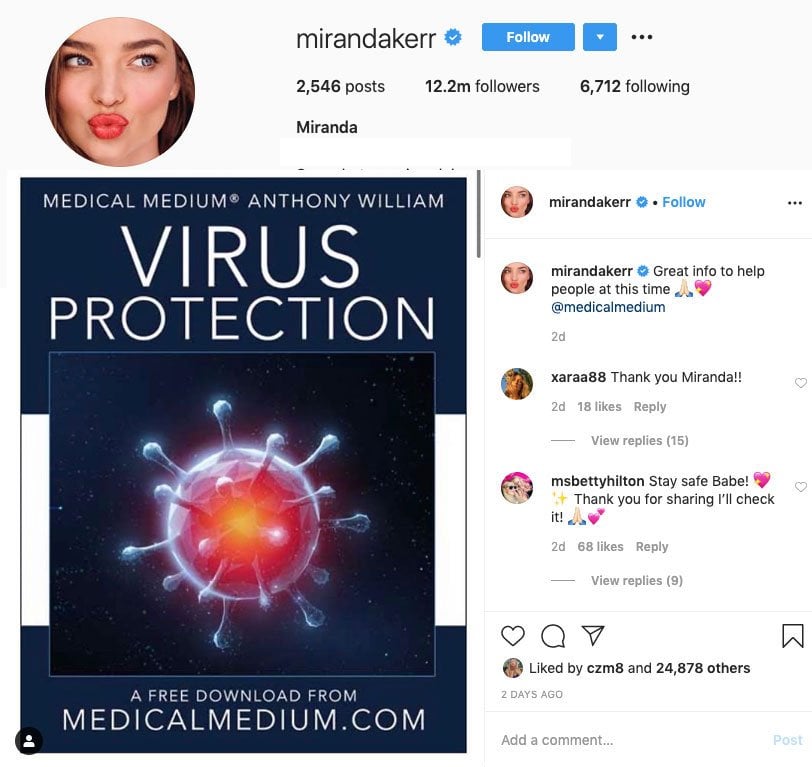 The Royal Australian College of General Practitioners (RACGP) has today warned Australians to be mindful of false or misleading medical 'advice' and updates on social media concerning coronavirus (COVID-19).
Model and businesswoman Miranda Kerr has come under fire for a promoting a 'Virus Protection' guide from 'medical medium' Anthony William to her 12 million followers on Instagram.
A fake 'letter', purporting to be from Federal Health Minister Greg Hunt and Victorian Health Minister Jenny Mikakos, has also been circulating on social media concerning school closures in Victoria.
RACGP President Dr Harry Nespolon said that all social media users should be wary of what they are reading.
'The community is growing increasingly alarmed about the spread of COVID-19 and given the massive media exposure that is hardly surprising.
'I understand that people are scared but turning to false or misleading social media content is not the answer. There is no magic cure for COVID-19 and schools are not being closed at this stage.
'It's not always easy but social media users need to critically examine this content and consider the source of the information and whether it is credible.
Apply a 'sniff test' to posts on Twitter, Facebook, Instagram
'I encourage all Australians to apply a "sniff test" to posts on Twitter, Facebook, Instagram and the like and ask themselves whether the information is reliable and trustworthy.
'The best sources of information on COVID-19 include the RACGP website and the official health.gov.au website, not Miranda Kerr's Instagram account.
'My advice is simple – wash your hands, keep them away from your face, avoid handshakes and mass public gatherings and don't always believe what you see on social media.'
Pete Evans should stick to talking about activated almonds
The RACGP President said that false or misleading social media posts about COVID-19 were part of a larger trend.
'In January this year we had celebrity chef Pete Evans using Instagram to promote the work of a prominent anti-vaccination advocate Robert F Kennedy.
'At the time I told Mr Evans that he should stick to talking about activated almonds and leave vaccinations to healthcare professionals.
'He has gone quiet on vaccinations in recent months but the problem is that there are so many 'experts' on social media claiming that they have a magic cure or that expert medical advice shouldn't be heeded. It is extremely frustrating and makes the work of GPs harder than it needs to be.
'Social media is such a large part of people's lives and unfortunately, many people are viewing content on their news feeds that is quite simply wrong and potentially very harmful.'
Influencers should self-regulate what they are posting
Dr Nespolon said that social media 'influencers' and people with large followings should self-regulate what they are posting.
'I call on people such as Miranda Kerr, who have extraordinary numbers of social media followers, to exercise some personal responsibility.
'If you aren't a healthcare professional you shouldn't be handing out free medical advice, leave that to the experts.
'If you want to encourage people to wash their hands that is fine, but advising social media followers that they can avoid COVID-19 by not eating eggs is not helpful.
'No one can be sure what will be required in Australia in coming months to limit the damage of COVID-19 but I can reliably tell you that the answer doesn't lie in listening to a "medical medium" such as Anthony William.'