Gravity and Other Myths: Backbone
Lismore City Hall  |  Friday 27 & Saturday 28 March  |  7:30pm  |  $25 – $49
Sexy but sincere, raw yet utterly disciplined, Backbone is proof you can't do the impossible without a little sweat.
In less than a decade, Australian acrobatic sensations Gravity & Other Myths (GOM) have rocketed to stellar international acclaim with a series of disarmingly accomplished ensemble works, and now they are returning to home soil to show Australian audiences why!
GOM are bringing their biggest and most spectacular work, Backbone, to wow audiences across Australia – and they are coming to NORPA! A high-octane spree of physical virtuosity featuring ten extraordinary performers and a live band on stage.
Backbone tests the limits of strength: physical, emotional, individual and collective. Lismore City Hall, Friday 27 and Saturday 28 March, 7.30pm. Tickets are $25–$49 from www.norpa.org.au or call 1300 066 772.
---
RAW Comedy Heat 2 Mc Mandy Nolan
Mullumbimby Ex Services  |  8pm  |  Monday  |  $15
Two weeks ago we had the first heat in Byron for the RAW competition. Judges and audience members alike were impressed by the standard of the acts; one of the judges saying it was one of the strongest heats they'd seen. The winner was David Powis, who goes on to the Queensland final in two weeks. There is just one more spot to fill, and it will come from the second RAW heat in Mullumbimby Ex Services, 8pm, on Monday 16 March – MCd by Mandy Nolan. This is a cracking night of comedy that you don't want to miss.
Tix are just $15 – come and see the rising stars of comedy. Tix online from mandynolan.com.au or at the door.
---
Moulin Rouge
Brunswick Picture House  |  Friday and Saturday  |  7pm
The Brunswick Picture House presents Baz Luhrmann's Oscar winning Moulin Rouge this week.
It's not just about seeing an iconic film, it's about dressing up and being part of the charisma of the event. If you haven't been to one of these film events, they are kind of hard to explain – but definitely a whole lot of fun, so get your family/friends together and come see what all the fuss is about!
Moulin Rouge at Brunswick Picture House on Friday and Saturday, at 7pm.
Tix at the door or brunswickpicturehouse.com
---
Drill Hall Theatre 2020 Season
The Mullumbimby Drill Hall Theatre has just announced its 2020 season, and is set to deliver three electrifying Australian plays that position women centre stage. With a dynamic creative team, drawn from the region's most established and promising new talent, the Drill Hall's new artistic director (former NIDA teacher) Liz Chance is calling audiences to strap themselves in for an exciting year of theatre.
First up, Australian playwright Joanna Murray-Smith's expertly aimed lens will burn a hole right through the sexism of literary publishing in Switzerland, with a psychological thriller to be directed by multi-award-winning actress Toni Scanlan (Water Rats, Blue Heelers, MDA), performed by Liz Chance ( Water Rats, Blue Heelers, Caddie ) and Drill Hall new-comer Matt Rossner (The F Word, Puberty Blues)
Patricia Cornelius's foul-mouthed girls are back by public demand to menace audiences in the bitterly funny, and highly provocative SHIT, featuring an all-star female cast with Claire Atkins, Kate Foster, Melia Naughton, and directed by Liz Chance.
Climate and family also come under the microscope in Andrew Bovell's powerful intergenerational drama When The Rain Stops Falling, directed by Greg Aitken.
The 2020 season opens on Friday 8 May, and will be launched in a special event on Sunday 10 May, at 3pm, at the Mullumbimby Drill Hall, where visitors can meet the directors, see workshopped performances by local actors, and be part of a Q&A with Liz Chance, and veteran Australian actor, Maggie Kirkpatrick – most famous for her role as prison guard, Joan 'The Freak' Ferguson, in the legendary Aussie TV drama Prisoner.
Event details and 2020 season tickets are on sale now at www.drillhalltheatre.org.au and at The Bookshop, Mullum.
---
Flickerfest 2020
The Regent, Murwillumbah  |  Sunday  |  4pm  |  $15/18
Flickerfest, Australia's largest short-film festival is excited to be bringing its national tour to the Regent Cinema in Murwillumbah, showcasing the Best of Australian Shorts Programme.
The Flickerfest program present a selection of entertaining, inspiring, and award-winning films hand-picked from the festival's 3,500 entries, giving local Flickerfest audiences the first look at the hottest shorts in the world today.
Highlights from the Best of Australian Shorts include the fabulous winner of the Best Australian Short animation award at Flickerfest 2020, Rebooted directed by Michael Shanks – about a movie-star who just so happens to be a stop motion animated skeleton monster. Coming to terms with aging, the charming short Chicken from Alana Hicks, who was awarded Best Direction in an Australian Short Film at the Flickerfest Awards Ceremony in Bondi. Given a special mention for Best Australian Short Film at Flickerfest 2020 was The Egg by Jane Cho, in which a young girl, bored and lonely in a world of foreign suburbia, becomes determined to claim a large Easter egg as her own, under the watchful eye of an elderly woman.
Set in 1965 Melbourne, and fresh from a highly successful run on the International Film festival circuit is Brendan Young's The Widow starring Steve Bastoni (Neighbours, Wentworth) and Daniela Farinacci (Lantana, Glitch) about a Sicilian widow who fights for her life when members of the local Calabrian Mafia murder her husband and try to seize control of his produce business. Catherine McQuade, the co-producer, composer and costume designer of the film, lived in Murwillumbah for a period in the mid '90s.
Both Brendan Young and Catherine McQuade will be in attendance at the screening, Sunday at the Regent, from 4pm.Tix $15/18 at the door or flickerfest.com.au/tour/murwillumbah-nsw
---
Shire Choir presents: Ode to the Celts
Newrybar Hall  |  Saturday 28 March  |  7pm  |  $20–45
Brought to you by the team behind the wildly popular pub singing session Shire Choir, An Ode to the Celts is the second in a series of intimate supper-and-show evenings.
The concept of the evening weaves together the essence of community; a communal table with a shared meal, lively conversation, and high-calibre entertainment.
An Ode to the Celts is a showcase of performers, from the seasoned to the emerging. Australia's favourite adopted Irish sister, singer-songwriter Áine Tyrrell, has toured the world with her mesmerising songs melded with ancient Irish storytelling traditions.
Audiences can't help but fall in love with her alluring voice and captivating ways.
Hailing from County Cork, Irish Joe Lynch is no stranger to the stage with a career as a poet and storyteller for over 35 years, Joe is the real deal – a modern-day seánchaí who entrances young and old with his tales.
Byron's Mark Butler is an Irish folk musician, popular at festivals and concerts, playing solo or as a member of Claddagh, whose renditions of traditional folk songs can stir powerful emotions and transport audiences back in time to another place.
And of course, no Celtic night would be complete without dancing, and the award-winning Cape Byron Celtic Dance Troupe will be presented for your enjoyment.
Plus, there's even a chalkboard for locals with Celtic connections to read a story, poem, perform a song or short musical piece.
This family-friendly night is not to be missed. Ticket price includes supper; with a choice of hearty soups and fresh soda bread. Saturday, 28 March, from 7pm at Newrybar Hall. Tickets in advance only. Kids $20, concession $30, adults $45, available www.shirechoir.eventbrite.com
---
When The Rain Stops Falling
The Drill Hall Theatre, Mullumbimby  |  Sunday  |  3pm
The Drill Hall Theatre Company's production of When The Rain Stops Falling, a play by Andrew Bovell, is officially launched 3pm Sunday. The launch will include a presentation of three workshopped scenes by the company of nine performers, followed by a Q&A with the director Greg Aitken, and the cast.
Liz Chance, the new Artistic Director of the Drill Hall Theatre Company will then have a chat with the renowned actor Maggie Kirkpatrick. Andy Bambach the composer and musical director for the production will round out the afternoon by performing songs about the characters in the play. www.drillhalltheatre.org.au
---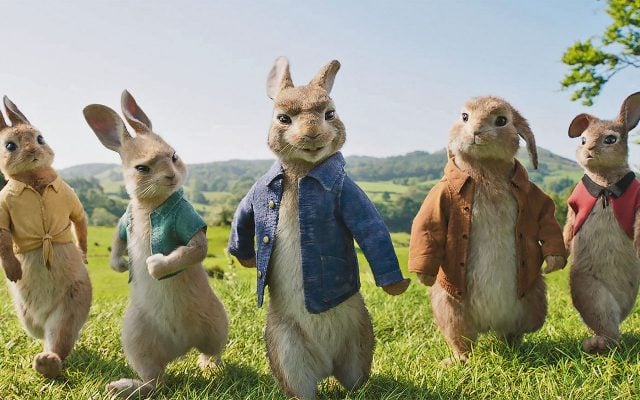 Federal Films for Kids and Films for Adults
Saturday, at 3.50 pm, Federal Kids Film Club, Peter Rabbit   |  The Farewell, 8pm
On Saturday, at 3.50 pm, Federal Kids Film Club will be showing Peter Rabbit , based on the classic Beatrix Potter tale. Join Peter, Flopsy, Mopsy and Cotton-Tail in a hair-raising, fun-filled adventure. There will be snacks and drinks during the film, followed by a chidren's dinner at 5.30pm, with chicken skewers and McGregor's carrots.
The main feature, starting at 8pm, is The Farewell. A semi-autobiographical film from Lulu Wang, 'based on an actual lie' – this is a warm-hearted, playful comedy that explores the yin and yang of culture and family.
Dinner is catered by Goonengerry School P&C and will be served from 6.30pm. For more information, call 6684 9313 or email [email protected] or online at www.federalfilmsociety.com and www.facebook.com/federalfilmsociety
---
Ocean Film Festival: Deep Sea Coral Polynesia
Byron Theatre  |  13–14 March  |  7–10pm
Franck Gazzola marries his passion for photography with his love of the ocean with seamless ease – having worked on underwater productions for the  BBC  and the French Under the Pole team. But the French-born, Byron-based multi-linguistic snapper says he now could not imagine living any other way. Franck was part of the team that features in the headlining film in the 2020 Ocean Film Festival, which screens at the Byron Theatre this Friday and Saturday, with Franck in a Q&A on Friday.
His film Deep Sea Coral Polynesia follows a team of technical divers and coral scientists on an expedition to the South Pacific to explore one of the most mysterious ecosystems on our planet; the corals of the deep. Thanks to underwater footage gathered during dives of down to 150m, in previously unexplored waters, they reveal a fascinating world and a thrilling marine-life encounter.