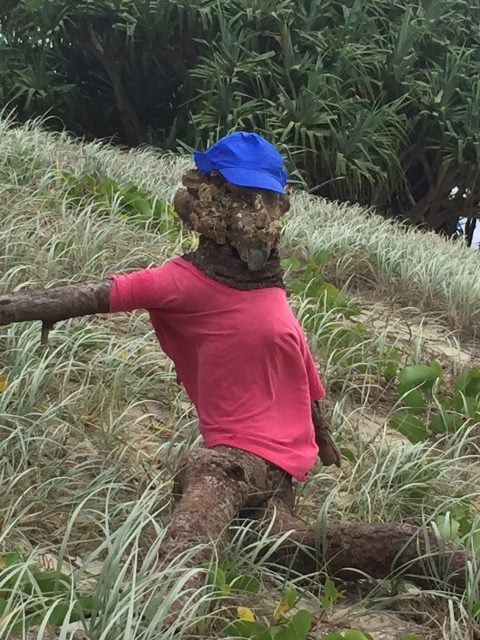 They keep telling us to reduce, reuse, and recycle and as a result of community imagination and fun New Brighton has a new lifeless lifeguard on the beach. Locals and visitors have gradually provided the humanesque log washed up on the beach with a range of discarded attire as it watches over the waves.
Janet McCoy, who was holidaying from the Gold Coast, sent in this picture to Echonetdaily to give people a chance have a giggle and enjoy the quirks of nature and a little human intervention.
'I have been holidaying every year at New Brighton for 57 years,' said Janet.
'I love it and the whole Northern Rivers area. There was a stump on the beach (New Brighton) that looked like a person overlooking the ocean. People looked at it as they walked by. Dogs barked at it. One day somebody shoved a cunjevoi on top so it looked like a head. The next day a T-shirt appeared. Then I had found a hat that had washed up in the surf, so I put that on it too,' she said with a laugh.
'It looks so good I dubbed him The New Brighton Lifeguard. I had to go home the next day or I would have added white zinc cream to the nose and a pair of sunnies!'