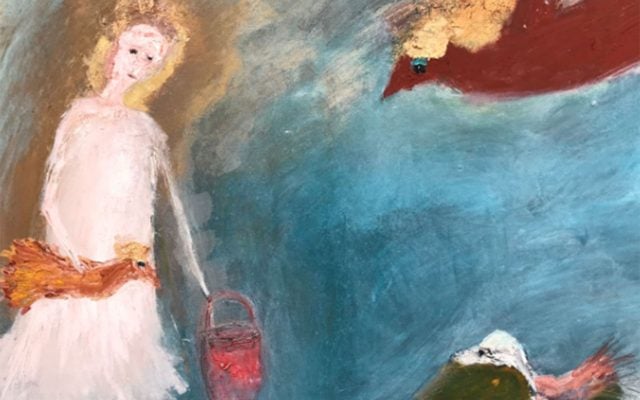 A World Gone to the Birds
In a world where our narratives have been reduced to monotonous bleak news feeds, it's good to find a little solace in the escapism of art.
Ninbella Gallery in Bangalow presents Hilary Herman's latest show Sermon to the Birds. Hilary has spent well over seven months preparing for this show, with some stunning pieces that are available to view and purchase online! Of her subject matter Hilary says, 'I am drawn to the imagery of Francis of Assisi's Sermon to the Birds; of a robed figure explaining faith to birds, to this vision of crazed fervour and devotion that has been projected across centuries to the idea of instituting reformation through the details, of changing the world by looking to our smallest features. I like the gilded pictures of medieval chickens. Stripped back, removed from its biblical context, the Sermon to the Birds is a tale of democracy, respect and love. It's the simple observation that birds need the Earth as much as we do. In a time of destructive change, after a season of fire, after the death of a billion of our creatures, and now a pandemic, I present an idealistic world, I share my innocent world. They're seemingly utopian narratives that dream of a peaceful world, but are marked by a nod to the apocalyptic summer we lived through, and the apocalyptic times ahead. They understand the world, but want a different one; they offer another one.'
Sermon to the Birds–the title piece from Hilary Herrmann's upcoming online exhibition, hosted by Ninbella Gallery – to view the collection go to ninbella.com/collections/hilary-herrmann
---
Art online
The Lismore Regional Gallery are innovating their program to adapt to the change required and how they can implement new systems for remote work and share programs online. There are a plethora of activities and online exhibitions to connect with. Steve Waller presents Occulture – works that display the artist's drawing practice as a visual incantation, summoning the winds of cultural change. Steve compares occult practices to the act of drawing, and the practice of magic – the ritual, the secret societies, the hidden knowledge, and the darkness and light. Also on show is RocoColonial, Blingman Slag by Grayson Cooke and Media studies, by Bennett Miller. Online events include artist talks, podcasts and book readings.
Go to lismoregallery.org to find out more.
---
Women Like Us on Mondays!
There's no better time to have a laugh when there's nothing to laugh about! Women Like Us are Mandy Nolan, who is me, yep the secret is out, and Ellen Briggs, and we're in lockdown. We can't see each other. We can't gig. We can't get out of the house. We are angry menopausal women who may just totally lose it. It's not the pandemic our families should fear… it's us! Every Monday night we go live on Facebook: womenlikeuscomedy – for a good old bitchin COVID-19 tell-it-how-it-is, or how-you-think-it-should-be, showdown. Costs nuthin but a little of your time, and hell, you got heaps of that!
---
HOTA rage against Virus
HOTA has revealed the first recipients of its Rage Against the V(irus) Artist Fund who will receive up to $1000 cash toward nominated projects.
The artist fund, established to keep local artists working and getting paid, has attracted more than 100 applications with 12 recipients just announced.
HOTA CEO, Criena Gehrke, said the venue's temporary closure was not going to stop HOTA supporting the local arts.
'These 12 artists represent some of the best creators living on the Gold Coast. For as long as this virus rages on, we will continue to support artists, for as long as we possibly can. Their art will speak for itself, the artists and for HOTA,' she said.
The line-up of local Gold Coast artists announced today included; Tim Baker, Thomas E.S. Kelly (Karul Projects), Dion Parker, Jay Jermyn, Kylie Chan, Matthew Gray, Amy John Roberts, Mark Gray, John Kaye, Sapodia Lindley, Pru Wilson and Scott French (Lovestreet Studios).
The creative works, yet to be revealed, will start rolling out across the HOTA website and social media channels during the coming weeks, with more eligible local artists set to be revealed every seven days for the next seven weeks.
Rage Against the V(irus) Artist Fund was launched in record time by HOTA in response to the coronavirus outbreak and its impact on the arts. The fund offers cash support to local creatives during a time when they need it most.
Applications received so far span a wide spectrum including: comedy, dance workshops, animations, experimental music, song writing hacks, fine art and conversation, as well as e-zines, photography and podcasts, to name a few.
Applications are still open until 15 May. For more information on HOTA's Rage Against the V(irus) Artist Fund, visit: hota.com.au/hota-artist-fund-rage-against-the-virus/
---
Strengthening Screen from Home
To strengthen international connections while the screen industry is dealing with COVID-19, the Australian International Screen Forum (AISF), and Screenworks, have announced a new online workshop that will connect regional screenwriters in Australia with New York-based industry mentors and opportunities, through script development exercises, networking and pitching.
The inaugural WFH Screenwriting Workshop is an eight-week program specifically designed to support people living in regional, rural and remote Australia, and is hosted by AISF & Screenworks Australia, in association with Patricia Beaury, former Managing Director of of The Writers Lab (supported by Meryl Streep and Nicole Kidman)..
This initiative, hosted on Zoom video conferencing, is a scheduled program for June and July 2020, and is specifically designed for creatives with Film and TV projects that would appeal to a global audience.
This program will be entirely online, with weekly interactive webinar sessions, development exercises, and networking opportunities as a way to bridge international barriers. Industry mentors include Joey Tuccio (founder and CEO of Roadmap Writers), Nitza Wilon and Elizabeth Kaiden (co-founders of The Writers Lab), Anne Hubbell (vice president of Motion Picture, Kodak, and founder of Tangerine Entertainment), Amy Hobby (executive director of Tribeca Film Institute and founder of Tangerine Entertainment), Timothy Cooper (founder and owner of Blueprint Screenwriting Group), and Krysanne Katsoolis (CEO of Viewpark). Apply for the program here: screenworks.com.au/event/write-from-home/
---
Rock Isolation and Win!
Bummed about Blues? Sad about Splendour? Need to ROCK OUT?
The Byron Shire Stay at Home Festival is here! Yeah it's not as exciting as the real thing, but sometimes you have to make your own fun, and that's just what Jane Saunders and her co-collaborator Jonathan Wilcock are pushing!
It kicked off on Monday with the Facebook page Byron Rocks Isolation – Stay at Home Festival. It's an all ages festival for residents from postcodes 2481–2483.
So all you need to do is film your family doing some air guitar or lip sync – basically rocking out to you favourite tunes, and share it to your favourite social media platform: tic toc, Instagram or Facebook and tag #byronrocksisolation
Community engagement projects like this are part of what Jane has done in her professional career, all around the world, so we are super lucky to have her here running this. She's run programs in London, the Sustainability film challenge in Victoria, and previously worked for ABC Open.
This is all about having fun and engaging community and getting a sense of community – even when we can't see each other in person. We can still see each other on screen, and have a laugh!
With prizes for Best Air Guitarist and best lip sync, it's clear you don't need actual talent for this – just a few wines and a loud song, and no inhibitions! Why not? Check out details on the Byron Rocks Isolation – Stay At Home Festival, Facebook page.
And of course, it is for all ages!