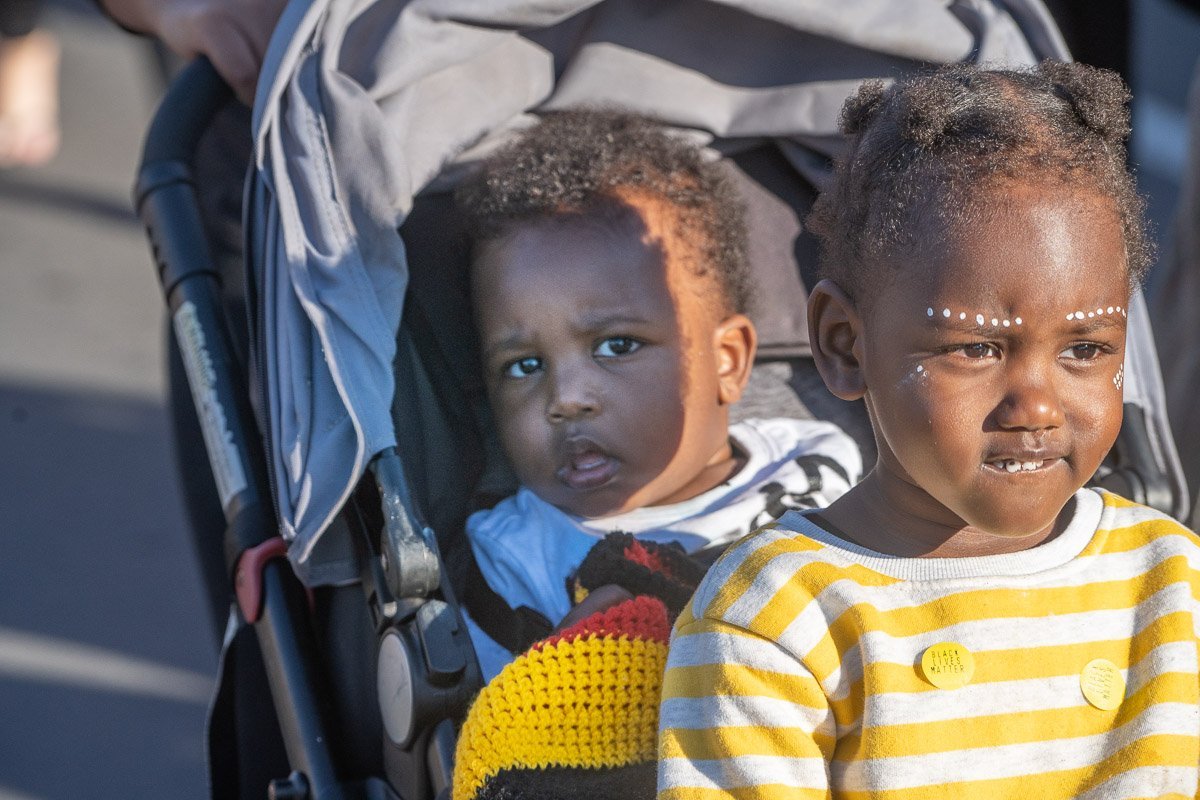 Thousands of protestors gathered in Byron Bay and Lismore on Saturday to demand justice for Indigenous Australians, an end to Aboriginal deaths in custody, and to support the global Black Lives Matter movement.
In an extraordinary show of solidarity amidst the COVI-19 crisis, at least 5,000 locals carrying placards and Aboriginal flags rallied at the Byron recreation grounds from around 3.30pm.
Among them were local indigenous elders and leaders, and representatives from indigenous nations across the country.
Speakers included Arakwal woman Nickolla Clark, who read out the Statement from the Dungay family, former magistrate David Heilpern, Dhinawan Baker, Elle Davidson, Belle Budden and Danny Teece-Johnson.
There were also representatives from local police, including Byron's most senior police officer, Detective Inspector Matt Kehoe.
'Keep this story going, keep it alive, keep our people alive,'  a representative of the Buyarra Culture Collective told the crowd.
The Collective performed a number of traditional dances, including a dance to call in the spirits of the ancestors.
Those gathered knelt at Apex Park for 8mins 45 seconds in memory of George Floyd – The amount of time reflects how long former US police officer Derek Chauvin knelt on Floyd's neck before he died.
The rally also cheered on local rapper Jacob and heard songs from Áine Tyrrel.
A thousand stand together in Lismore
The rally was one of dozens held across the country, including a large rally in the centre of Lismore which saw around 1,000 people rally at the Spinks Park Transit Centre and march to the Lismore police station.
Protesters Maddy-Rose Braddon said that Widjabul woman Cindy Roberts spoke about the Aboriginal Deaths in custody and the ongoing systemic racism in Australia. 'There were powerful stories told by other black people too. It felt safe. There was hand sanitiser and masks available.
Ms Braddon said Uncle Gilbert spoke and shared a smoking ceremony with John Paden. 'There was a beautiful and important moment when Cindy encouraged all mob to get in a circle together and supporters were invited to stand around them in a circle in unity and solidarity.
'The police were invited to join too and they did. We all got on one knee with our fists in the air to demonstrate our solidarity with the black lives matter movement to end racist violence and deaths'.
Photos of the Byron rally Jeff Dawson