Following our recent story about 4WDs damaging the beaches south of Ballina, Echonetdaily has received more information about threats to this crucial habitat for the endangered pied oystercatcher.
Local resident Megan Ward has been watching the habitat degrade over the last six years, with motorcyclists riding in the dunes at night and increasing numbers of 4WDs and dogs on the beaches every weekend, as well as illegal camping and fires.
'There are people who enjoy and respect the beach,' she said, 'and there are other people with 4WDs who think they can come and trash it. It's become known that with this beach you're not going to get booked, there's no police, there's no monitoring, it doesn't cost you anything to get on it. No one's going to do anything.'
According to Ms Ward, 'This is the only key habitat remaining for the pied oystercatchers in NSW. That means it should be entitled for protection under the state Biodiversity Conservation Act*. It's ridiculous to have 4WDs driving on a wild beach, destroying something that can never be recovered.'
'We're not saying 4WDs can't be on any beach,' she continued, 'but this is the key habitat for an endangered species. It's also habitat for another endangered species, the little tern.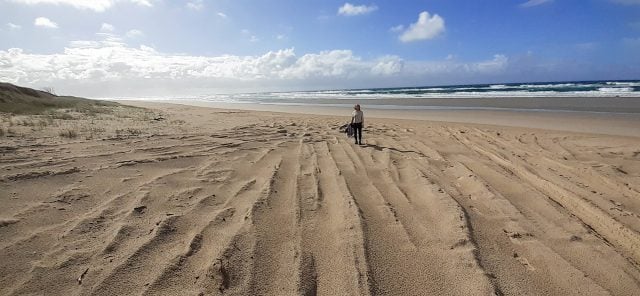 'We're saying that in an area where there is the last remaining species left in NSW, we can't have 4WDs. And when we do have 4WDs, they have to be highly monitored, because people don't realise that the beach is a really valuable and vulnerable ecosystem.'
Scared to death?
In his recent scientific study, 'Taking Fright: the decline of Australian Pied Oystercatchers at South Ballina Beach NSW' Empire Vale researcher Stephen Totterham has drawn a clear link between 4WD impacts and falling bird numbers.
The study found that oystercatcher numbers on South Ballina Beach had reduced from 15-16 breeding pairs in 1994-1996 to 7-9 pairs in 2016-1018, despite control of foxes in the area.
By contrast, the breeding oystercatcher population at Bombing Range Beach, further south (where no 4WDs are allowed) actually increased.
Born to be wild
Megan Ward says the littoral forest behind the dunes is under threat, as well as the invertebrate life the oystercatchers rely on and the biome of the sand and soil.
'We must have wild beaches,' she said. 'It's critical that we look after the few that are left because they support such high biodiversity.'
Unfortunately, as Echonetdaily recently revealed, the various authorities with intersecting responsibilities for the South Ballina beaches are all failing in one way or another, leaving no one to arrest the decline in pied oystercatcher numbers.
According to Stephen Totterham's study, 'human recreation disturbance is preventing recruitment into the South Ballina oystercatcher breeding population. Without strong protection of habitat from such disturbance, the NSW oystercatcher breeding population size will continue to decrease in the next two decades.'
What next?
Megan Ward is disappointed by the failure of councils and Crown Lands to do anything substantial to solve the problem, but encouraged by the support of Ballina MP Tamara Smith. She says the next step is to draw up a plan with an ecologist to create a bigger evidence-based study of the pied oystercatchers.
'If we can get the 4WDs off the beach for the next breeding season, which is July-January, we will have a scientific study showing what COVID showed us, briefly, the change in behaviour for these birds to actually regain their natural habitat.'
She said many chicks are currently not surviving because of their parents' exhaustion, from constant stress and attacks, which leads to the birds not being able to feed themselves or their chicks.
'Imagine six months where these birds are breeding in their natural habitat? They're going to have a much higher success rate.'
Ms Ward argues that the issue is bigger than the pied oystercatchers, and bigger than South Ballina. 'This wild beach is a very important link,' she said. 'We break that link and we're weakening Australia's biodiversity.'
* Ms Ward added that 'Individuals that kill endangered species face penalties, such as a $1 million fine or jail time.'
---
More stories about 4WDs on South Ballina Beach