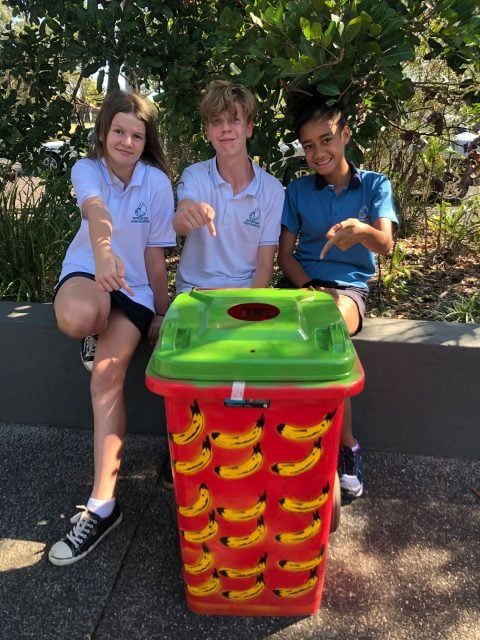 Louis Trisley, Rex Coppin and Tosh Perrow
Byron Bay High School has been successful in receiving a $15,000 Sustainable Schools Grant from the NSW Department of Education.
This will enable the school to develop innovative projects that support students in learning about sustainable practices, as well as take steps to enhance the sustainability of the local environment.
In response to the grant, the school has designed a three-pronged approach to mitigate the school's carbon footprint.
Three step approach
The first project is to install three rainwater tanks at the school to water the native plants that the school has in abundance in the playground.
This will limit the usage of potable tap water, ultimately reducing resource consumption as a school community.
The second project, in consultation with local Arakwal Custodians Delta Kay and Nickolla Clarke, is the planting of bush tucker and endemic plants around the school to create 'pocket forests'.
Pocket forests are micro-regions of native bushland that are planted to restore original plant life and to link forests and the urban environment.
The third project is to reduce the waste generated by the school. This will be achieved through the removal of rubbish bins and the installation of composting and paper recycling systems.
Byron Bay High School is asking students, families and staff to be responsible for the waste that is produced as a result of the food that is consumed. Most families in the region already compost and recycle so this should be second nature for most of the students.
A recent survey at Byron Bay High has clearly shown that a vast majority of the students are highly motivated to help reduce the impacts of climate change through waste management protocols, avoiding single-use plastics, and implementing recycling programs in the school community.
Aware of the privilege of learning and living on Arakwal land, right next door to the Arakwal National Park and the Pacific Ocean, the school is particularly keen to reduce consumption and disposal of single-use plastics consumed at Byron High School.
As global waste production skyrockets from two billion tonnes in 2016, to an estimated four billion tonnes by 2050, this transition to more sustainable methods of waste management is a necessary response to globalisation and consumerism in the Western world.
For the issue of waste management, and more broadly climate change, action must be taken on all scales.
Local environmental initiatives make a positive impact both environmentally and by demanding more sizable action by governments and larger organisations.
One small step by a local organisation or institution can play a critical part in demanding systematic change.
♦ Louis Trisley, Rex Coppin and Tosh Perrow are Byron Bay High School students.