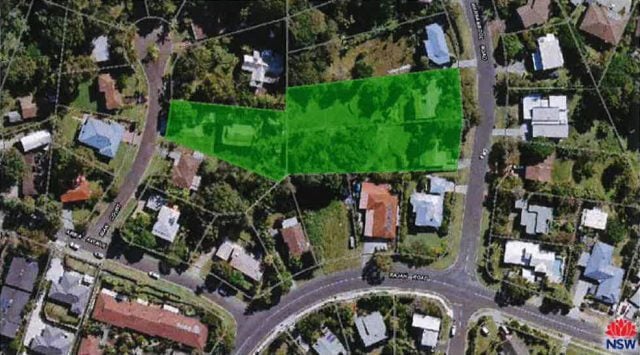 Hans Lovejoy
A massive multi-dwelling proposal that would dwarf the existing density of a quiet area in Ocean Shores is set to be determined in the Land & Environment Court for November 26 and 27.
The proposal aims to combine three large residential blocks: 11 Warrambool Road, 13 Warrambool Road and 9 Bian Court – and erect eight townhouses over a flood prone and forested area – despite the opposition of the entire neighbourhood.
Last year, assessing planner Ben Grant said in his report a 202 signature petition was received objecting to the development, along with 19 submissions received from individuals and community groups.
Yet the amended plans, as submitted to the courts, appear to have the same issues as the previous DA.
In March last year, developer Callum Sked took Council to court for a 'deemed refusal', which is where Council failed to assess the DA in the statutory timeframe.
Yet the original DA presented to neighbours and Council contained a multitude of outstanding issues that were not addressed at the time. This included a geotechnical report wherein staff had flagged the lands as 'unstable'.
Staff recommended refusal of the DA, owing to it being inconsistent with a myriad of sections within the Environmental Planning and Assessment Act 1979.
According to the original DA, Mr Sked is leading a consortium of landowners comprising UK-based Eliot and Katherine Warrington, Edward and Anna Robins.
Neighbour Paul Wilsher, who is an architectural draftsperson and horticulturalist, wrote a comprehensive seven page submission against the latest DA.
He says there are 'some omissions and inconsistencies in the documentation provided to Council. This makes a full and accurate assessment difficult'.
Among his concerns about the DA's negative impacts, he says it is unclear where 27 garbage bins will be stored.
He also writes, 'The plans showing the new driveway and vehicle circulation do not show any swept path assessment for the garages within the existing dwelling at 9 Bian Court'.
'The existing dwelling is not drawn on the architectural plans (section J1).
'The Arborist's Report shows tree number four as being retained. This appears to be within the driveway.
'The Arborist's Report also states that there is to be no placement of fill or change of soil levels around the trees to be retained.
'The Bulk Earthworks Plans show that there are many trees that will be impacted by cut and fill, retaining walls and hard surfaces'.
Council mayoral hopeful and water engineer, Duncan Dey, also made a submission against the DA, and said many issues raised in his first submission in 2019 remain unsolved.
Flooding not addressed
'These include objections on the grounds of: development density; protected trees; stormwater problems and downstream flooding caused by introducing hard surfaces and fill, and by lengthening and adding corners in the existing trunk stormwater line; underestimation of the width required for overland flow; poor stormwater investigation methodology; errors and lack of detail in detention tank configuration, and lack of a stormwater quality investigation'.
He added, 'The risk of an increase of 30 per cent in overland flows across downstream properties in this locality is unacceptable.
'The hydrology and hydraulics of this proposal must be correctly assessed and the interests of downstream residents not ignored, as is currently the case'.
♦ Hans Lovejoy formerly owned a property in the area