At its last meeting Ballina Shire Council committed to exhibit its new Climate Change Policy, seek community engagement regarding wider action on the climate issue, and investigate employing a new person to support the implementation of the policy.
Following council's acceptance of the international climate emergency, the new policy seeks to reduce the organisation's greenhouse gas emissions to net zero by 2030, and use 100% renewable electricity, amongst other commitments.
Cr Jeff Johnson moved the motion, which was seconded by Cr Keith Williams.
Cr Johnson thanked the Ballina Environment Society for its supportive deputation and said that expending a little upfront would achieve considerable advantages in terms of greenhouse effects while also improving council's bottom line (via grant funding, pollution reduction and energy/water saving).
Why delay?
Cr Ben Smith asked staff why it would take years for council to switch over to 100% green energy. GM Paul Hickey explained that it would be possible to switch over once the existing contract expired, with the idea that a solar farm or other renewable source could be set up locally in the future to supply council needs.
Cr Smith suggested council should set its ambitions higher, having declared a climate emergency. 'Sometimes our rhetoric doesn't match our action,' he said.
'It's all very well for council to be carbon neutral or go with green energy, but we're more like a business; we have the capacity to reduce the emissions of the entire shire, not just within our organisation.
'We should at least explore the option of people paying a little more for council to do more, like we did with healthy waterways,' he said.
'If the public agrees that this is an emergency, maybe we do need to allocate a couple of hundred thousand dollars to this. It would be great if we could have a more direct impact on improving climate outcomes,' said Cr Smith.
'What about budgets for old school carbon capture (planting trees), and pushing out EV charging stations? There are lots of things we could be doing to make a difference in the whole shire,' he said.
Mayor on side
Mayor David Wright supported these comments, saying there was the precedent of the waste water strategy twenty years ago which the community supported, although it meant paying more.
Council staff agreed the community could be invited to consider greater address of community-wide emissions and the associated cost implications as part of the community engagement policy.
Cr Jeff Johnson said he was 'more than happy' to support that.
Deputy Mayor Sharon Cadwallader said while she supported council taking a proactive stance on climate change, it was important to remember there were many people in the community who would like to do more, but couldn't afford to do more.
Optional offsets?
Cr Cadwallader mentioned the optional offset model of airline travel as an example of a system which allowed those who could afford to help to do so. She also questioned what more a dedicated climate officer could do that council staff were not already doing.
Cr Keith Williams thanked council staff for their 'great work', but went on to say, 'There's so much more to do. We're not going to be able to advance this policy anywhere near the speed we need to, without dedicated staff. If we want this policy to succeed, we have to resource it.'
He said green power was not a solution on its own, and 'energy efficiency and producing our own energy is much more important. We need a mechanism to fund that over the next decade, so we can do the smart things, not just the easy things.'
Cr Williams welcomed the policy going on exhibition, and said spending $50,000 a year on the new position was a great idea.
'We will make that back easily. I'm proud of this council and our commitment to this issue. I hope it gets lots of feedback and we can move on,' he said.
Cr Phillip Meehan was cautious about the idea of spending extra money in the short term, with the budget for the coming year looking 'extremely difficult… there will be costs to other areas if we support this,' he said.
'We can't just gloss over the fact that there will be rate rises or loss of other service provision.'
Ad hoc motion?
GM Hickey agreed with the cautious councillors, calling the motion 'ad hoc', and something more appropriate to consider at the next finance committee. 'If you're going to put that position in, you need to work out what you're taking out,' he said.
Cr Jeff Johnson took issue with this statement, saying there would be a cost benefit overall. 'Why is the motion being discredited and being called ad hoc?'
Mr Hickey responded by saying 'no savings have been identified and all the financial impacts have not been considered.'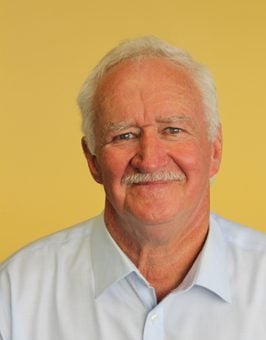 Cr Eoin Johnston joined the debate, saying 'I understand this will attract some criticism whichever way we jump. There are people in Australia at high levels of power in the House of Representatives who do not believe climate change exists.
'There are many influential commentators on TV and radio who believe it's a conspiracy theory, I'm not one of those, I think it does exist.'
But Cr Johnston went on to say he supported the stance of Crs Cadwallader and Meehan, and GM Hickey.
'I think we should act and act wisely, but we need to get the support of the community or we're acting out of our brief. I do agree that we start locally in this council. We can't just keep saying action is going to happen in America or China or somewhere.
'It starts in Ballina Shire Council or your own kitchen, wherever,' he said.
Right of reply
After more argy bargy, the discussion returned to Cr Jeff Johnson for right of reply, who said he was surprised that the debate was so focused on the salary of a single person.
'The report specifically says having this staff member would improve our capacity to apply for grant funding,' he said.
'We would be in a better position to receive significant extra funding to reduce electricity costs and also help improve our climate change and emissions reduction program.'
Cr Johnson said he would welcome a financial report coming back that didn't just look at the cost of the position but the benefits and savings that would come from employing such a person.
'Many years ago I brought a motion here to spend on efficiencies that would pay themselves back in five years, and create a revolving fund,' he said.
'If that had happened we would have more than enough to fund this. We don't need rate rises to fund this position. It will more than pay for itself.'
Adapt or die?
'The key area is the statewide mutual climate change risk assessment,' said Cr Johnson. 'Adaptation is the key thing. We're on a low lying delta in the mouth of the river which would be seriously impacted by climate change and sea level rise.
'The elephant in the room is the actual impacts of climate change. This is a more important area. I ask you all to support this.'
In the end, Mayor David Wright used his casting vote to carry the motion, with the support of Crs Williams, Johnson and Smith. Crs Nathan Willis and Sharon Parry were absent.
'We've had a very good discussion and hopefully the public online realise this council is serious about climate change, concluded Mayor Wright. 'Maybe too serious!'
---
More stories about Ballina Shire Council: