In an eventful day for Byron Shire Council, pot-stirrer Fast Buck$ was ejected from the council chambers yesterday, and later Cr Simon Richardson announced that he will be stepping down as mayor from the end of next week.
Mr Richardson made the announcement on Facebook. 'Though I love and am grateful for the ongoing support of me personally and for councils efforts on your behalf more broadly, it's time for me to move on,' he said.
'I will be ceasing my role as Mayor, Councillor and Council representative on Rous County Council on Friday, 30th of April.
'The past 9 years have been the most life-changing period of my life. As a young activist living in the sand dunes of Belongil or in my tipi at Belongil Fields or on MOs in the hills, and working on forest campaigns or creating Tribe magazine and One Tribe parties, it was inconceivable to me then that I would have the privilege to be my beloved Byron Shire's mayor, and represent this incredible community.
'As some of you will know, I have been ruminating over it for some time, but I now feel it is best for my family and for me that I depart stage left.'
Mr Richardson said he initially planned to leave at the end of September last year. 'I have enjoyed the last seven months and have been grateful to have been able to help ensure certain important projects can proceed – including the bypass, interchange, skatepark, housing and solar projects etc. It also allowed me to help navigate us through COVID craziness.
'I am really excited about the direction of council – we are doing, creating and managing great things and I am excited too, about what may come for me next.'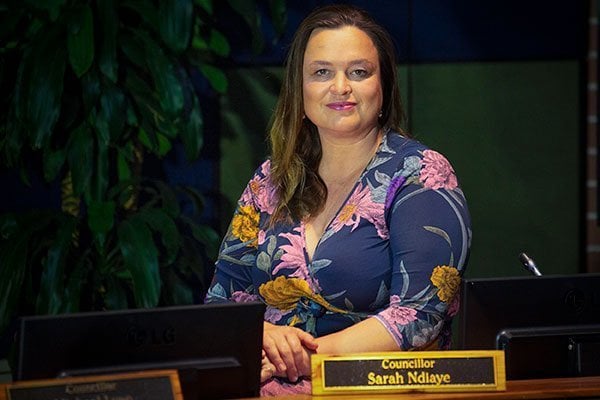 Cr Ndiaye: 'such a great friend'
Cr Sarah Ndiaye also posted comments on her page, saying that she would personally like to honour the incredible contribution Richardson has made to the community.
'Such a great friend, colleague and mentor. I'm forever grateful to have served beside him over this term and will miss him so much and his spectacular little people who are my favourite people to hang out with at any council gig,' she said.
'There will be more words to come, but first up I'd like to wish him all the best for his future endeavours.'
A fantastic mayor
Deputy Mayor Michael Lyon said that Simon has been a fantastic mayor who has achieved so much for our Shire. 'He has shown incredible strength and resilience to deal with what's come his way in life.
'His ability to listen to all sides, broaden community input into decision-making and improve relationships between Council staff, Councillors and the public is a legacy that I hope will endure well into the future.
Grateful for supporters
The Mayor expressed gratitude to his supporters. 'I wish to thank those who have supported my journey.  In particular, those within council, starting with my fellow councillors both past and present.
'Also, the amazing staff, from both GMs I had the privilege to work alongside to the Executive Team and all the staff – from the depot crew to the A-Team (the Comms team), and those I've worked alongside more regularly such as the sustainability, coastal, open space and strategic planning teams.
'I also want to thank my friends, for not only supporting me, but for no doubt finding themselves at parties or elsewhere being drawn into discussions about me and feeling the loyal pull to choose to defend me – you guys are all now free!'
Mr Richardson said that in his next guise he is committed to continue working on solutions and positive outcomes for the community, creating sustainability and creative projects.
'Regardless, this council, this organisation, this Byron Shire community will always have my support and my heart. Cheers, Simon.'