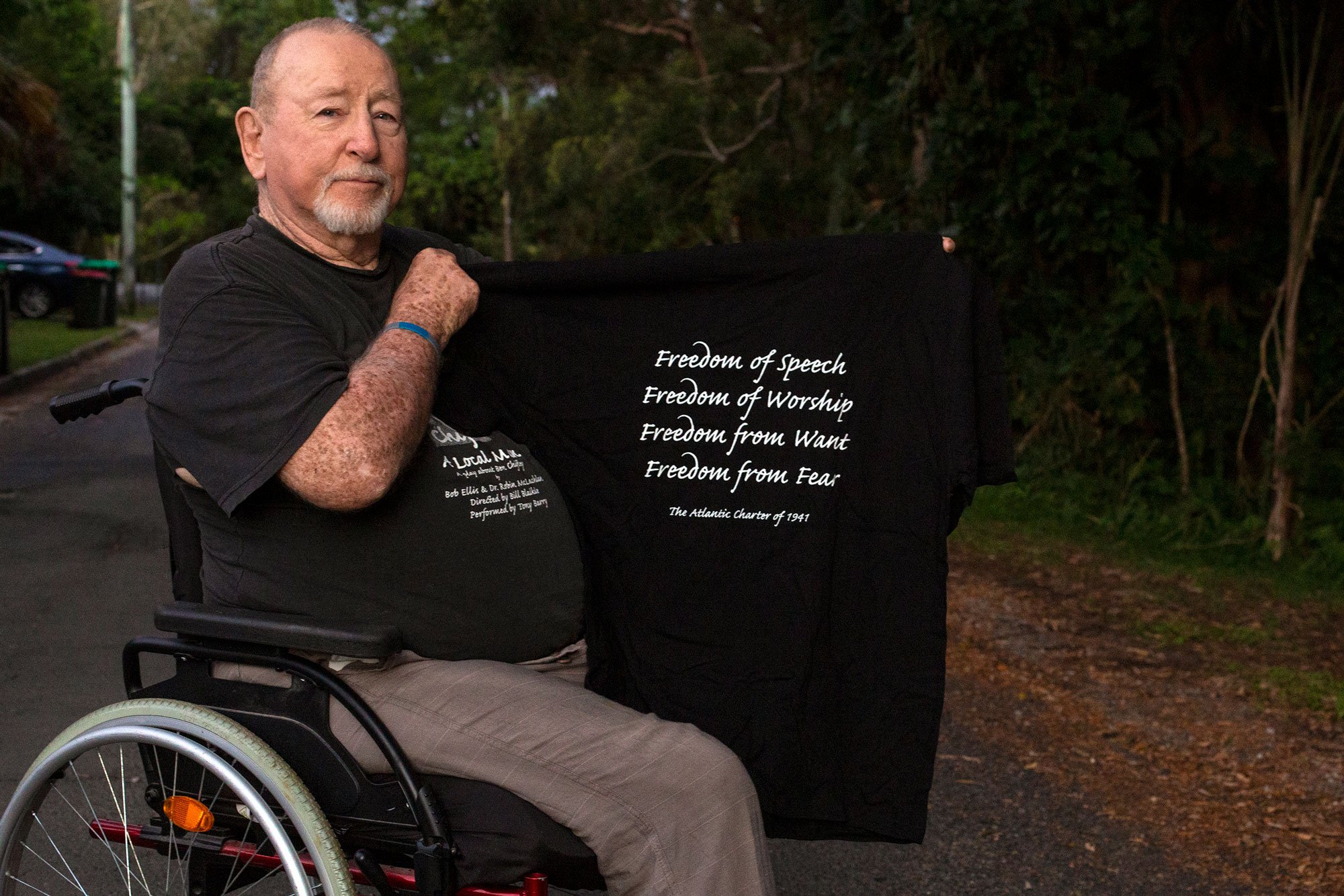 Eve Jeffery
Local actor-vist, Tony Barry, has taken on a lot since he moved to the Northern Rivers, and though cancer took one of his legs, Tony still manages to put in the hard yards for social, environmental and human rights causes.
While he continues to fight the good fight, the well known and accomplished actor has decided to work on one of his own projects, and has booked the Drill Hall to bring Ben Chifley, Labor Prime Minister from 1945 to 1949, back to life.
The play, A Local Man: A Play about Ben Chifley, was written for Tony by the late Bob Ellis and Professor Robin McLachlan.
It opened in Bathurst, Ben's home town, in 2004, and then toured the east coast after a successful six week season at the Ensemble Theatre in Sydney. 
Tony says the experience of playing arguably the greatest Australian prime minister, is one he will never forget. 
He and one of the co-writers had a strange coincidence at the time of Chifley's death in 1951.
'Bob Ellis and I had the same experience when Ben Chifley died. Both of our fathers burst into tears, and it was the first time either of us had seen our fathers cry.
One-man show
'I was only about ten when the news broke. Dad said to me, "We've lost one of the good ones son. He's one of the few politicians worth his salt". And you know what? Nothing's changed'.
While he won't be performing it live, A Local Man: A Play about Ben Chifley will be a screening from Sydney's 2004 performance
It will be a prelude to Tony's latest one-man show, A Good Look Around, which explores Tony's life and times in film, TV, activism, alcoholism, cancer recovery, and his traumatic experiences at the hands of the Catholic Church when he was a child.
Tony plans to perform the new show later in 2021, and go on tour early next year.
He plans to use funds raised from the Chifley play screening to go towards the one-man show.
You can see the screening of A Local Man: A Play about Ben Chifley, followed by a Q&A and book signing with Tony at the Drill Hall on Friday April 30 from 7pm.