Paul Bibby
Tweed residents are invited to provide feedback on their council's budget, revenue policy and fees and charges, as Tweed Council prepares to finalise its delivery program and operational plan for the next financial year.
Five documents have been placed on public exhibition, with Council seeking input from the community before close of business on Friday 21 May 2021.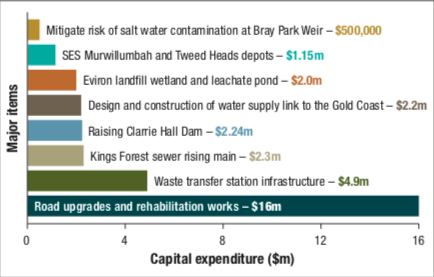 These include the Draft Delivery Program (2017–2022), the Draft 2021/2022 Budget and the Draft Fees and Charges proposed for the 2021/22 financial year.
Rates will rise by 2 per cent under the $254 million draft 2021/22 Budget.
This will see ordinary minimum residential and farmland rates rise by $22.05 to $1124.70 for the 2021/22 financial year, while ordinary minimum business rates will rise by $24.20, to $1236.30 for the year.
Annual charges, including water, sewerage and waste charges will rise by $30.30 for the year. Combined with rates, this will take the total minimum residential bill to $2685.55 for the 2021/22 financial year – representing a 1.99 per cent increase.
Key capital works projects earmarked for the 2021/22 financial year include $16 million on road upgrades and rehabilitation works, $2.24 million towards the raising of Clarrie Hall Dam, and $2.2 million towards the design and construction of a water supply link to the Gold Coast.
The draft documents on exhibition can be viewed at www.yoursaytweed.com.au.
Feedback can be lodged in a number of ways, including online at ww.yoursaytweed.com.au, via email – [email protected] – or via post to General Manager, Tweed Shire Council, PO Box 816, Murwillumbah, NSW 2484.