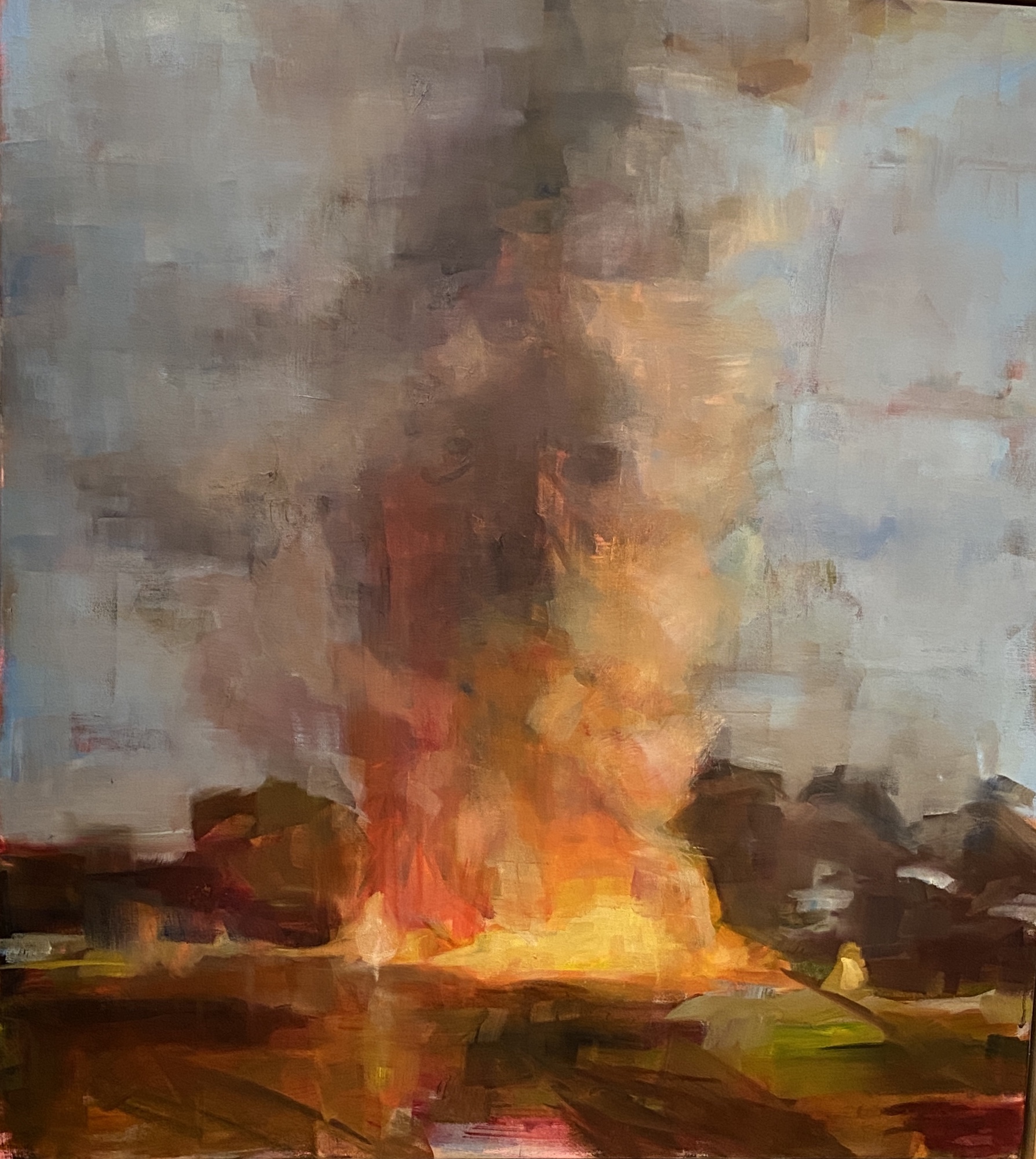 Winners of the d'Arcy Doyle Art Awards were announced last week, with Northern Rivers artist Seabastion Toast awarded the $10,000 d'Arcy Doyle prize for Landscape for the second time.  
Toast's The Burn was selected by the judges who also awarded her highly commended for her piece Ways of Mapping Sunshine in the portraiture category.  
Toast, who lives in the Tweed, says that like many Australians she was deeply affected by the horrors and mass devastation of the 2019/2020 bushfires that ravaged wildlife, townships and communities across the country. 'The recovery of these communities and wildlife areas has been exacerbated and eclipsed by the COVID pandemic. I wanted to create an artwork that somehow responds to this ongoing crisis.'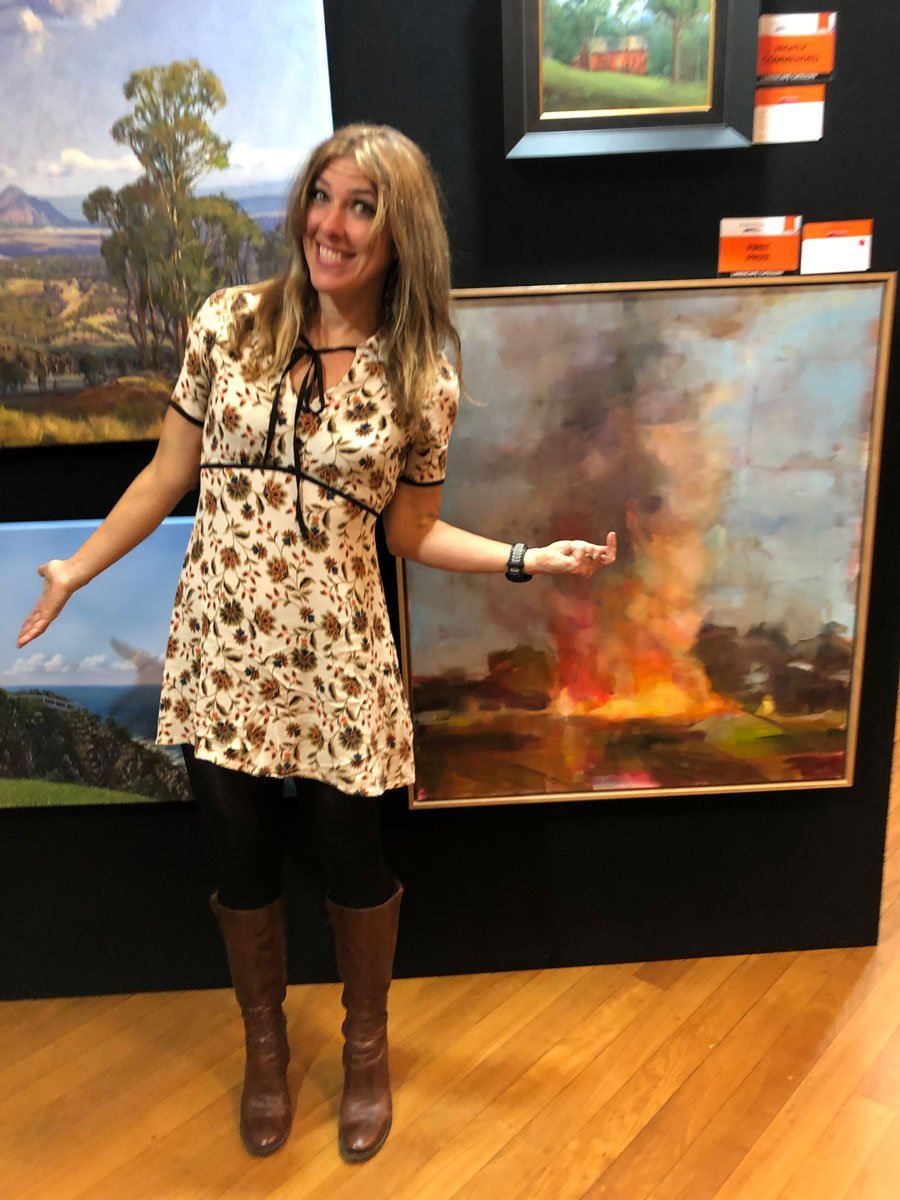 First-hand experience with fire
Toast has had first-hand experience with fire so the subject is very real for her. 'My house burned down while I was studying for year 12 and we were very lucky to escape with our lives so I never allow candles or incense to be burned in my house.
'We were lucky to not have to evacuate last winter but I certainly had the car packed with some essentials, however, I realised my only prized possession was my dog.
'All I could think was that what I went through was nothing compared to those people and animals who lost their homes or lives.
'Fire itself is such an intangible subject – it is equally entrancing, beautiful, necessary and, at the same time, absolutely terrifying. In the same way humankind can never fully tame this element, I accept the challenge of transcribing something so ethereal into paint. For me, painting is about a process, the journey is of greater value than the product.
'Fire is such an integral part of our landscape and culture, I feel like everyone has a story to do with fire, whether it be a tale of destruction or a tale of self-transcendence after a long night staring into a campfire.'
Other winners this year were:
Landscape
• 2nd Prize: 'Morning Reflections Mudgeeraba Creek' by Susan Skuse
• 3rd Prize 'Crypt on Cavill' by Otto Schmidinger
• Highly commended: 'The Old Boonah School' by Manuela Pilz and 'Tranquil Moment' by Lyn Church
Portrait 
• 1st Prize: 'A Man in Thought' by Manuela Pilz
• 2nd Prize: 'Jenine' by Linda Lyons
• Highly commended: 'Tradie' by Alan Morrison, 'Isolation Blues' by Steven Gorman and 'Ways of Mapping Sunshine' by Seabastion Toast.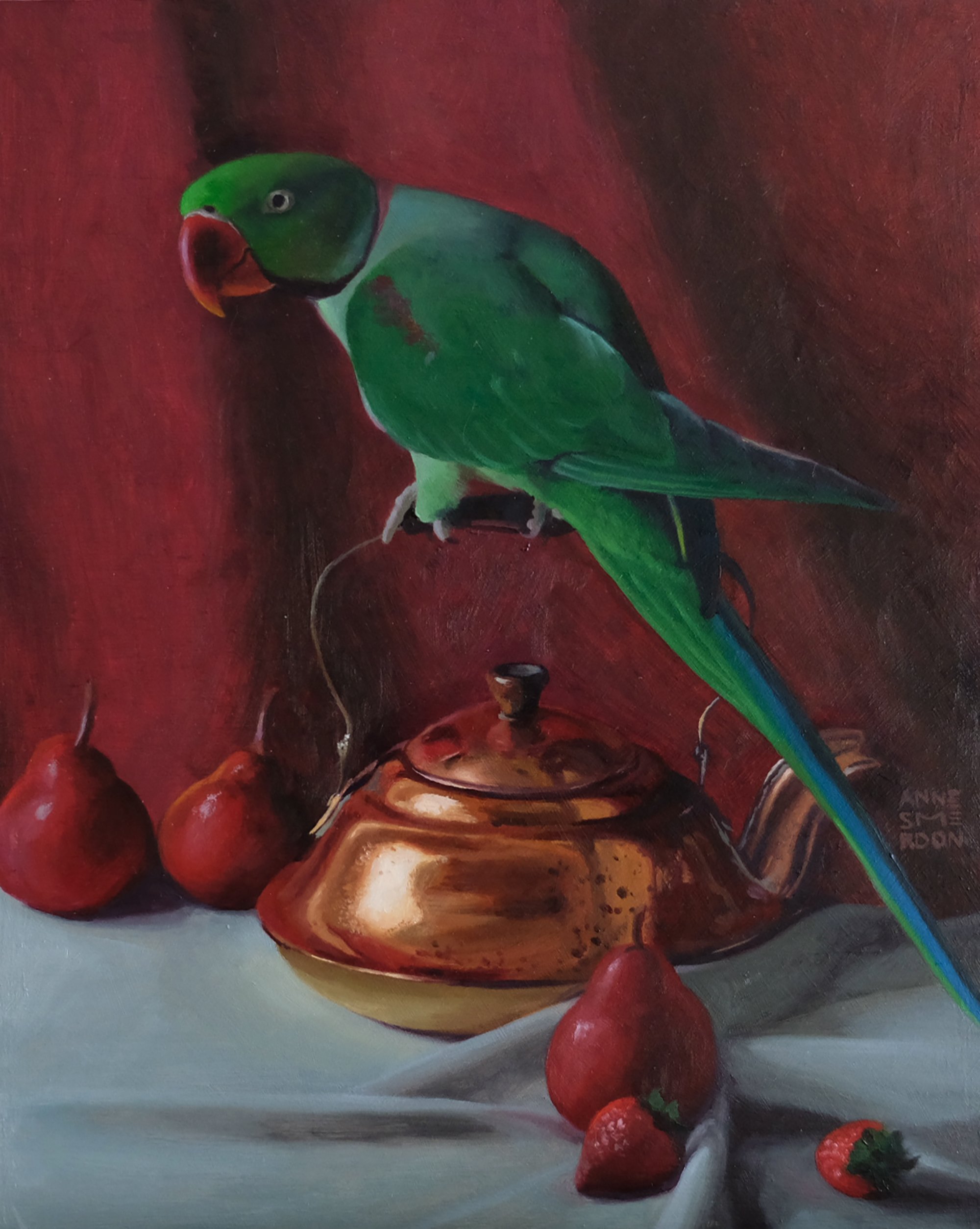 Still Life 
• 1st Prize: 'JD the Alexandrine, Janet's copper teapot and organic pears' by Anne Smerdon • 2nd Prize: Still Life Study by Ilse Atkins
• Highly commended: 'Festoon' by Pat Hall and 'Pommegranates and Figs' by Petra Daecke
Second time for a d'Arcy Doyle win
Toast also won a d'Arcy Doyle Art prize seven years ago and says her work has developed more technically under the instruction and mentoring of many of her art heroes with whom she has been fortunate to study with online.
'I have become more interested in utilising traditional theories of colour and form to explore the very physical act of perception, how things change when we focus on them and that space between realism and abstraction.'
Toast says she feels incredibly fortunate to be hon cured a second time. 'While I celebrate my success, I also know there is a great deal of luck involved in all types of competition and so it's best not to attach too much importance to it.
'Like all artists, I have experienced just a much rejection as I have accolades, so, for me, it's better to focus on the integrity of the work rather than what other people think.'
A gallery of d'Arcy Doyle Art prize winners and highly commendeds.