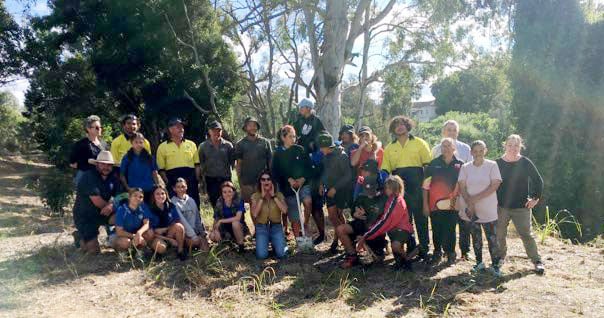 Creating connection with country for Indigenous students and young people was a key element of the 'Water is Life' project just completed in Casino.
Th project cleared and levelled an accesway to Richmond  River behind Casino's Queen Elizabeth Park that was then planted with native plants to create a bush tucker walk.
In stage one, jobs were created for two young Indigenous people to work alongside program facilitator Ben West from the Casino Sports and Recreation Association to create the path beside the water's edge. Stage two involved around 25 Casino High School and One Mob Distance Education Program students planting out the bush tucker walk with 700 native edible and medicinal plants. These include Bangalow Palm, Finger Lime, Davidson's Plum, Native Tamarind, Cabbage Tree Palm, Riberry and many more species. It was suggested by the local Boolangle Aboriginal Lands Council and approved by their board.
'The students learned to identify some of the plants and their uses,' said program lead Kerrie-Anne Maunder, from CASPA Services Ltd.
'At the same time, the students were also involved in cultural practices and activities such as weaving baskets and making jewellery, using available materials on site. They learned about the Richmond River and connected with the space. Young men in the program also retrieved discarded shopping trolleys from the river.
'We're encouraging the young people to re-engage with education by creating a different learning environment rather than a standard seated classroom,' Ms Maunder said.
'This program will help create and foster students' relationship with the wider community, including community-based organisations and groups, and further teach some aspects of traditional cultural knowledge.
'We wanted them to get their hands and feet in the soil, learn more about culture and come away with a sense of self-pride and feeling confident, motivated and inspired. They're creating something lasting for their community.'
Ms Maunder said many local community groups and government organisations had contributed to the success of the project.
'It's just been such a journey,' she said. 'The long-term goal is to generate further funding to create ongoing employment and programs to maintain the bush tucker walk and future activities at the site.'
The project is being announced during NAIDOC Week, tying in with this year's theme of 'Heal Country'.
Healthy North Coast funded Water is Life under its Healthy Towns initiative.