Tweed-Byron police fined a 25-year-old Main Arm man $1,000 for breaching state public health orders over the weekend.
Byron Inspector Matt Kehoe said the man hosted a 'large party' at his property in defiance of orders limiting household guests in the region to five while concerns over Covid 19 outbreaks in Greater Sydney continued.
Inspector Kehoe said police were continuing to enforce compliance throughout the region and to engage with health authorities.
Police investigating Sydneysider's illegal Tweed Shire visit
A 46-year-old Sydney woman was self-isolating in the Tweed Shire for fourteen days after breaching stay-at-home orders to visit, Inspector Kehoe said.
She was now complying with public health orders and police were still investigating the matter, the inspector said.
Officers also charged a 48-year-old Tweed Shire man $200 for refusing to wear a mask when visiting the Tweed Heads Police Station over the weekend.
Inspector Kehoe said police stations were under the same rules as businesses and other workplaces, in that anyone entering the buildings had to wear masks unless officially exempted and had to register via QR codes at point of entry.
He said the accused man refused to comply with the orders but didn't have exemption.
Op-shop volunteers encouraged to report abuse
The police reports on public health order compliance in the region came after volunteers at an Anglicare op shop in Byron Bay said they were shutting shop doors due to abuse from customers who didn't want to wear masks.
The story had attracted hundreds of comments in local social media forums by Monday morning and Inspector Kehoe said he encouraged the volunteers to report the incidents to police.
'I understand some elderly ladies received some abuse and that's very disappointing,' he told The Echo.
Police deny shutting down Lulu's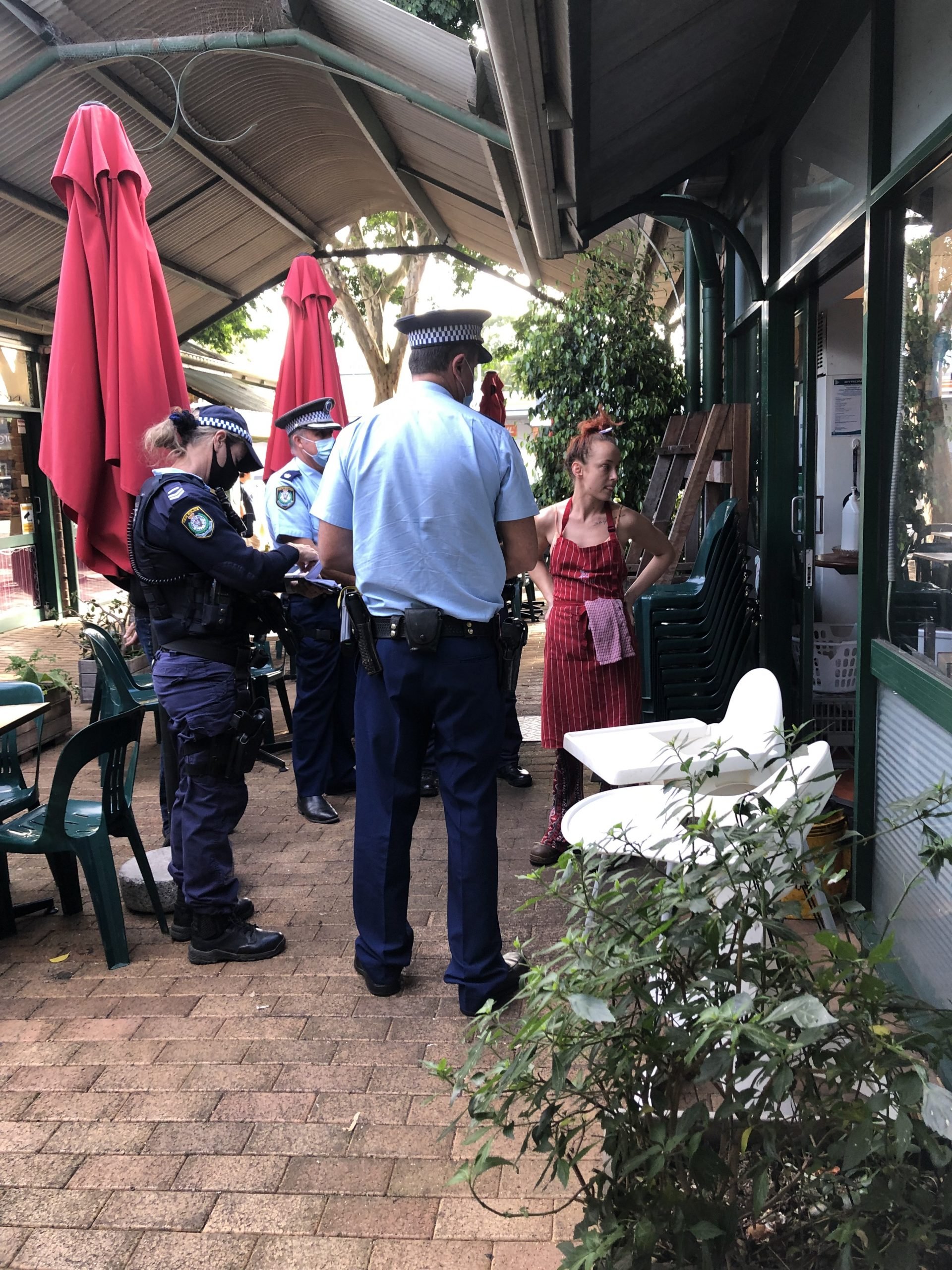 Meanwhile, rumours were circulating that renowned Mullumbimby café, Lulu's, was forced to shut its doors due to non-compliance with COVID-19 health directives.
Inspector Kehoe confirmed police and health authorities visited the café on 'a number of occasions' over the past week.
The Echo understands the owner of Lulu's has said they have a medical exemption from wearing a facemask but Inspector Kehoe said the lack of compliance was in relation to both staff and customers on the premises.
He said police didn't have the power to close businesses over non-compliance with public health orders but that it was possible health authorities or council workers had taken action.
Police could charge business owners fines of up to $10,000 for failing to comply with COVID-19 health directives and Inspector Kehoe said local officers continued to receive and investigate reports of breaches in the region.
No proof required for mask-wearing exemptions
Inspector Kehoe said police were seeking clarification from state health authorities on whether or not signs displayed on some businesses in Mullumbimby stating 'no mask, we don't ask' were legal.
He said the onus was on property owners and business managers to inquire as to whether or not visitors had exemptions but that nobody was legally obliged to provide proof, even to police.
The inspector said the lack of clarity of mask enforcement was an issue for local officers but that most buildings were privately owned and therefore nobody asked to leave for failing to wear a mask had the right to refuse the request.