A pharmacy in Casino is one of the first on the Northern Rivers to start offering the AstraZeneca COVID-19 vaccine during lockdown.
Vaccine-administering pharmacist Kellie Beckenham said she'd given out her first eleven COVID-19 vaccines on Monday at McDonalds Pharmacy in Casino's CBD.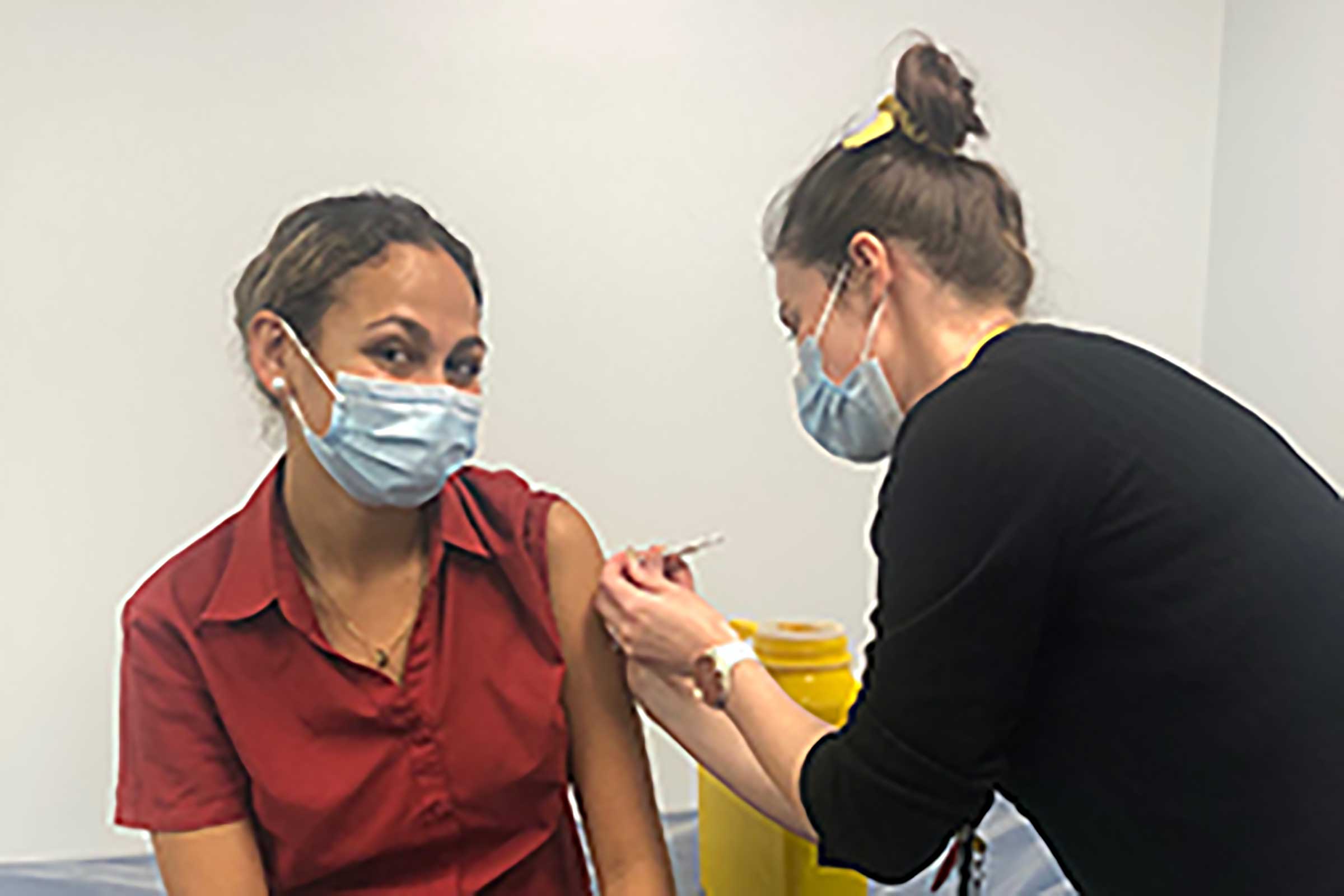 The customers were a mix of ages between those in their mid-twenties to those in their early sixties, Ms Beckenham said.
Ms Beckenham said another fifteen people were booked in for the next day and that the pharmacy would try to accommodate walk-in requests but it would be 'preferable to book in, especially during lockdown'.
She confirmed the pharmacy was only administering to people over the age of 18, with or without a medicare card.
No GP consultation required to get AZ at NSW pharmacies
Customers underwent a supervised online screening process to determine informed consent, Ms Beckham said.
Any pharmacy worker could undergo the training necessary to guide customers through the informed consent process but only qualified vaccine administering pharmacists could evaluate the results and determine whether to administer an AstraZeneca vaccine or refer someone to a GP.
Pharmacy Guild of Australia NSW Branch President David Heffernan said anyone 18 or over could 'just walk in' to an approved pharmacy in NSW and receive the AZ jab, unless they were pregnant or revealed one or more of a limited number of particular pre-existing conditions.
'You don't need to go to a GP,' Mr Heffernan said.
The advice was in line with that on the NSW Health website: 'anyone aged 18-39 wishing to get the AstraZeneca COVID-19 vaccine, is encouraged to talk to their GP or to book an appointment at a NSW Health vaccination clinic or participating pharmacy'.
Healthy North Coast still advising GP appointment for AZ consultation
But the use of the word 'or' in reference to seeking a doctor's advice first was in contrast to advice offered by Healthy North Coast Wellness Executive Director Monica Wheeler, who said the organisation referred to 'national experts'.
Healthy North Coast was responsible for a significant portion of the Northern Rivers COVID-19 vaccine roll-out, with Ms Wheeler describing the group as a non-government organisation receiving funding from the federal government to manage the distribution of vaccines to GPs and other federally resourced health services, including aged care facilities.
The Commonwealth had also set up two vaccine clinics on the Northern Rivers, Ms Wheeler said, one in Murwillumbah and the other in Grafton.
Ms Wheeler said 'the best thing' anyone with 'an interest in having an AstraZeneca vaccination' could do was to 'have a yarn with your GP'.
'The technical advisory group on immunising has made some really clear recommendations around the recommended vaccination for different age groups and people with different vulnerabilities health wise,' Ms Wheeler said.
Pharmacy Guild advises ringing chemists for AZ availability
It was unclear as of Tuesday morning how many pharmacies on the Northern Rivers had access to AstraZeneca, with zero outlets showing up for COVID-19 vaccine availability on the Find a Pharmacy website in the Byron Shire.
Mr Heffernan said he hoped the website glitches to be fixed this week but in the meantime, anyone wanting to get the AstraZeneca shot at their local pharmacy should ring ahead to make sure they had supply.
The pharmacy guild chief said he didn't know how many pharmacies on the Northern Rivers had AstraZeneca vaccines available and that 'data would be handy'.
Mr Heffernan also said anyone in NSW who received their first dose of AstraZeneca in a pharmacy could receive their second dose in as little as four weeks.
The advice conflicted with that offered federally for a three-month wait period between doses but reflected a NSW Health approved fast-tracked dose intermittance in Greater Sydney.
John Black owned McDonalds Pharmacy in Casino and said his outlet was only offering second doses after three months.
Mr Black said he'd ordered 300 doses to begin with and expected the pharmacy to vaccinate up to 220 people each week.
Pharmacies could order up to 600 doses each fortnight, Mr Heffernan said, and would also be allowed to administer the Moderna vaccine once it arrived in Australia in September.
Pharmacies weren't able to administer the Pfizer vaccine.