Environmental activists say a 48-year-old Lismore nurse will face court on Wednesday in Canberra over protest stunts at the Australian Petroleum Production and Exploration Association's headquarters.
Daisy Nutty was with a group of Extinction Rebellion protestors occupying the roof of the APPEA building and blocking traffic in Canberra Tuesday morning.
The activists were taking advantage of this week's parliament sitting to express their anger over the federal government's decision to appeal a recent court decision referencing climate change and a related duty of care to children.
Protestors prepared to go to jail for climate action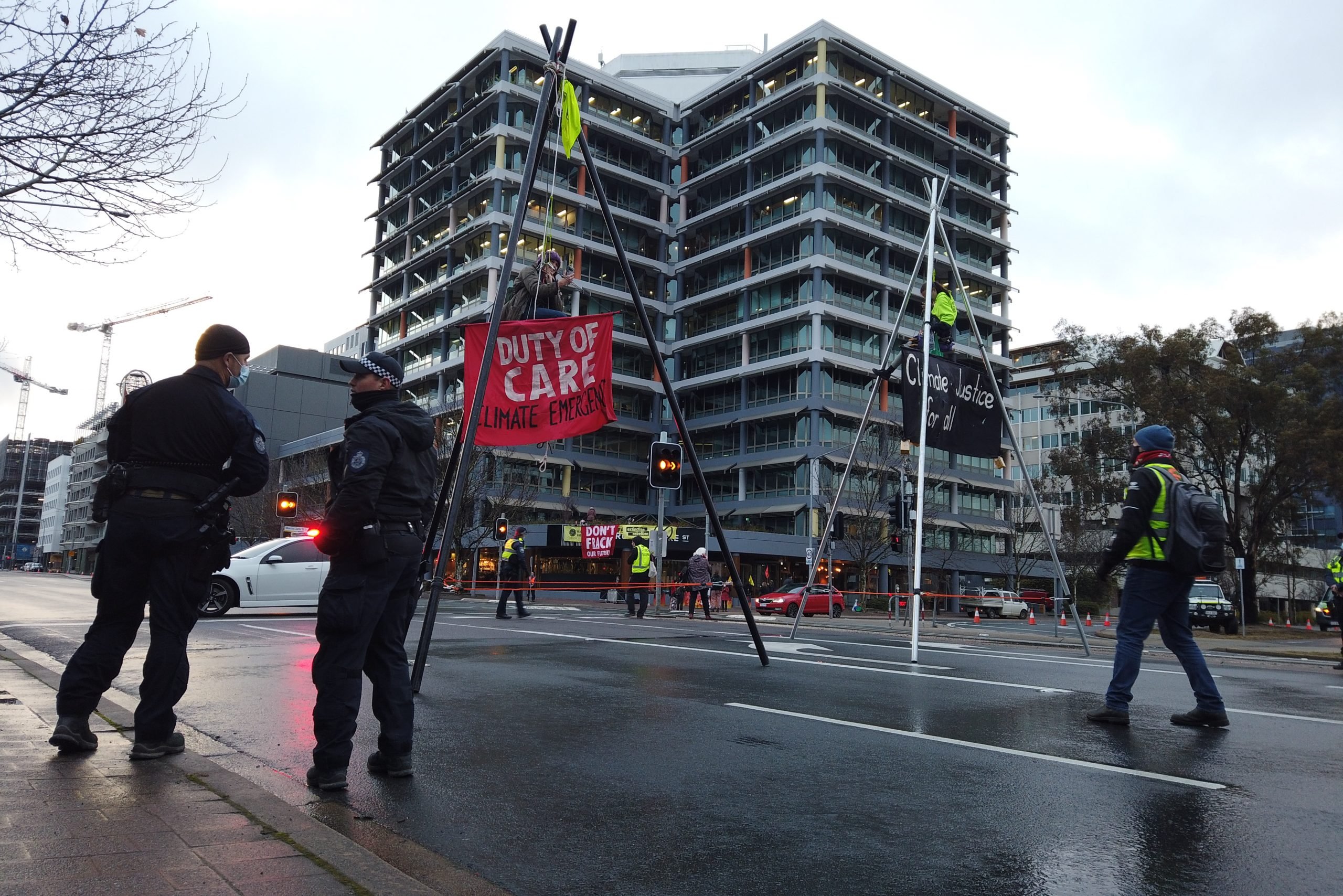 Police arrested Ms Nutty and another protestor from the roof, as well as two protestors blocking traffic through tripods they had set up on one of Canberra's main roads, and a woman who had glued herself to the base of one of the tripods, a group spokesman said.
The spokesman said it took police more than two hours to remove the five protestors and that the ACT Fire and Rescue team was called for help as cherry-pickers were required.
Another 25-35 protestors looked on.
Ms Nutty and the other four arrested protestors said they would seek in court to have their charges dismissed but if their requests were denied, were prepared to go to jail for their cause rather than comply with any bail conditions.
Government objects to duty of care towards kids on climate change
'Instead of stepping up to her responsibility as Environment Minister, Sussan Ley is appealing a finding by Federal Court Justice Bromberg that she owes a duty of care to protect children from the harmful effects of climate change,' Ms Nutty is quoted as saying in a media release from Extinction Rebellion.
The case Ms Nutty referred to was resolved in the Federal Court in July and involved the controversial planned expansion of Whitehaven Coal's Vickery Coalmine in northern NSW.
Eight children took Ms Ley to court, citing concerns of climate change impacts on their future.
Justice Mordecai Bromberg found in favour of the expansion but in an historic legal decision, found the environment minister owed Australian children a duty of care to protect them from future personal injuries caused by climate change.
The government said almost immediately it would appeal the decision.
Lismore nurse vows to protect planet until dying day
Ms Nutty said on Tuesday morning she believed time was running out to prevent some of the worst possible environmental predictions from happening.
'I have pledged to my niece and nephew and all future generations to save koalas and all life from extinction,' she said, adding that she came to Australia from the north of England nearly twenty years ago thanks to the offer of 'a better lifestyle, the amazing wildlife and diversity of land and communities'.
'A better world is possible,' Ms Nutty said, 'look how we pulled together globally for the pandemic'.
'I will passionately protect the planet until my dying day'.
An Extinction Rebellion spokesman said protestors complied with all relevent public health orders regarding COVID-19.