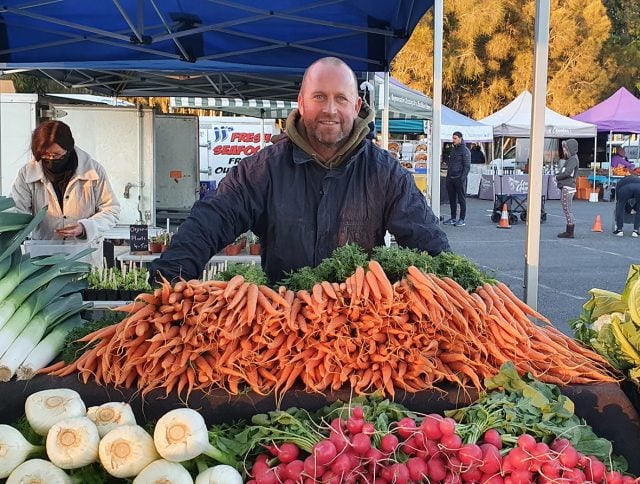 For fourth-generation farmer Matt Everest, family and farming go hand in hand. This is not surprising given he has five siblings and seven children – and more than half of them are involved with the family farm.
*see note below – Farmers Market cancellations
The Everest family farm is a stunning 1000 acre property in Eungella, which backs onto Mt Warning National Park and also supports Matt's parents and a few uncles and their families. 
'Having plenty of open space comes in handy with a big family,' Matt says. 'And having your family involved in farming with you gives you a greater connection. I think my kids understand me better – seeing how I work and being on the farm with me. 
'I often think of people who have to work away from home, travelling and spending so much time away from their family. Whereas I have my family around me all the time, so I feel very lucky.' 
When Matt left school in Year 10, he didn't consider doing anything else other than farming. And while many parents gift their kids a trip to celebrate graduating, Matt's Dad decided on a more fitting present – a few acres of bananas!
'Dad knew that would keep me occupied for at least a couple of days a week, and I just mucked around on the farm, helping him the rest of the time,' Matt says. 'I've never thought about doing anything other than farming. I love working outside and while it's hard work, there are so many plusses – including being your own boss.'
Over the years, Matt has grown the few acres of bananas into more than 12 acres of mixed seasonal crops and moved from wholesaling to selling his produce at local markets. In fact, Matt was one of the founding members of Byron Farmers Market.
'When we first started Byron Farmers Market, it was the only farmers' market in the area,' Matt says. 'Then the others sprang up around us, making them more accessible to the consumer, which is great because people who shop at the markets really appreciate where their food comes from and the work that goes into growing it.'
Matt says the benefits of shopping local cannot be underestimated: 'We are fortunate that our community is passionate about supporting local growers and seeing their money stay in the local economy. If you shop at the supermarket, the money goes out of area. It's as simple as that. Shopping at your local farmers' market gives you control over where your money goes. It helps everyone and builds communities.'
You can find Matt at the Caldera Harvest stall every Thursday morning at Byron Farmers Market.
*UPDATED Wednesday 11 August 8.40am: The Byron Farmers Markets has been cancelled this Thursday 12 August, with market organisers citing safety reasons, due to unique nature of the 3 local cases, and difficulties enforcing mask-wearing compliance in market customers. The Mullumbimby Farmers Market on Friday 13 August has also been cancelled.
Byron Farmers Market is held Thursdays 7–11am at the Cavanbah Centre and Bangalow Farmers Market is held Saturdays 7–11am behind the Bangalow Pub.