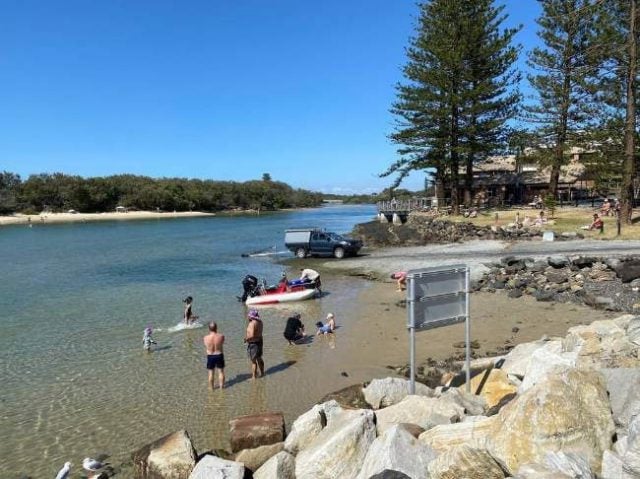 Summer is coming and the weather is warming up so it is no surprise that people are hitting the water for a quick dip, an explore on the river or heading off shore for a fish. Tweed Shire Council are reminding swimmers and boat users to keep an eye out for each other particularly at the shared space around Cudgen Creek boat ramp at Kingscliff.
Council's Waterways Program Leader Tom Alletson said it was crucial everyone wishing to enjoy the creek remained on guard around the boat ramp area, to ensure the safety of all.
'The ramp is popular with boaties heading out to fish offshore and is also used to launch small vessels for exploring the creek,' Mr Alletson said.
'Vessel users know: if you're the skipper, you're responsible. This goes for both the use of cars and trailers on the ramp, and navigating their way through this busy waterway.
'However, given the prevalence of rock walls throughout the downstream reach of the creek, it also provides one of just a few places for swimmers to easily access the water on the Kingscliff village side of the waterway.
'We urge boaties to keep a sharp look out for swimmers and think ahead – the creek will be busy if you're returning to the ramp mid-morning on a sunny weekend!'
Mr Alletson said this responsibility applied equally to swimmers and sunbathers using the ramp.
'Boaties have the right to freely use this facility without their safety – or that of swimmers – being put at risk by uninformed or uncooperative behaviour,' he said.
'People should not expect to sunbathe undisturbed on the ramp and anyone on the ramp or in the water close to it, particularly children, should immediately move well away if a boat or trailer approaches.
'For all parties, common sense, courtesy and good communication is the key to avoiding bad vibes and accidents in this highly valued, shared space this summer.'