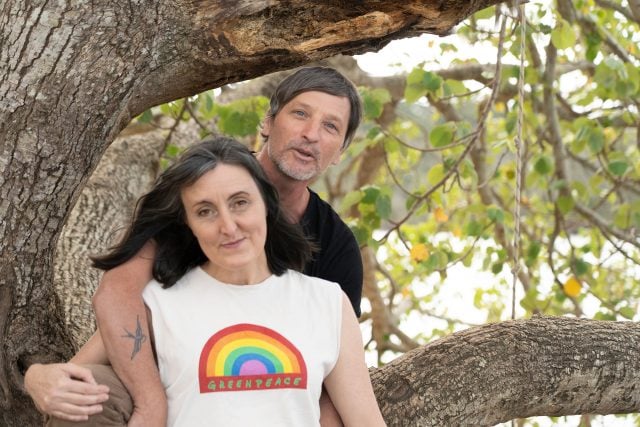 On September 15, Greenpeace, the environmental NGO, celebrated its 50th anniversary. It was a special day for the area, as there are locals from Mullumbimby who are fighting alongside Greenpeace for a 'greener, fairer, more peaceful world'.
The organisation is one of the most well-known globally, and for a good reason; it now has 26 independent offices in 55 countries across Africa, Europe, America, Asia, and the Pacific.
But in its early days, Greenpeace had only Americans and Canadians taking actions at local levels. Now, Greenpeace is working around the world, including Australia.
Non-violent activism
Whether at sea or on land, Greenpeace has waged non-violent fights to defend the environment and wildlife. And to that Lally Marshall and Mikey Rosato, former volunteer activists living in Mullumbimby for now 12 years, can testify. They met and married thanks to Greenpeace.
Lally, who was from the UK, says she was working at the Greenpeace warehouse in Sydney, painting a banner for a protest in Canberra when she met Mikey, originally from Adelaide.
'Mikey walked in, and I looked up,… it was an immediate connection, and I was "who is he?"'.
Before being officially together, the two lovers crossed paths on different Greenpeace events before finding each other at a protest at the Sydney harbour bridge.
'We connected again during the No War protest for the imminent invasion of Afghanistan in 2003', Lally explains.
After this protest, Mikey and Lally had to take low profile because 'we received bomb threats at the office, because the media said we were anti-troop… but we were anti-invasion and declaring war for money' said Lally.
Mikey, who was the lead activist of the protest, was facing prison charges for up to six years for his activism, and Lally, who was a backpacker at that time, could be deported if arrested.
The two then decided to leave the country, travelling for months, before getting married in India, roughly a year after they met.
Now Mullumbimby locals they had both decided to engage with Greenpeace when they saw footage from Greenpeace in the 90s revealing the commercial hunting of baby seals in Canada.
Actually, 'we found out that we both had the same experience on the other side of the world', watching the same video, Lally says. 'We both had such profound love and respect for the natural world… it was a chance to do something for positive change, not sit back', she adds.
After the wedding, 'we ended up in the UK, so we became involved with Greenpeace UK and Greenpeace International', continues Mikey.
Most dangerous adventure
It was then that the couple joined the 2005–6 anti-whaling expedition with Greenpeace in the Southern Ocean, which was their most dangerous adventure. Mikey had previously been a crew member in the 2001 expedition.
Since 1989, Greenpeace has organised nine anti-whaling expeditions to Antarctica. 'Greenpeace was the first organisation to shine a light on the barbaric practice of whaling in modern times', points out Mikey.
For Mikey and Lally the Greenpeace anti-whaling expedition was a chance to be part of a real change for both.
As Mikey explains, 'we set sail with the primary objective of bearing witness, a guiding principle of Greenpeace that remains a key part of the organisation's advocacy work to this day'.
The expedition, which was to be a testament to these practices, turned into a battlefield.
'The whalers carried on as if we weren't there. It was shocking. The images are burned into my memory' relates Mikey.
The danger was so great that Mikey explains, 'I lost nearly my life a couple of times in some Greenpeace actions'.
The danger of the water
'Death is imminent all the time [in Antarctica], the sea is big, the water is freezing cold, there is no rescue, no land, no one's coming', recounted Lally and Mikey.
Once Mikey even fell off the boat and his foot was caught on the rope ladder. He was pushed under the water by the boat at intervals, taking a few seconds to breathe before sinking back underwater until he was rescued.
But the danger could also come from the whalers.
'They [whalers] tried to kill us all the time', explains Mikey.
Lally even remembers a harpooner. 'You could see on his face, he was starting to lose his mind, butchering animals every minute… so he was pointing [the harpoon] at us, it was such a terrifying [experience]'.
But Lally says it wasn't like that at first. It was after a few weeks that the Japanese harpooners became more annoyed with the Greenpeace teams' presence. At some point, it felt like the whalers were no longer recognisng the difference between the Greenpeace boats and the whales.
'After the whaling campaign in 2006, Lally and I both decided to leave Greenpeace,' recounts Mikey. 'That anti-whaling campaign was really traumatic; it was just slaughterhouse, it was the same thing as spending three months in a cattle slaughterhouse watching it minute by minute every day'.
Lally even confesses, 'I had or possibly still have post-traumatic stress related to that, and I can't watch the videos anymore', even though Greenpeace offered psychological support. But the couple wanted to get away from all of that.
But even though the experience was terrifying, when asking them if they would retake the same decision, both answered at the same time, 'I would go back tomorrow' if it was necessary. 'It's not negotiable', adds Lally.
Success
Usually, Japanese ships kill a whale every 15 minutes. But 'our tactics reduced the kill rate down to about one whale every four hours' enthuses Mikey.
In the long run, actions by Greenpeace to save whales in Antarctica prompted Japan to give up whaling in this region in 2018.
Lally and Mikey's work has been challenging, but it has paid off, and they are now the pride of their two children.
The couple continues to act for the environment and wildlife in the area and live from their arts, owning a small jewelry shop in Mullumbimby.
The 50 years of Greenpeace are symbolic for all these activists. But although some battles, like the anti-whaling campaign against the Japanese in Antarctica, have been won, the environmental war is still in full swing.
Greenpeace still needs more brave souls like Mikey and Lally to fight for our planet.