Ballina's Councillor Phil Meehan is standing for election again in December, so what does he stand for? He spoke to The Echo this week.
Coming to council following a long career in education, both at the school and regional level, Cr Meehan says he chose to join local government to serve the community in a responsible and informed way. 'I saw the need for "real" and capable community members to be part of the elected council, without pre-existing agendas,' he said.
'My family and I love living in Ballina.'
What achievements do you look back on from your time on Ballina Council?
Cr Meehan said, 'I am committed to and proud of council's and my achievements during the past five years. The Ballina Indoor Sports Centre and Memorial Swimming Complex have been completed.
'The River/Kerr Street "four-laning" has commenced and is on schedule. The upgrade of the River Street shopping area has been further completed. Our water, waste and road services are top notch. New playgrounds have been completed at Fawcett Park and Pop Denison Park,' he said.
'The redevelopment of Shaws Bay and its beaches has created a wonderful space. Ballina has achieved more equitable petrol prices due in part to my actions through council, the media and ACCC.'
Cr Meehan said advocating on behalf of residents is a role he takes seriously. 'I respond to all requests for assistance and have been able to achieve and facilitate positive outcomes for residents across Ballina.
'I recognise that not always do council processes and schedules suit every situation,' he said. 'At times flexibility, empathy and common sense need to be key players in achieving what is best for the individual and community.'
Cr Meehan believes his experience as a program manager and team leader has given him a number of skills invaluable in local government, including 'communication, public liaison, finance and planning.'
Rates, opportunities and risks for Ballina
Cr Meehan said, 'It is the people's interests, finances, infrastructure, services, and environment that I always place first in council policy and decision-making.
'After all, it is your money that is being spent and your lives that are being affected.'
If re-elected for the next term of council, Phil Meehan told The Echo, 'I will not support any additional rate rises above the state rate-pegging limit of 2%. Ballina's rates must be kept reasonable and affordable. I will support initiatives to promote local business activity, services, and health provision.
'I will promote our airport operations and tourism as they provide benefits to the whole community through employment, income, and diversity. I will protect our natural environment and not support developments that threaten it.'
While many councillors make similar statements, any observer of Ballina Council can't fail to notice the exponentially growing number of DAs being approved each month.
Does Cr Meehan see any limits to development in Ballina and Lennox Head? If so, what are they?
'Development in Ballina and Lennox Head has progressed during the past two decades,' he acknowledged. 'There is still further residential and industrial zones land to be released at North Ballina, Cumbalum, Skennars Head and inland of Lennox Head.
'Prior to any further land reasoning in these areas I believe that further urban expansion on the Alstonville Plateau should be examined. This is fair in terms of "sharing the change" but will also provide more affordable land and houses,' said Cr Meehan.
Who should be mayor?
Phil Meehan is standing again as a candidate for A Ward, but not for mayor. He says he is entirely independent, and not a member of any political party, so who would he back for the top job?
'I would support David Wright continuing as mayor,' said Cr Meehan.
'He has a proven record of putting our community first and working hard to achieve positive outcomes, particularly with the state level of government. He is also politically non-aligned and independent.'
While Cr Wright has not yet made his position clear, going forward, it seems clear that water will continue to be a divisive issue in Ballina and the wider region, judging by the heated discussions in Ballina and Rous County Councils in recent months.
Phil Meehan told The Echo, 'I believe that all viable options should still be being investigated by Rous Water for the Future Water Strategy. This includes the scientific, environmental and cultural heritage studies for the proposed Dunoon Dam. Without the full body of scientific information no options should be ruled out.
'Ballina has a service level agreement with Rous Water for the supply of potable water. This should continue into the future, but Ballina Shire Council also should not be afraid to voice a majority view to the water supply body.'
Beaches
Another fiery issue in the last term of Ballina Shire Council has been 4WDs on beaches. Cr Meehan's ward includes South Ballina Beach, where recreational 4WDs have been heavily restricted by Crown Lands after sustained pressure.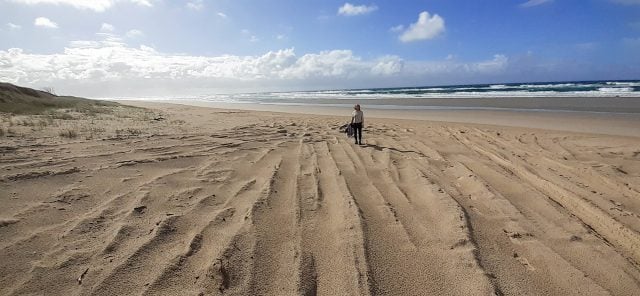 He told The Echo he is supportive of this decision.
'The vehicles in large numbers were causing environmental damage and safety concerns. I have had only one contact about the matter since the exclusion was brought into place,' said Cr Meehan.
And his closing election pitch? 'My main priority as a councillor has always been to put people first. I will always look after your best interests in council,' said Phil Meehan.
Local government elections will be held across NSW on 4 December 2021.
---
More stories about Ballina Shire Council: