Ballina's Allan Watt is looking for new members to join the Northern Rivers Naval & Mariners Association, a social group with an emphasis on getting together rather than protocols and pokies.
Mr Watt told The Echo that the old Naval Association had close to 100 members in Ballina but folded six months ago, so he and a group of mates decided to get together and form a local branch of the Northern Rivers Naval and Mariners Association (there are also associations at Maclean and Nambucca Heads).
Speaking as the new president, Mr Watt said the group was designed to be attractive to younger blokes and their families as an alternative to older vererans' organisations. Ex-mariners have already come from as far away as Iluka, Kyogle and Tweed Heads.
'The idea is to try and include families too. We meet every Friday afternoon down at the Ballina Anglers Club for a couple of drinks. Blokes can bring their wives along and kids or grandkids.'
How does it help?
Mr Watt says there are lots of younger returned sailors around the region who don't really feel like they have a place to go. 'And we hear all the time about the younger blokes committing suicide, the Afghanistan fellas.'
He said that people want to get together, but the old-fashioned groups aren't working for them. 'We want to convince them that it's not the old-style thing, we want to just be a social group, and help as much as we can.
'We've got a retired Navy doctor who can help members with any claims through Veterans Affairs and the like. He's volunteered to do that. We've also got a qualified advocate, who will take them through all the steps that they need to go through, if they want compensation, or they need anything from the department.'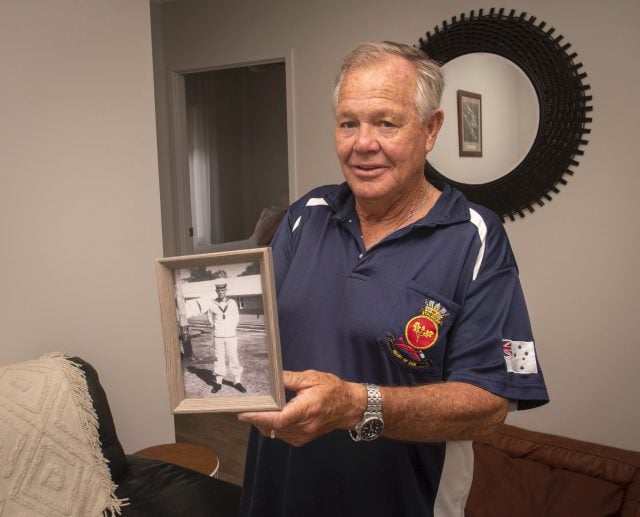 Beyond practical assistance, Mr Watt said 'the idea is to get everyone back together and realize that we're a brotherhood.
'Some of the blokes that we've got down there have never been in any association before, and they're having the time of their lives!'
Mr Watt said the Naval & Mariners Association aims to help those suffering with PTSD from past conflicts and also raise money for young people in need, such as the local naval cadets, who are 'really struggling'.
A life at sea
Allan Watt was raised 'out in the bush' in Tabulam. 'The biggest ship I'd ever seen in my life was a 30 foot trawler,' he remembers. 'So I joined the Navy at the ripe old age of fifteen, did a year's training and then promptly got drafted on to an aircraft carrier, which was something new. My eyes nearly fell out of my head when I first saw it!'
At 17, young Allan went to Vietnam, 'and got my first experience of seeing what wars were about. After nine and a half years, I got out of the Navy on compassionate grounds. But I've always had it in my heart.'
Since then he's made an effort to keep in touch with the blokes he served with, but 'a quarter or more are dead already'. in 2024 all the fifteen year old boys he joined up with will be 75.
Now there are many younger veterans from the wars since Vietnam, including in the Gulf.
RSLs a thing of the past?
'I think what the problem is, from what I can see, the younger blokes don't trust the RSL,' said Mr Watt.
'They think it's a thing of the past. And so our idea is that we're no different than anyone else, you know, whether we're younger or older blokes, we just want to try and help one another.
'The most important thing is that there's no protocols with us. We have our meetings as casual as we can.
'I think the biggest problem with the younger blokes, they think the RSL clubs are run by veterans. They're not, they've been sold out,' said Mr Watt.
'Myself, I think they should be made to change their names, they've got nothing to do with veterans. They've got the officers down there, and they might help out a little bit with the sub-branch, the actual veterans. But most people think that the clubs are run by veterans, and they're not. They're just a money making machine.'
Mr Watt is keen to attract more younger veterans, and also women who have served. Merchant seaman are also most welcome.
'We've got one bloke who was a just an ordinary stoker in the Navy. But when he got out of the Navy, he became captain of a merchant ship. He donates quite a bit of stuff to us.'
Mr Watt is also a keen volunteer at the Ballina Naval & Maritime Museum, and he's hoping the new association can help the museum as well.
Anyone who would like to know more about the Northern Rivers Naval & Mariners Association is invited to contact President Allan Watt directly on 0402 749 582 or email [email protected]