At the recent Ballina Council elections, Keith Williams' campaign to become mayor was unsuccessful, and he lost his position as a councillor after preferences were distributed in the tightly contested B Ward, where Sharon Cadwallader and Jeff Johnson were also running.
After nine years on Ballina Council, and four as Chair of Rous County Council, Mr Williams spoke to The Echo about his legacy, concerns and hopes for the future.
Having run as an independent previously, Keith Williams was one of a group of Labor candidates this time round, none of whom quite got the numbers to be elected. He says the Labor Party made it clear there would be no funds to support local government campaigns, but local members had the option of appearing under the ALP banner.
'I decided to do that because I hoped that we could get more progressive councillors. Ballina has had a largely conservative majority for a long time, although it occasionally branches into being more progressive,' he said.
'I think that was one of David Wright's strengths as mayor, he wasn't afraid to do something just because it was labelled progressive. He was a true independent in that sense.'
Ethics in local government
Speaking of his own approach to local politics, Mr Williams said, 'I have tried to be honest, and to be upfront. I've changed my view over time, and I've been honest about that when it's occurred.
'There were things done during this election campaign that I find really objectionable,' he continued. 'What needs to concern everyone is blatant lying. That is saying something clearly contrary to the established evidence, and just toughing it out.'
As an example, he mentioned the claim that there is no documented evidence of indigenous heritage in the Dunoon Dam (Channon Gorge) site. 'That is an absolute and utter lie,' he said. 'We know there's documentation. So that becomes a thing that's hard to combat.'
Mr Williams compares the approach to Trumpism: 'You keep saying the lie, and it sticks. In our case, this was added to the lie that the decision about the dam was influenced by Sydney and this was party politics, writ large. Now, it had nothing at all to do with that… but it was still an effective political lie.
'It's the denial of the truth that should be the thing that concerns people, and what we need to keep an eye out for, whatever your ideology, because that's where we lose democracy,' he said.
Media's role in election
'I think Ballina really suffered from a lack of local media, apart from stuff that The Echo was covering and a little bit in The Northern Rivers Times,' said Mr Williams. 'One of the constant messages I got throughout the election campaign was "I don't know what any of you are up to, we haven't heard anything, haven't seen anything".
'Now, from my perspective, that means you're really not looking. But a large part of the electorate was just not looking at this stuff and went to the election uninformed. They formed a view in the last few weeks. Those that didn't were the ones that had been activated by the dam campaign, particularly, either for or against.'
What were the other big issues in Ballina?
'I don't know that it swung people, but a lot of the conversations I had with people were about housing, and skyrocketing rents, unavailability of rentals, people living in caravans with parents because there were just no other options,' said Mr Williams.
'And I still think that's going to be an enormous issue for Ballina in the coming years. If we get to a point where the people that work here can't afford to live here it's going to create some real dislocation, and also economic impacts.
'People who are in secure housing won't see this. But it's one of the biggest social dislocations I can think of in my lifetime.
'For rents to go up by a third in the space of a year, when you've got lots of people on fixed incomes, even on median incomes – suddenly their housing is totally insecure. That's a huge social cost. And I don't think we've seen the reckoning of that yet,' he said.
'I hope this council will be sympathetic to some temporary use provisions to enable some emergency accommodation arrangements to happen. I think we need an urgent response.'
Could you talk about some of the council achievements you look back on with pride?
'The river health stuff would have to be number one. That was the reason that I first stood for council, realising the terrible state that the river was in; the water quality, acid issues, all kinds of stuff…
'So the fact that we now have a Healthy Waterways Program that was funded by a specific rate rise…
'It would be very hard to achieve an environmental levy, in the current politics of the council, but there was a lot of community concern about the river. Myself and a few others sought to make sure that voice was heard, and we've managed to do something about it.
'Fifty meters away from me now is a reveg project that exists entirely because of that funding program. I can go and walk and see some results of that. But that's a job that's not finished.'
Northern Rivers Watershed Initiative
This is one of Keith Williams' long term passion projects. It's about the health and proper functioning of the entire regional water catchment. He says there's a need to 'look at water in all its circumstances' in order to adapt to climate change and address flooding.
Mr Williams is proud that the initiative has now been endorsed by the Joint Organisation, which is composed of six local government councils, and provides a solid base to go to government and say 'this is how we want you to look at river health, and how we're dealing with water in the landscape.'
He says that as the climate becomes hotter and drier, water needs to be slowed and retained. 'We're going to need to do this to enable ecosystems and people to survive. And doing it in a smart way means we can reduce flooding in places like Lismore.
'The science is there, we can make it work, it's about maintaining the political will to see it happen. This is something for the region that is super important.'
Mr Williams says he will now take a step back from public life, but remains available to share his knowledge and expertise about the water issue with people who are interested.
He acknowledges the role former councillor Alan Rich played for him when he was first learning the ropes of local government (in exchange for promising to protect the libraries) and says he will help new progressive councillors similarly as they learn the labyrinthine processes of council.
Can Ballina go it alone, and what about the dam?
In the last term of council Keith Williams opposed various attempts to disengage Ballina from the wider region and go it alone, particularly when it came to libraries, galleries and water.
'We have these regional institutions for good reasons, and they've done some great work. If we've got some issues, let's sort them out. But we'd be lost without some of our regional institutions if we did just all go it alone,' he said.
The Echo asked what Mr Williams thought would happen next with Rous County Council, which is made up of members from Richmond Valley, Ballina, Byron and Lismore Councils.
He expects new Rous councillors to be elected that are in favour of continuing investigations into the Dunoon Dam, but doesn't think it will ever be built.
'Certainly not in any form in which it's currently envisaged. You could maybe have a tiny thing there that avoided large sections of the landscape, but I just can't see how you're going to build a dam there, given what's on that site. That includes the environmental factors,' he said.
'If you're talking 5% of the remaining Big Scrub rainforest, you're gonna have a hell of a time convincing a court to allow you to destroy habitat there…
'I really feel for the Widjabul Wia-bal people who are now probably going to have to defend what should be protected by all of us; the significant indigenous heritage there that predates European settlement. This is something that all Australians should see as Australian heritage…
'If their rights are not respected in this process, they'll have to use the court to try and do that. The decisions that we made, and that I made as Chair of Rous, was that the only way to resolve this was via genuine negotiation,' said Mr Williams.
'If they stick to the current process… then I don't see how you can drown that heritage.'
Water crunch
Keith Williams says the risk of a new pro-dam Rous Council is that important time and resources will be lost pursuing the Dunoon Dam dead-end instead of focusing on other solutions, and the region is going to need more water sooner rather than later.
'In the short term, we've got a crunch by 2024,' he said. 'We need to add more supply or we risk not having enough.' He says political opponents who use expressions like 'toilet water' and fail to properly examine alternatives to another dam on Rocky Creek are ultimately doing their community a disservice and hurting people who have already been hurt far too much.
'Those of us that recognize this as part of Australian heritage, as part of Australian culture, we have to stand up with the Widjabul Wia-bal people to defend this,' he said.
Mr Williams says to ignore the wishes of the traditional custodians would be 'moral cowardice', and he would stand beside them in the battles ahead.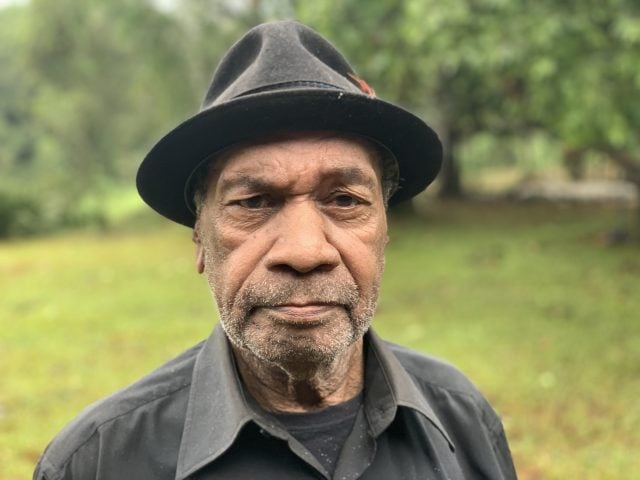 'Although I don't want to be part of the public debate in the next couple of years, I do want to support the Widjabul Wia-bal people, and I'll work out how I can do that with them in ways that they are comfortable with,' he said.
Plans for the future
Keith Williams says he's going to put more energy into his Tintenbar Teahouse business, which has been going through an especially stressful time since COVID, like many local businesses.
He's also going to be working hard behind the scenes to 'see the back of the current federal government'. As for his own future political ambitions, he says that's too raw to think about now.
Regarding the recent council election result, Mr Williams says 'You've just got to accept it. It's not a judgement about you as a person. It's a lot more superficial than that.'
The Echo asked the former councillor how he dealt with the highs and lows of public life. 'David Wright would often pull me aside after a meeting and go, "I kind of agree where you're coming from, but you know, you just get too passionate about it!"
'But for me, that's why I'm doing it. To not be passionate about it would take the fun out, and the meaning,' he said. 'I've always done it for the ideas. As a progressive, I'm clearly coming from the view that I want to try to make people's lives better.
'Government at whatever level should be doing its best for the people that it's representing, but it doesn't seem like that happens an awful lot.'
Ballina's ward system, and the future of Rous
With Labor's Col Riches just 88 votes short of a council seat in Ward A, and Mr Williams 155 short in Ward B, Ballina's electoral system means that the Labor now has no representation on council, although there are two new Greens, and progressive independent Jeff Johnson was  comfortably returned.
Keith Williams believes limited media coverage meant that the only candidate who could afford TV advertising had an unfair advantage. His hope is that the independents who have been elected behave as true independents, in the tradition of David Wright, with returning councillors like Steve McCarthy and Eoin Johnston set to play pivotal roles in a council with four elected from new Mayor Sharon Cadwallader's team.
He says the role of property developers will need to be watched carefully going forward.
In conclusion, Mr Williams said he remains proud of his time at the head of Rous County Council, and the changes he was able to bring forward in what was once a fairly moribund organisation, including the office relocation to Ballina and the new Visitor Information Centre in Lismore.
He believes that with its central focus on water and liaison with landholders on the ground, 'Rous has the potential to be a real climate change combat agency, and we need to be have our institutions ready to cope with what's going to be happening over the next few decades.'
While there will be new faces on Rous County Council, and he will no longer be there himself, Keith Williams says there's been positive cultural change in the organisation over recent years and he has a lot of faith in the staff. 'Overall, I think it's a much more forward looking organization and I can't see that changing,' he said.