In spite of the unpredictable weather and COVID situation, Lennox Community Market was buzzing on the weekend, returning to Williams Reserve under new management after almost two years away.
Kate Hardman is the Markets Manager for the Byron Bay Community Centre, who are the new operators of the Lennox Community Market, and also manage the craft markets in Byron Bay.
She told The Echo it was super exciting to bring the market back to Lennox. 'It was really smooth this morning.
'We've had lots of support and excitement from the community and from the local businesses that are here today,' she said. 'The majority of the market stall holders here are from the local region.'
Since moving from its old site beside the lake, there has been some criticism of the new site, but there are clear advantages too, with the village feel of the tents creating a self-contained area within the reserve behind the Cultural Centre.
'We've got a fair bit of space, and we've got as much shade as we can around the dining area,' said Ms Hardman. 'It's a hot day today, but there's a nice breeze as well… This is the first one, and we're going to make some improvements each time, as we go along.'
Live music on the day was provided by local artist Micka Scene. 'He brings a really great vibe,' said Ms Hardman. 'Every market will have live music.'
What makes Lennox Community Market different?
Kate Hardman said it's about a third of the size of the big monthly market in Byron, so 'it's much more curated. 'You'll find the very best of every type of product here, arts and crafts and home wares, coffee and great breakfast and lunch options. There's a little bit of everything.
'We've also got produce here, which none of our other markets have. I can't take any credit for all this. Greg's done all the work!'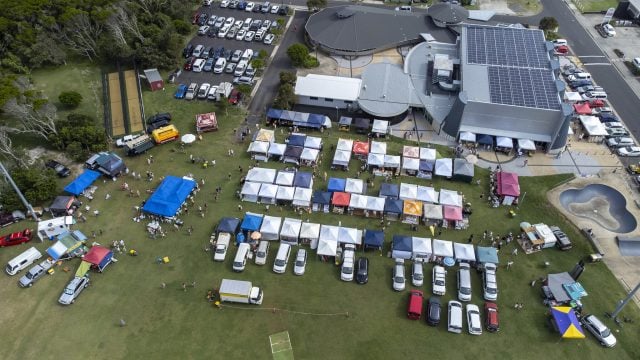 Market Manager Greg Curry said he was relieved the first market in the new location was going so well, with a great turnout of stalls and visitors. 'I'm really proud, to be honest.'
He said there had been some anxious moments during the preparation, but now he was feeling much lighter.
'It's coming together beautifully,' he said. 'I could always see the potential of it, so when it came up for tender I actually spoke to Kate about it… no one tendered for it, and then several stallholders actually came to Kate. We tendered for it, and it's taken us nearly a year. Now here we are today!'
Mr Curry said he fondly remembered the Byron Markets as they were twenty years ago, and he was keen to get that local feel back at Lennox.
He said ongoing challenges included parking and the notorious Lennox southerly, but neither was a major issue for market number one.
Punters feedback
A random selection of market-goers who spoke to The Echo were very happy with the return of the community market to Lennox Head.
Local mum Peta Peterson and kids Jessica and Quinn were 'very happy to see this back in our community.'
Tim said she'd recently arrived back in the Northern Rivers from the US. 'I'm so happy it's open again. It feels like a piece of normalcy to see everybody happy and celebrating and all the vendors here.'
Vegetarian With Love stall-holder Alice Conrad was also all smiles (behind her mask).
'We just had a break for two years. And yeah, it's really good to be back. It's a lot busier than I remember it being before.'
From now on, the Lennox Community Market will be happening on the second and the fifth Sunday of each month, from 8am until 2 or 3pm.