The first meeting of the year was a very different affair to 2021, with David Wright no longer in the mayor's chair and a number of new councillors finding their way into their roles. A new deputy mayor and Rous County Council representatives were also elected.
The meeting began with an emotional speech from incoming Mayor Sharon Cadwallader. 'This opportunity is one I treasure and I will give everything to meet the highest expectations of every resident in Ballina Shire. We are a tight-knit community in a stunning location,' she said.
'We're here to represent diverse constituencies. And whatever our disagreements, each of you stand on the shoulders of the residents who voted for you. Those views deserve to be heard, and respectfully considered.'
Cr Cadwallader concluded by expressing her heartfelt thanks to her supporters and husband Bruce, who 'worked with me on my doubts and disappointments, and believed that having this dream was possible.'
Cr Eoin Johnston said, 'We've got a great responsibility. It's a great honour for me to be re-elected.' Speaking about the recent Australia Day Award winners, he said, 'I was most impressed by the efforts of the individuals and the community groups.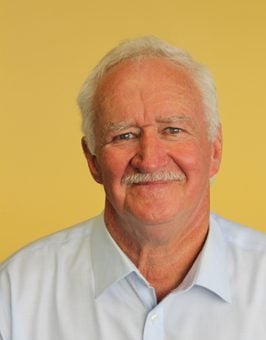 'A lot of us think we're important because we're councillors or we're doing something else, but there's lots of people in the community who just chip away for years and years doing great things for other people,' he said.
New Councillor Rod Bruem said, 'I thank those who've shown confidence in me. It has been a lifelong ambition of mine to serve in this way.' He said local government was a great honour, 'because so much of what we're responsible for is very close to people's daily lives.'
Development
The first item of business was the proposed Wollongbar Wildlife hospital, which cleared its next hurdle towards a DA, despite the vociferous objections of some neighbours. This was followed by a discussion about alcohol-free zones, which many councillors expressed misgivings about, but voted for anyway, apart from Cr Jeff Johnson.
After morning tea there was a discussion about development approval delays, which are largely the result of a council staff shortage. That problem is partially caused by the shortage of anywhere affordable for potential staff to live – a thorny circular dilemma.
Democracy
Rod Bruem stuck his toe in the water with a motion to have expensive by-elections rather than countbacks in the case of councillors having to leave early. This was narrowly voted down.
The position of Deputy Mayor went to Eoin Johnston, who also successfully argued for the Deputy Mayor's term to be extended.
Mayor Cadwallader's conservative supporters bloc ensured she and Cr Rod Bruem were elected in the two crucial Rous County Council positions, representing Ballina on issues relating to water and weeds across the region, entrenching the pro-Dunoon Dam faction among the eight prospective councillors who look likely to overturn the direction of previous Rous Chair Keith Williams and his supporters, none of whom will be returning to Rous this time.
Earlier Cr Bruem said the dam had been the biggest issue of the recent election campaign, claiming it was clear to him that 'our future water security had been jeopardized by the former Rous County Council.
'People were angry at what they saw as the proper planning processes being abandoned because of pressure from one particular lobby group,' he said.
A number of other committee positions were also determined, with responsibilities shared between new and continuing councillors.
Money
Flat Rock camping fees went up, and the delivery program and capital expenditure program was waved through, with GM Paul Hickey pointing out there were some challenges ahead with prioritising various expensive road and bridge projects.
One of these which might become council's problem, or the state's, is floodproofing Ross Lane. Council agreed to ensure this project was dealt with as a priority.
The meeting heard from Mark Turner, Treasurer of the Ballina Chamber of Commerce, that despite Ballina weathering the COVID storm reasonably well compared to some areas, businesses were suffering, particularly on River Street, with knock-on effects on tourism.
Mayor Cadwallader backed Mr Turner's idea of a Business Taskforce to examine the issue, which found unanimous support.
Water
Late in the meeting it was back to water issues again, with staff revealing there was still a large amount of water being lost around Ballina Shire, despite improvements.
After the meeting, Cr Jeff Johnson told The Echo he was disappointed not to be elected to Rous, but would continue to push Ballina to plug holes in the water delivery system and increase the uptake of recycled water, as well as backing initiatives like rooftop water harvesting in new land releases such as Cumbalum.
'Leaking pipes is a major issue in the Rous network,' he said. 'In the Ballina Shire 19.5% off all bulk water purchased from Rous is lost through leaking pipes in the network. That is a massive amount of water. When you consider there is a proposal for a $600 million dam, surely a priority short term action would be to minimise the leaks.
'A key for me is to reduce the pressure on the highly treated drinking water that Rous produces, even though less than 2% off it is actually consumed,' said Cr Johnson.
---
More stories about Ballina Shire Council: