The Echo caught up with Ballina Councillor Simon Chate who has been volunteering at the Alstonville Cultural Centre, recently transformed into a movie studio and now a flood evacuation centre.
All afternoon there was a continual procession of cars dropping off donations from near and far (from people wishing to remain anonymous), as well as families and others seeking assistance.
Cr Chate explained he was one of over forty volunteers putting in many hours to help. 'It's a beautiful place and a really chill vibe, at the moment. We've had about 56 evacuees here. There may be a few less now.'
He was full of praise for Steve Bocking of Byron Studios, the current tenants of the Alstonville Cultural Centre.
'He's been amazing running the place, organising it all and making sure that the evac centre can even be here,' said Cr Chate. 'Members of the Byron Studios board have also volunteered to keep it going strong. So many volunteers from the entire community – it's been quite inspiring!'

He said generous food donations and assistance was being provided by local businesses including The Federal Hotel, Raw Fitness & Sports Training, The Trident Fish & Grill, Dory's Take Away Ballina, Northern Rivers Health, and The Village Herbalist.
Pets too
As well as humans, there are many pets seeking refuge at the evacuation centre, with plenty of animal food and safety crates for them. 'A wonderful vet from the Gold Coast brought a huge shipment down for us, which has just been fantastic,' said Cr Chate.
He said one evacuee was accompanied by her cats as well as nine dogs. 'Fortunately seven of them are chihuahuas!'
Simon Chate said he had only had minor damage to his own house from the storm and flood event. 'I'm so grateful to live up here on the plateau. We're all aware that we're just so fortunate.'
He said he had heard many horror stories from evacuees in recent days, including people who had waited hours on top of their houses awaiting rescue from raging floodwaters.
Medical and mental health assistance
The Alstonville evacuation centre also includes a medical clinic. 'Yes that's run by Dr Alex De Marco. She's doing a fantastic job. Her husband, Dr Nick, is here as well.
'We've got some great nurse volunteers, and people from the Red Cross. We've got the DCJ [Department of Communities & Justice] representatives here too, keeping the whole thing going.'
Cr Chate said there was also mental health support and chaplaincy available at Alstonville. 'One woman who was taking the role of a counselor, she sat down and talked beautifully to this traumatised man, probably for an hour. And as I walked past afterwards, he was saying, thank you so much for this.'
As well as offering help to the people in the evacuation centre itself, Cr Chate wanted to emphasise that they were also offering food and other items to people in need who were able to get to Alstonville.
'If you're at home and you've got no food, please come in and get some stuff,' he said. 'We're trying to keep it to 10 items per person. We've also got toiletries, we've got a baby table with lots of baby stuff, plenty of food. We don't need any more food or clothing!'
Do you have anything to say about the situation with your councillor hat on?
Simon Chate said council staff had been fantastic, quickly addressing security and other practical issues.
'Personally, I'm trying to keep the community updated with what's going on here,' said Cr Chate. 'This is a really well-run situation. If we had another fifty people it might be a little more challenging, but it's okay.'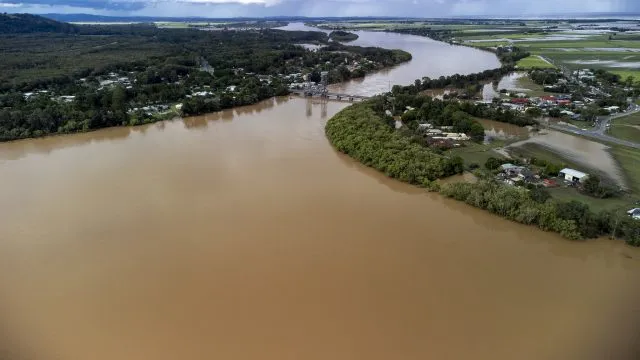 He said he knew there had been major problems during the emergency further south, at Wardell, with the swollen river running like a rapid, but was unable to get there in a car with roads blocked.
(Some evacuees had since made it from Wardell to Alstonville after losing their homes.)
Was he surprised by the severity of the flood? Cr Chate said he didn't expect Ballina's flooding to come from the river. 'I was always thinking about climate change in terms of rising seas.
'It's just a horrendous situation, and we're all one little part of this huge puzzle.
'All we can do is the best we can, wherever we are. We're all trying to to the best we can to make things work again.'
What do you suggest to people who would like to help with the current disaster but aren't sure how, with so many areas and people affected in different ways? 'My advice would be to go wherever you feel really drawn to. That's why I'm here,' said Cr Chate.
'It's a tragedy of humongous proportions. We're going to need to be looking out for each other for a long time.'