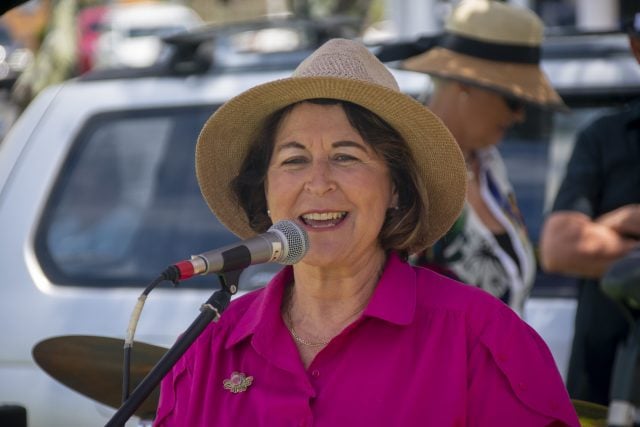 Improved drainage and more social housing across the Ballina shire were top priorities for Mayor Sharon Cadwallader seven weeks after disaster first struck the Northern Rivers in late February.
Cr Cadwallader [independent] told The Echo on Tuesday she welcomed the NSW government's new Northern Rivers Reconstruction Corporation [NRRC] announced in Lismore that morning.
The mayor was still waiting for details of how the corporation would work, she said, but was pleased it was to be guided by an advisory board representing, in part, local communities in the region.
'We need one uniting body in charge of the reconstruction for the whole region,' Cr Cadwallader said, 'but these decisions can't be made from just one level of government, they need the involvement of everybody working together'.
Premier Dominic Perrottet told a media conference at Lismore's Southern Cross University on Tuesday the new state-owned corporation's fifteen-member advisory board would rely on several sub-committees, as well as outcomes from an ongoing government inquiry into the floods.
Ballina drains an urgent priority with 'more rain coming', says mayor
Cr Cadwallader said improving drains across the Ballina shire was the most urgent priority in terms of reconstruction post-floods, along with social housing.
'We need to get those drains fixed right across the region before Ballina floods again,' the mayor said, 'because we know we have more rain coming'.
'Both the riverine and the flash flooding that Ballina has experienced have shown us that drains have got to be a priority,' she said.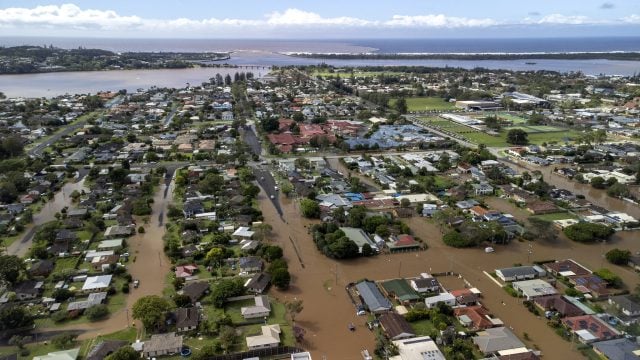 The mayor said she'd already raised the issue of drainage with members of the state and federal governments.
More short-term accom offered but long-term housing elusive
Cr Cadwallader also welcomed the government's plan to provide temporary 'mini-villages' for disaster survivors but reiterated calls she has consistently made for more permanent social and affordable housing.
'Keeping rooves over people's heads is so important,' Cr Cadwallader said, 'we need flood mitigation and housing to make sure people have a safe place that won't get flooded, so they can fully participate in society and we can prevent homelessness in our community'.
On Tuesday morning the premier said the NRRC would have the power to fast-track development proposals but there were no commitments announced for specific long-term government housing projects.
Details on $168 million promised for social housing last week hadn't yet been shared.
Last week the government announced $350 million for the installation of up to 2,000 modular houses on public land for disaster survivors across the Northern Rivers.
Flood Recovery Minister Steph Cooke said in a media release the scheme added to existing government supported accommodation options.
Lismore had already received a small fleet of motorhomes, while other locals from there and elsewhere were shuffled around holiday parks and hotels, many having to make way for pre-booked Easter holiday-makers.
A sixteen-week rental support package was also on offer.
The newly announced modular houses could accommodate up to four people per dwelling for up to two years on sportsgrounds, showgrounds and crown land, Ms Cooke said.
Community housing providers were to manage the tiny housing clusters, which the government described as 'mini-villages supplemented by supporting infrastructure and amenities'.
Ballina Shire the first to receive temporary 'mini-village'
Cr Cadwallader said the state had already asked local governments to suggest suitable sites for the villages and the Ballina Shire Council had listed a dozen.
The Wollongbar Sports Fields was the first site on the Northern Rivers to be approved, with up to 25 modular homes on offer.
The government said it expected each approved site to take up to four weeks to prepare and Cr Cadwallader said work was already happening on the Wollongbar site this week.
There was uncertainty over whether or not the dwellings would each have bathroom facilities, with Greens Member for Ballina Tamara Smith saying she understood amenities were to be shared.
Ms Smith said temporary emergency accommodation was necessary and welcome but people needed access to viable long-term solutions.
But Cr Cadwallader said she thought the promised dwellings were more like self-contained cabins.
Similar options would probably be made available to people who wanted to stay on-site while they repaired or rebuilt flood-damaged homes, Cr Cadwallader said, although the idea wasn't explicit in the government's initial announcement.
The Ballina mayor said she still hadn't discussed social housing policy with federal candidates for the seat of Richmond, which included Ballina Shire, but would 'welcome any ideas worthy of discussion to the table'.
Responding to separate housing policies announced by The Greens and Labor, Cr Cadwallader said she was happy to discuss all housing ideas so long as they met the diverse needs of each community.
Mayor looks forward to new village on Cabbage Tree Island
The NSW government had received criticism from some, including Labor Member for Lismore Janelle Saffin, over a perceived 'drip-feed' approach to its post-disaster funding committments.
On Tuesday Ms Saffin spoke at the government's media conference in support of the NRRC.
One of the government's other latest announcements was $70 million towards rebuilding the devastated village on Cabbage Tree Island in the Ballina Shire.
The village was home to nearly 200 First Nations people before the February flood inundated the island with polluted river waters and washed away infrastructure and homes.
Cr Cadwallader said she understood nobody had been able to return to the island seven weeks later but she was relieved to know a 'beautiful new village' would be built there.
The mayor said she hadn't yet been able to visit the island either but was happy to wait for an official invitation.
In the meantime, the mayor said, she was also very happy the rebuild project was to be led by Jali Land Council CEO Chris Binge.
'Balance' needed when fast-tracking building projects, says mayor
The government's new corporation was announced with promises of 'fast-tracking' projects and 'cutting red tape', as each of its three representatives repeated during Tuesday's media conference.
The premier, Deputy Premier Paul Toole and the head of the new corporation, David Witherdin, all said the NRRC would nevertheless work in consultation with local governments and communities during planning.
The Ballina Shire Council recently voted unanimously to write to the state's planning department seeking clarity, details and reassurances about recently introduced state powers prior to the announcement of the NRRC.
Reforms introduced over several years included allowing the Department of Planning, Infrastructure and Environment [DPIE] to bypass council approval processes for new building projects under so-called 'complying development' criteria.
Independent Cr Eoin Johnston put forward the motion, saying there'd been concerns raised over a lack of community consultation when the state's planning department approved a block of flats in Alstonville.
But Cr Cadwallader said while she understood community concerns around parking and other issues, the NRRC's fast-tracking powers were a temporary measure in response to an emergency situation.
'We need to strike the right balance,' the mayor said of state planning powers compared to council regulations.
The mayor said she expected public transport would also be raised as an infrastructure priority as part of the NRRC's agenda.
Parking and traffic would quickly become an infrastructure issue thaks to more people having moved to and continuing to move to the Northern Rivers and more households having multiple cars, Cr Cadwallader said, and public transport was essential.