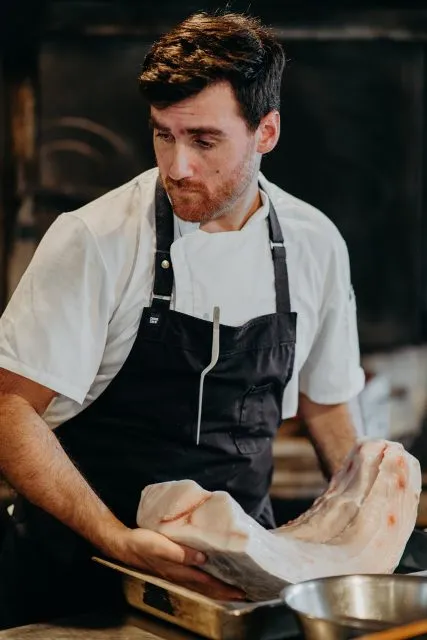 Argentine Chef Santiago Socrate has joined Barrio Eatery & Bar as Executive Chef.
Many chefs talk about a return to simplicity, but few have embraced this philosophy as completely as chef Santiago Socrate. He cooks with wood fire and cast iron in his new Executive Chef position at one of Byron Bay locals' favourite restaurants: Barrio Eatery & Bar. But he hasn't always focused on such basic methods. 
In fact, he originally trained with Peruvian chef, Eddie Castro, at Osaka in Buenos Aires (currently no.38 in World's 50 Best Restaurants list), and most recently he became Byron Bay's 'noted chef' by preparing modern Australian cuisine while utilising native ingredients at Harvest Newrybar, where he spent five years honing his skills from Chef de Partie to Head Chef – working alongside chef Alastair Waddell, followed by chef Dave Moyle, and chef Matt Stone.
This renowned South American chef combines his prestigious French and Modern Australia culinary background with traditional Argentinian fire and earth cooking methods, creating an amazingly memorable and unique dining experience. A passionate master of open fire cuisine, Santiago takes diners on a grilling adventure to destinations around the world, serving up inspired regional grilled dishes.
On this epicurean journey you can stop along the way to taste and learn. Santiago's cooking at Barrio Eatery & Bar utilises every aspect of the wood fire, from the flames to the hot ashes. All produce is smoked, cured, and pickled in-house and the menu is constantly evolving. A complex arrangement of hooks, chains and flames allow for simultaneous fast and slow cooking.
Barrio Eatery & Bar – at
Habitat: 1 Porter St Byron Bay